Thursday, February 14, 2019
The 15 best European albums of 2018
All of these albums received the maximum of five stars when reviewed in Songlines magazine in 2018, featuring Mariza, Karine Polwart, Kapela Maliszów, and many more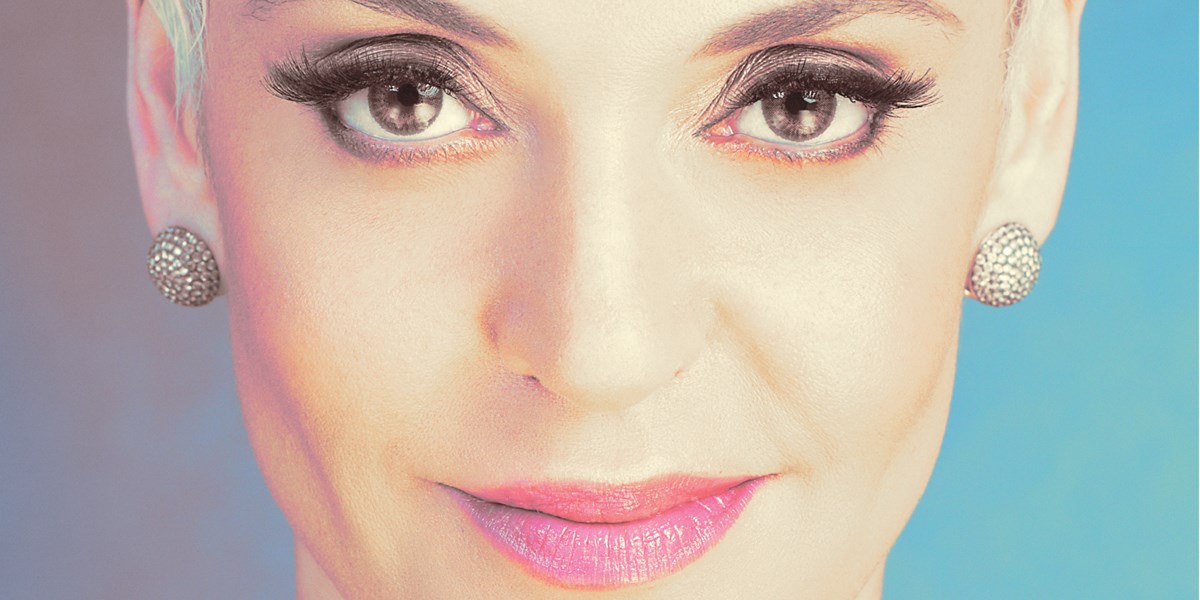 In every issue of Songlines magazine we review the best new albums from around the world in different geographical categories: Africa, Americas, Asia, Europe, Middle East, Pacific and Fusion. Below are all of the albums from the European section which received a coveted five-star rating in 2018. If you are seeking your next favourite album, then look no further, and if you would like to explore some additional recommendations, visit Songlines Music Awards 2018. 
To enjoy reviews of the best new releases, as well as interviews with leading artists and features that explore music traditions around the world, consider subscribing to Songlines.

Kapela Maliszów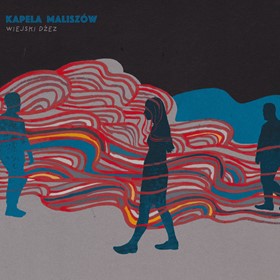 Wiejski Dżez Unzipped Fly Records (57 mins) ★★★★★
The Malisz family hail from Męcina Mała, a small village in the foothills of the Carpathian mountains near the Slovakian border. They're the 2Fast 2Furious crew of wild Polish traditional songs and tunes, and this is a welcome follow-up to 2015's Mazurki Niepojęte (Inconceivable Mazurkas, a Top of the World in #112). The patriarch, Jan, builds violins, hurdy-gurdys, nyckelharpas, pipes and more in his workshop, plays cello, hurdy-gurdy and accordion, and his children Zuzanna and Kacper play the baraban (drum) and fiddle respectively – both instruments having been in the Malisz family for generations. Kacper's furiously emotional mastery of the fiddle is wondrous throughout, and both Jan's accordion and Zuzanna's voice excel, the latter's bare naked voice on the opening track, 'Zawisloczek', penetrating right through the song's strange, concentrated heart.
Wiejski Dżez (Village Jazz) is a music rooted in vanishing traditions, reconnecting the here-and-now with the going, going, gone. It's the fire of their improvisations that makes this music of tradition as relevant and contemporary as a broadband connection. Wiejski Dżez is their response against the sprawl of mass culture over smaller, local cultures. By reaching into the past with the vitality of the present, the Malisz family deliver another powerful and rich set. Tim Cumming

Karine Polwart with Pippa Murphy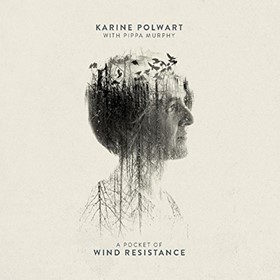 A Pocket of Wind Resistance Hudson Records (57 mins) ★★★★★
From the first note to the final, pulsing heartbeat, this is not merely an album of songs but a full 57-minute composite of music, field recording, song and spoken word. The results are devastatingly powerful. At first I was intrigued, then admiring, and soon totally gripped as by a great film – I could hardly bear to listen but felt unable to stop. This album from the multi-award winning Scottish folk singer Karine Polwart, in collaboration with sound designer Pippa Murphy, results from a theatrical commission she created for the Lyceum Theatre for the 2016 Edinburgh Festival. The project as a whole is the result of profound experience and has a spiritual, meditative quality. The title springs from the way the geese that migrate to Polwart's local moor help each other in flight by creating 'pockets of wind resistance.' This sense of inter-connectedness moves into a wider theme of childbirth in which Polwart, a mother herself, examines the fragility of life and the dangers of childbirth from which modern healthcare shields us.
Drone-like chords earth the music in the peat bog of the moor, while Polwart's desolate wail at times brings to mind Islamic spiritual chants. The whole is a giving of thanks to the binds that tie us together, both human to human and across all life on Earth. Nathaniel Handy

Nils Økland Band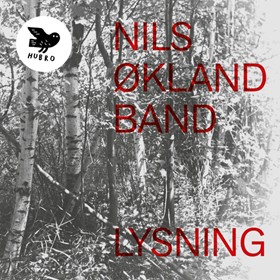 Lysning Hubro Music (43 mins) ★★★★★
Nils Økland has a characteristic so often found in Norwegian music, a combination of humility and determination. He has had a career that has earned him the highest respect in folk, jazz, classical and experimental music for his impeccable Hardanger fiddle playing, his sense of musicianship, his passion for traditions and for breaking boundaries. Lysning brings together other musicians who speak and think as Økland does: Rolf-Erik Nystrøm, whose saxophone playing and approach to composition is mischievously disruptive; Sigbjørn Apeland, whose work with Økland has opened up the harmonium world to other spheres; Håkon Mørch Stene's percussion explores dynamics and textures in a supremely sensitive way; and bassist Mats Eilertsen's playing surely has a hotline to heaven.
The music on Lysning derives from a number of different projects Økland has been involved with, from scoring film soundtracks to collaborations in Orkney. There is not one note on this album out of place, not one moment when we're not confronted by a beautiful isolation that somehow makes sense of this world, and which lingers long in the memory. Fiona Talkington

Stick in the Wheel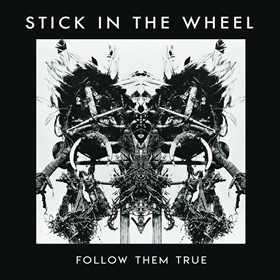 Follow Them True From Here Records (39 mins) ★★★★★
Anyone who has seen Stick in the Wheel live recently will know just what a diamond-hard machine they have become. On this, their second album, guitarist and producer Ian Carter ensures that the East London folk band's in-your-face live sound is still there, but he gradually introduces elements from his other musical lives into the mix (he has long been a dubstep and drum'n'bass producer under the moniker EAN). There's a gravelly distortion over everything, giving the album a grainy indie-rock feel.
The opener, 'Over Again', is trademark Stick in the Wheel – spindly guitar, acerbic vocals from Nicola Kearey and Fran Foote and tub-thumping percussion from Fran's partner Si. But 'Witch Bottle', with its ominous squeezebox and chiming guitar, has more in common with 80s indie drone-rockers Spacemen 3 than with any of the band's UK folk peers. There's an epic, glowering quality to '100,000 Years' while the astonishing 'Follow Them True' even manages to redeem AutoTune as a vocal effect, smearing it on Kearey's singing to make a beautifully sour melody even more melancholy. If it recalls anything else, it's perhaps the bittersweet English electronica of the late-lamented Broadcast. Still, there's plenty here that won't scare off the more purist of folkies: 'Poor Old Horse' offers us a cosy chair at the English folk hearth, with some big-harmony unaccompanied singing; while 'Weaving Song' will give a warm glow to anyone who ever loved Sandra Kerr and John Faulkner's songs from Bagpuss. Matt Milton

The Transports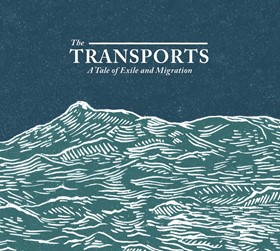 The Transports: A Tale of Exile and Migration Hudson Records (79 mins) ★★★★★
In 1973, the Norfolk singer Peter Bellamy came across the story of Susannah Holmes and Henry Kable, who, their death sentences for trifling crimes having been commuted to transportation, met in Norwich Gaol. They had a child, were parted but, thanks to the compassion of a turnkey, were reunited and sailed in 1787 on the First Fleet to Australia, where they thrived.
That reads like the narrative of a traditional song, and it inspired Bellamy to write a cycle of ballads telling their story. The Transports was first recorded in 1977 by a stellar cast – June Tabor, Nic Jones, Norma and Mike Waterson and Martin Carthy – and is one of the great achievements of the English folk revival. There have been productions and recordings since, but none as distinguished and important as this one, by some of the finest folk musicians of this generation. The original was orchestrated by Dolly Collins and included an early instrument ensemble. It is beautiful, but incongruous. In his new arrangements, Paul Sartin has wisely stripped the songs back to their essential melodies and created settings that empower rather than overpower the songs. 'Us Poor Fellows', about being driven to crime through poverty and hoping for change, is countered by 'The Robber's Song', about the joy of robbing. 'I Once Lived in Service', an account of the misery of domestic slavery, is complemented by 'Sweet Loving Friendship', tells how the protagonists find love and even a kind of liber in prison. 'The Black and Bitter Night' is a great song, the intensity of the joy of a relationship apparent in the desolation of separation.
Bellamy's writing is subtle, capturing the range of human emotions in the simplicity of the ballad form. He has a dramatist's grasp of a narrative arc, well-served here by these fine singers and instrumentalists. There is one song not by Bellamy; Sean Cooney of The Young'Uns wrote 'Dark Water' after hearing an interview on BBC radio with Hesham Modamani, a Syrian refugee who, desperate to reach Europe, swam from Turkey to Greece. Its inclusion is crucial to the whole endeavour because these musicians see parallels between the experience of Susannah and Henry – poor people forced to leave home by a draconian government – and those of refugees and migrants today. Writer Matthew Crampton speaks between the songs, his narration illuminating this. It risks pre-empting the songs but, on the whole, Crampton navigates these waters elegantly. It gives this powerful and enjoyable version urgency and relevance today. Julian May

Monsieur Doumani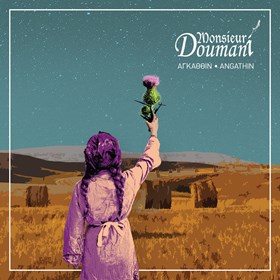 Angathin Monsieur Doumani (55 mins) ★★★★★
This is another great disc, possibly their best yet, from the Cypriot trio Monsieur Doumani. They push the musical boat out again, making use of both traditional and non-traditional instruments over rhythmically complex and inventive original compositions. The tracks take in influences from across the Greek-speaking world, as well as Turkey and the wider Balkans, with the odd hint of ska thrown in, although that could be down to the funky trombone riffs from Demetris Yiasemides. As well as the traditional feel to tracks such as 'Fallow Fields' and 'Gel Burda', I particularly liked the a tenore-like choral passages on two tracks, which add a great virtuosic vocal touch to the excellent instrumental playing.
They are aided in bringing a broader range of colours to the music by guest artists such as the Cypriot rapper JUΛIO and the percussionist Alexandros Gagatsis on 'Antics'. The disc ends with perhaps the most experimental track, 'Little Star', with its lush vocal backing and a haunting tzouras ostinato. While the lyrics may rightly reference the political and social issues faced by Cyprus, the island can take solace in having such brilliantly inventive musicians. Maria Lord

The Watersons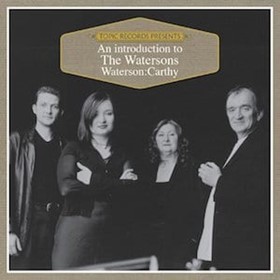 An Introduction to the Watersons/ Waterson:Carthy Topic Records (54 mins) ★★★★★
Now this must have been quite a job, albeit a highly rewarding and enjoyable one: concertina-ing the recordings of The Watersons and Waterson:Carthy onto just one CD. Topic must be congratulated for teasing out some choice cuts – the likes of 'Three Score and Ten' from their first recordings on the New Voices compilation of 1965, and songs from Lal and Norma's A True Hearted Girl and Mike Waterson's eponymous 1977 set. Scattered among these rarer tracks are a select number of signature songs: 'Pace Egging Song' and 'Emmanuel' from The Watersons, and from the 1990s renaissance of Waterson:Carthy, the incomparable 'When First I Came to Caledonia'.
We also get a choice cut in Norma Waterson's 'Once in a Blue Moon' from Oliver Knight's 2002 release, Mysterious Day. The one album they omit any recordings from is 1999's Broken Ground, but there is an earlier version of that LP's song 'Fare Thee Well, Cold Winter', from The Watersons' final 1981 album, Green Fields. There has been no Waterson:Carthy release since 2006's Holy Heathens and the Old Green Man (from which is drawn 'Jacobstowe Wassail') but the set closes with the apposite 'Goodbye, Fare Thee Well' from 2004's Fishes & Fine Yellow Sand album. Their collective greatness is undimmed. Tim Cumming

Dreamers' Circus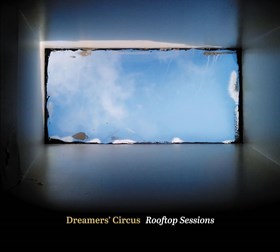 Rooftop Sessions GO' Danish Folk/Vertical Records (40 mins) ★★★★★
The piano keys fall like drops of water, the violin soars like a gull over Øresund, while the delicate pluck of the cittern string is like a bright spark on the water. This is ethereal modern Nordic folk music that almost washes into modern classical, with a soundscape that is expansive and mesmerising. Rooftop Sessions is the third album from the Danish trio Dreamers' Circus, but the first to be distributed outside Denmark. It offers an exciting glimpse of these talented multi-instrumentalists.
Nikolaj Busk plays spellbinding grand piano, alongside instruments including accordion, synthesizers and a spinet (a small harpsichord). Rune Tonsgaard Sørensen plays effortless violin, plus spots on vibraphone and Farfisa organ, among others. String player Ale Carr's axes include a cittern, double bass and even a kokle (a Latvian zither related to the Finnish kantele). The album is entirely instrumental and runs to a restrained 40 minutes, but it is a breath of musical fresh air, carrying all the simplicity and attention to clarity that defines so much Danish creativity. It is finely weighted, assured modern folk music. While this hip new word is Swedish not Danish, Dreamers' Circus is utterly lagom. Nathaniel Handy

Mariza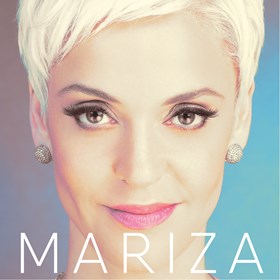 Mariza Warner Music Portugal (43 mins) ★★★★★
If Mariza's last album, 2015's Mundo, was her most 'crossover' sounding set to date, with its unique combination of pop texture and fado power, on her self-titled seventh studio album she returns to what purists might call a more traditional style. From the opener 'Trigueirinha', a classic upbeat fado made famous by Jorge Fernando, to the exquisite melancholy of 'Quem Me Dera', written for her by the Angolan singer-songwriter Matias Damásio, the choice of songs is flawless – as, of course, is her singing of them.
At 44, her voice has ripened into a more expressive and seductive instrument than ever; or, as Mariza herself characterises her mature voice, she has added 'um grão' (a grain) to her singing. The effect is like crossing the purity of Joan Baez with the emotional heft of Edith Piaf, although Mariza is far too singular a talent to sound like either. Javier Limón produces immaculately once again; Maria da Fé and bassist Jaques Morelenbaum make guest appearances and the guitarras ring with pin-dropping clarity. Mariza sings her own lyrics for the first time on 'Oração', a gentle prayer about seeking one's way in darkness and looking for the light. Even if you don't understand a word, this is soul-baring at its most thrilling. Nigel Williamson

Mercedes Peón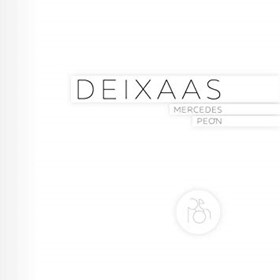 Deixaas Altafonte (44 mins) ★★★★★
Mercedes Peón's exploratory lyricism, manic multi-instrumentalism, dynamic live shows, and even her punky cropped hair, have lent Galician folk an entirely new image; she has a feminist attitude and freeform character that are thrillingly contemporary. Deixaas, her fifth album, harnesses a sound that is both earthy and industrial, moving away from traditional arrangements towards something genuinely new. The title-track mixes in metallic sounds, heavy metal licks and a pounding bass, overlaid with her wild wailing incantatory poetry. The influence of club culture powers the beat on several songs, and on 'Plataforma' it's reduced right down to a mesmerising, abstract pulse. The next song, 'Tras o Muro', is equally minimalist, though in a sacred vein: echoes of Michael Nyman come through in its slow, sensual cycles.
Vocally, Mercedes Peón has something of the 'white witch' mystical edginess of Camille, Värttinä or First Aid Kit; but she's less orthodox than any of these. This album is never boring and often beautiful. Chris Moss

Jimmy Aldridge & Sid Goldsmith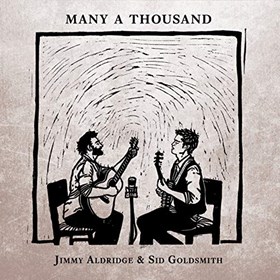 Many a Thousand Many a Thousand Records (54 mins) ★★★★★
This third studio album from the Norfolk-born folk duo follows their impressive 2016 release, Night Hours. It contains all the same elements – a seamless mix of original and traditional songs, beautifully weighted playing and a preoccupation with profound questions of political, social and environmental concern. It's serious stuff but, like the best serious stuff, it's delivered with a delicate touch.
Many a Thousand's opener sets the tone and the tempo. 'Hope and Glory' is a deliciously melodic song that cuts to the heart of England's current problems with insidious nationalism. This duo treat such contemporary subject matter in folk song as well as anyone this reviewer has heard. Their self-penned songs stand up to scrutiny alongside traditional numbers such as 'Poacher's Fate' and 'Working Chap'.
Once more, Aldridge's hypnotic banjo plucking brings a distinctiveness to their sound, sitting clear above languid guitar. The pair are joined by Tom Moore on violin and viola, double bassist Twm Dylan and drummer Fred Harper. Nowhere is their talent – and their confidence in using silence as well as sound – better illustrated than in their rewriting of the spiritual 'No More Auction Block' as 'Hawk's Call'. Nathaniel Handy

Sam Sweeney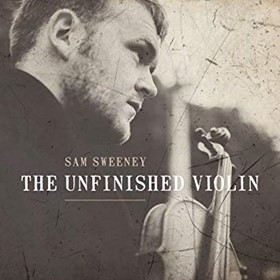 The Unfinished Violin Mighty Village Records/Island (55 mins) ★★★★★
Sam Sweeney's Fiddle: Made in the Great War show toured from 2014 to last year, and he has chosen that same World War I fiddle, made by a music hall per former in Leeds, recovered from an Oxford violin shop and played on innumerable gigs, to be the focus of his debut solo album. It features a swelling, stately tune called 'The Wellesley', from the Duke of Wellington's West Riding Regiment, of which Sweeney's violin maker, Richard Howard, was a member up until his death at the Battle of Messines in 1917. Sweeney played it over Howard's grave in 2017, at the first of what will be annual Richard Howard walks. He says the emotion was overwhelming, and that is the general tenor of this outstanding album. It comprises 16 pieces to mark the centenary of the war's end, ranging from Scottish pipe tunes to popular dances and marches that began their lives in civvies before being inveigled into the military. Sweeney, with guests including Leveret bandmate Rob Harbron, guitarist Jack Rutter, pianist Becky Price, double bassist Ben Nicholls and a brass and string section, return an intense and beautifully performed humanity to them all.
Sweeney's playing is unearthly at times: the singular focus of this set and the level of its performance makes this an outstanding and deeply moving experience. Tim Cumming

Karine Polwart with Steven Polwart & Inge Thomson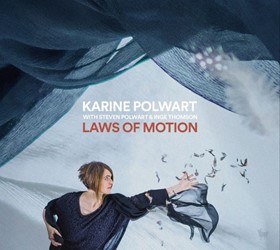 Laws of Motion Hudson Records (49 mins) ★★★★★
Following hot on the heels of A Pocket of Wind Resistance, Polwart's album to accompany her Wind Resistance theatre project, she has released another album that explores similar territories of movement, migration and inner meditation. She is joined by regular bandmates: her brother, guitarist Steven Polwart and multi-instrumentalist Inge Thomson. This album feels like musical therapy. While the music is dazzlingly inventive, swooping, soaring and turning abruptly on a sixpence from discord to sweet lullaby, the poetry of the lyrics concerns fathers, sons, inherited pain, and the ephemeral nature of human life when faced with the awesome permanence of rock, ocean and stars. Her stinging spoken-word reproach to president Donald Trump – neatly revealing his own immigrant roots – brings to mind Ani DiFranco's response to George W Bush in 'Self Evident', but with more heart for the little boy he once was. The uncompromising atmosphere is well complemented by a cover of Sydney Carter's great anti-war song, 'Crow on the Cradle'.
Elsewhere, little shimmering portraits of frail lives are revealed with Polwart's expected self-assurance – travelling easily from Japan to Italy and back to Scotland once more. And there's a sting in the tail – but I won't spoil it for you. Nathaniel Handy

Robert 'Robi' Svärd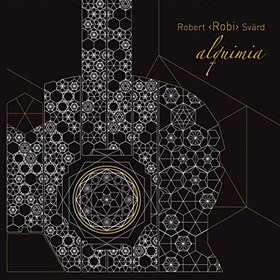 Alquimia Asphalt Tango (42 mins) ★★★★★
Swedish flamenco guitarist Robert 'Robi' Svärd released his engaging debut album Pa'ki Pa'ka in 2016. This album won him not only good reviews but the attention of Spain's flamenco community, who were extremely impressed by his fluid, lyrical technique. Alquimia means 'Alchemy' in English, the magical transformation of base metals into gold; a mythic process that haunted many medieval minds. Here, the Swede finds himself creating musical gold out of what we must admit is hardly a base-metal talent. Where Pa'ki Pa'ka was slightly hesitant – a magnificent display of guitar playing but perhaps lacking in that magical duende spirit, Alquimia is stunning as both the guitarist and his Spanish collaborators contribute to an exceptional album.
A lot of thought has gone into both the songs and the performances. 'La Luna Quiere Bailar' has a gentle rhythm, jazzy piano and a female chorus, while 'Callejon Del Agua' has a hard, masculine intensity. Throughout, the performances are models of clarity – palmas (hand claps) provide the rhythmic base for which Svärd channels his taut, melodic guitar lines, while a variety of vocalists sing with the requisite skill and passion. There's plenty of space left in the performance, and no one shows off or over-emotes. Instead the Swede and the Spaniards come together to create a furious, exciting and quite beautiful whole. Garth Cartwright

Talisk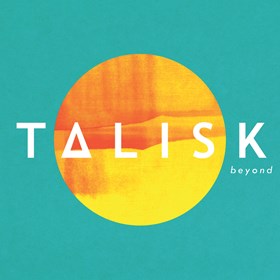 Beyond Talisk Records (42 mins) ★★★★★
Fresh from a well-deserved win of the 2018 BBC Radio 2 Folk Awards' Musician of the Year award for concertina player Mohsen Amini, Talisk release their second album. And what a cracker it is too. There is a remarkably powerful sound from the trio, which includes Hayley Keenan on fiddle and Graham Armstrong on guitar. The eight self-penned tracks take as their inspiration all the places the band have visited over the last couple of years. 'Montreal' is a foot-stamping, blistering opener whilst 'Cabot Trail' is a beautifully sweeping and pounding evocation of the North American landscape.
'Rations' is a sweaty duet between fiddle and concertina, with some tasty pounding guitar; while title-track 'Beyond' hints at rich promises still to come, via energetic and unexpected rhythms. Talisk also bring a remarkable guest-list on 'Farewell': Breabach, Skerryvore, Tide Lines and We Banjo 3 are among many others joining the band on vocals. There is a wide-eyed enthusiasm here for all things traditional and a burgeoning excitement at where the band is heading which is incredibly infectious and endearing. Fresh, invigorating, accomplished and playfully frisky: this is a wonderful release. Billy Rough