Thursday, December 12, 2019
Amália Rodrigues: A Beginner's Guide
By Chris Moss
Pleasure, pain and poetry – the 'Queen of Fado' gave Portugal its soundtrack during a turbulent 20th century. Chris Moss looks back over Amália's career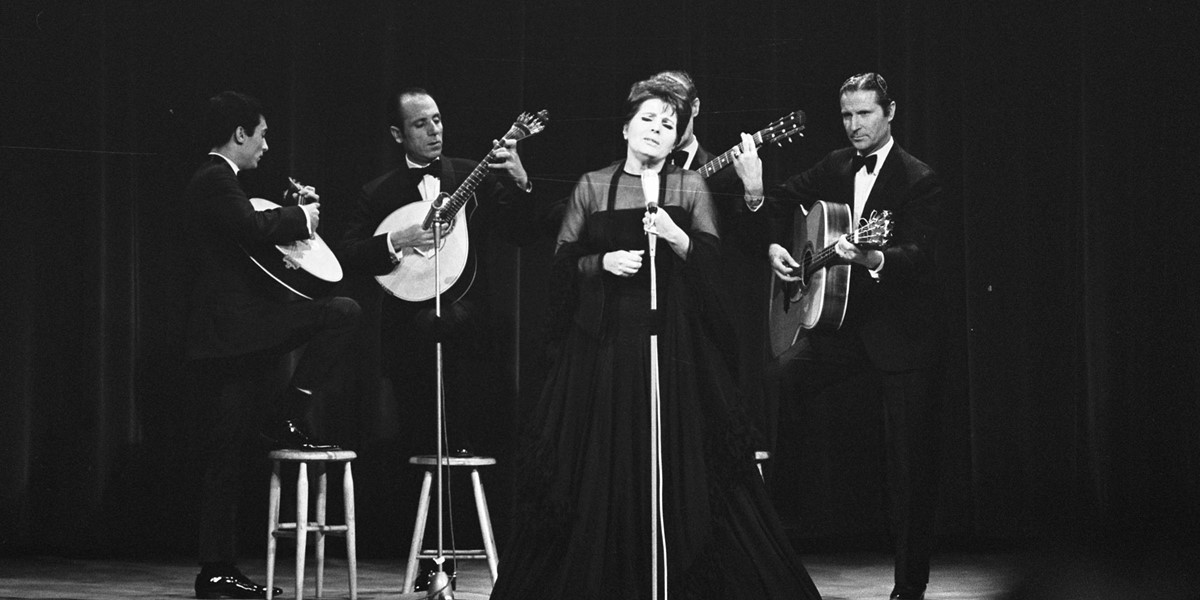 "Fado came from the sea, the vast sea in front of us. Fado came from the lament for our sailors who departed and never returned." Thus Amália Rodrigues got around explaining the enduringly obscure origins of fado, Portugal's urban folk song – sometimes dubbed 'Portuguese Blues.' Certainly, her finest performances seem to reach out from her precious Lisbon into the great unfathomable beyond – to the sad swelling ocean, perhaps, timeless and full of tragedy.
Amália – as for all true superstars, one name suffices – was born in July 1920 (the precise date isn't known) in Lisbon – the location by mere chance as her parents happened to be visiting her maternal grandparents. One of ten children, she was raised from 14 months by her grandmother, spending most of her teenage years in Lisbon's Alcântara district. Later, her parents moved to Lisbon too. After completing primary school, Amália did sewing and embroidery, peddled fruit and worked in a sweet factory.
Fado, already a century old, was on the rise. Naturally gifted, Amália sang at community events and parties. She made her professional debut aged 19, performing alongside her sister, Celeste, at the fashionable Lisbon nightspot Retiro da Severa. This led to further gigs and inside a year she was a star, being paid well above the going rate.
An important early collaborator was Frederico Valério, who used his classical training to tailor compositions suited to Rodrigues' range and timbre. Songs like 'Fado do Ciúme', 'Ai Mouraria' (her first big hit) and 'Não Sei Porque Te Foste Embora', featuring lush orchestral ornamentations not typical of fado, were instant classics. Drawing on both the Lisbon and Coimbra fado styles, Amália chose songs that lifted the form out of the merely romantic and maudlin to explore existential, universal themes.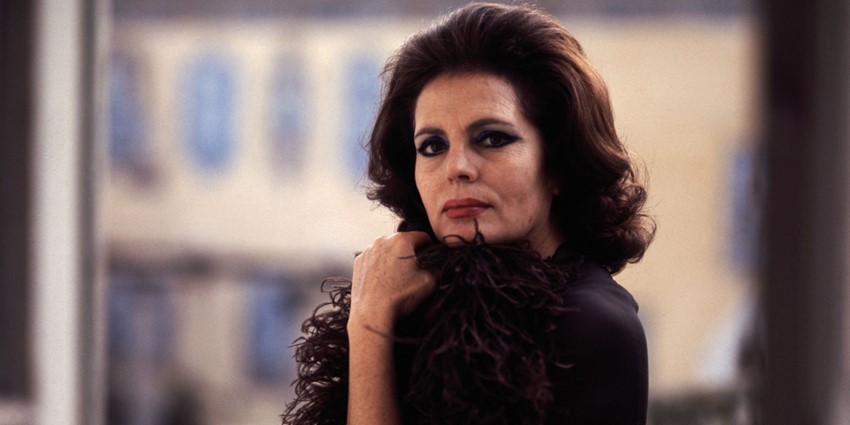 In 1943 she made her first trip abroad, at a gala held by the Portuguese ambassador in Madrid. The following year, a visit to Rio de Janeiro drew large audiences to the Casino de Copacabana, Teatro João Caetano and Rádio Globo. She returned to Brazil in 1945-6 to make her first recordings – eight 78rpm discs for the Continental label.
Amália's manager, José de Melo, was not over-keen on making records, fearing fans might not turn up for live shows. But in 1951, she went back into the studio for the Melodia label before moving to the Valentim de Carvalho imprint the following year. The latter would become a powerhouse in Portuguese music thanks to its association with her.
Like Bing Crosby and Carlos Gardel, Amália was a natural fit for the silver screen, beginning with 1947's tearjerker Capas Negras (Black Capes). Neither the film nor her performances were memorable, but when she played herself in Les Amants du Tage (The Lovers of Lisbon), a 1955 film by Henry Verneuil, starring Trevor Howard and Françoise Arnoul, her rendition of 'Barco Negro (Mãe Preta)' – Black Boat (Black Mother) – caught the attention of French cinema-goers. In the wake of World War II she had began to tour outside of South America, and it was a recording of 'Coimbra' made at Paris Olympia theatre that gave Amália her first international hit in 1956.
It was not all glitter and glory. From 1933 to 1974, Portugal was in thrall to corporatist right-wing rule, which evolved out of the 1926 dictator-led coup. Historians have said fascism went hand with three other F's – football, Fatima (the predominant saintly cult in Portugal) and fado. Many on the left saw fado as tainted, even as the official voice of Catholic fascism. Amália, a self-confessed conservative, was an inevitable target of the left in the build-up to the 1974 revolution that overthrew Salazar. Just as her voice began to wane, so did her domestic popularity. She fought depression partly by touring abroad, where audiences remained spellbound by her presence.
In 1976, after the fervour of revolution had calmed, the official line changed and Amália was given a comeback concert at Lisbon's Coliseum. She received the longest ovation in the history of the venue; her status as 'Rainha do Fado' – Queen of Fado – was again secure.
Amália's contribution to fado is manifold. She internationalised the music, both by taking it out of Portugal as a kind of ambassador, but also by incorporating influences from Argentina (from watching Carlos Gardel movies as a child), Spain and Morocco. Songs like 'Barco Negro (Mãe Preta)' have their roots in sub-Saharan Africa; thematically as well as generically she expanded fado's range.
Her singing style, especially her melisma, was revolutionary. In the song 'São Loucas' (They're Crazy), she communicates the madness with a drawn-out, wavering 'loooouuucaaas.' Musicologists are entranced and to some extent mystified by her virtuosity. Fadista Ana Moura told one interviewer that within the fado scene, performing single words or monosyllables in this fashion is known as doing a 'rodriguino.'
But behind the technique, there is always a kind of raw vulnerability, a feeling of barely controlled emotion and absolute commitment. "She had all the characteristics to be the perfect singer," Moura told America's NPR. "She had a beautiful colour to the voice. She had a huge range, and for me, most important, it was the soul."
In all, Amália recorded upwards of 170 albums. She was packing out theatres when the popularity of fado diminished in the 1960s. In 1966 she wrapped up her film career, though she had a cameo in Wings of Desire (1987) by Wim Wenders, who would go on to make the fado-tinged Lisbon Story in 1994. She continued touring well past her 70th birthday, retiring only after undergoing surgery; she spent the final years of her life as a recluse, making her final public appearance at the opening of Lisbon's Expo in 1998.
Amália died on October 6, 1999, at the age of 79. Upon receiving news of her passing, Portuguese prime minister António Guterres ordered three days of national mourning, declaring her as "the Voice of Portugal."
"The Portuguese invented fado because we have a lot to complain about," Amália Rodrigues once declared. "On one side we have the Spanish with their swords; on the other side there's the sea, which was unknown and fearful. When people set sail we were waiting and suffering, so fado is a complaint."
Rarely have moroseness and melancholy been so blessed. Amália is to fado what Gardel was to tango and Piaf to chanson. She took a musical genre and simultaneously owned it and passed it back to her nation as a fully formed thing of beauty and magic.
BEST ALBUMS
Live at the Olympia Theatre in Paris
(Monitor, 1956; reissued by Smithsonian Folkways Recordings, 2004)
This live concert album, recorded on November 16 1956, contains stirring versions of several early classics, including 'Al Mouraria', 'Coimbro' and 'Uma Casa Portuguesa'. Amália performed in the inky black of mourning, her head thrown back and her face a mask for Greek tragedy. This recording captures the fierce sorrowfulness of her live performances.
Busto
(Columbia, 1962)
Released untitled and later called Busto in reference to the bust on the cover, this landmark recording was Amália's first collaboration with French songwriter and composer Alain Oulman, and contains the heartfelt 'Abandono' and 'Madrugada de Alfama' – one of many Amália songs celebrating Lisbon life. José Nunes plays guitarra portuguesa, Castro Mota plays viola, Oulman plays piano.
Com Que Voz
(EMI-Valentim de Carvalho, 1969)
Com Que Voz reprises many successes and adds several more, all works by Portuguese poets, with music by Alain Oulman. Amália was at the height of her vocal and performing powers in the 60s and this record, which scooped up nominations and awards outside Portugal, is widely considered to be her masterpiece.
Amália/Vinicius
(EMI-Valentim de Carvalho, 1970; reissued by Biscoito Fino, 2009)
The result of a 1968 meeting with celebrated Brazilian poet Vinicius de Moraes (best known for 'The Girl from Ipanema'), this album is a window on the rarely discussed interplay between Brazilian song craft and fado.
This article originally appeared in the December 2019 issue of Songlines. Never miss an issue – subscribe today!