Sunday, December 13, 2020
Bassekou Kouyaté: A Beginner's Guide
Simultaneously innovating and upholding the traditions of the ngoni, Bassekou Kouyaté is a name synonymous with his instrument's modern sound. Nigel Williamson rounds up his sparkling career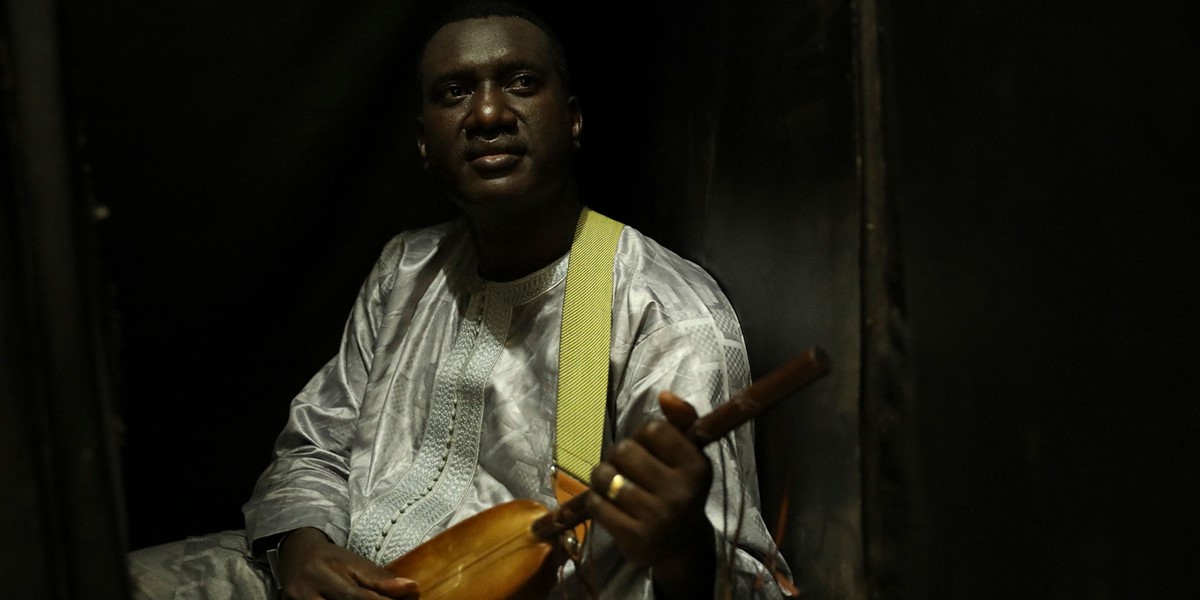 Bassekou Kouyaté (photo: Thomas Dorn)
The ngoni isn't much of an instrument to look at. Four or sometimes five strings, traditionally cut from lengths of fishing line, are set across a hollowed-out, canoe-shaped piece of wood with dried cow skin stretched over it like a drum. The neck is a fretless length of dowel and the entire instrument is barely two feet long.
Its basic sound is gut-bucket raw and earthy, like a funky banjo, the raspingly plucked notes possessing none of the stately elegance of its sophisticated multi-stringed cousin, the kora.
Yet it is the ngoni's very simplicity that has made it the most ubiquitous instrument in West African music for 800 years, an ancient accompaniment to griot storytelling since the days of Sunjata Keita, the founder of the Mali empire in the 13th century.
It wasn't until the arrival of a new millennium that the wider possibilities of the instrument were opened up. Bassekou Kouyaté began to revolutionise perceptions of the ngoni by turning it into a lead instrument, locating its snapping strings at the centre of the sound for the first time.
With electric pick-ups, distortion and effects pedals added to his crisp, rapid melodies and funked-up cross-rhythms, in Bassekou's hands the sound of 21st-century ngoni packs a punch like never before. Wielding his instrument like an electric guitar, rather than performing in the traditional seated position, and playing with the dynamic energy and attack of rock'n'roll, it was inevitable that he would be dubbed the Jimi Hendrix of his instrument.
"The ngoni allows any musical experience because it can be harmonised with all kind of sounds and rhythms. You can play blues, jazz, and classical," he says. It's a point he has proved many times over, playing with everyone from Cuban maestro Eliades Ochoa, Damon Albarn and the Orchestra of Syrian Musicians to Kronos Quartet and Paul McCartney.
"I learnt to play from my father and he learnt to play from his father and it goes back centuries," he explains. "It's a mythical instrument, the oldest in West Africa, but I have always tried to extend and develop the ngoni for our times."
Virtuoso, innovator and proud upholder of tradition all at the same time, over five albums in a dozen years with his band Ngoni ba, he has smartly crafted his music to appeal to both African and Western audiences without compromising the integrity of his roots.
"I have two kinds of people listening to my music: African people, who understand what I'm telling them, and other people, who listen to my music for its vibe but don't understand the lyrics," he notes. "So, I wanted to maintain some tradition to please my African audience, but I also wanted a more contemporary sound, for people in Europe and America and everywhere they don't understand the words but get the feeling of my music. That's the balance I look for."
Bassekou was born in 1966 in Garana, a small and remote village an hour's drive from Ségou on the banks of the Niger river, some 235km north-east of Bamako.
His mother Yakaré Damba was a traditional praise singer and his father Moustapha Kouyaté was a ngoni player who accompanied his wife's singing. When Bassekou was 13, his father fell ill and he took over, performing with his mother on tours of Ivory Coast and Burkina Faso.
By his mid-teens he was in demand to play at traditional wedding ceremonies, and was accompanying the singer Niany Diabaté and her guitar-playing husband Cheick Oumar Diabaté. The turning point in both his life and career came in 1987 when he met Toumani Diabaté and became a founding member of the kora player's Symmetric Orchestra.
It gave him his first opportunity to travel outside West Africa, appearing with the Orchestra at a festival in Belgium in 1990 and that same year representing Mali at an international banjo festival in Tennessee, where he met Taj Mahal and Béla Fleck.
He went on to collaborate with both of them and came to regard Fleck as a particular soul mate. "The one Western musician who really stands out for me is Béla Fleck," he says. "The American banjo and the ngoni are close cousins, so we have a special understanding."
By the mid-90s he had married the singer Amy Sacko, playing with her on the wedding circuit and on cassette recordings for the local market and appearing on Malian television, where Sacko's powerful voice earned her the nickname 'the Tina Turner of Mali.'
In 2005 Bassekou was invited by Ali Farka Touré to play on his album Savane and to accompany the guitarist on his final tour before his death the following year.
By then, Bassekou had created his own band, initially known as Samagéra, but soon renamed Ngoni ba. He has run the band ever since as a family affair with a line-up that at different times has featured his wife on vocals, sons Madou and Moustapha Kouyaté and Bassekou's brother Fousseyni on ngoni, and his niece Kankou Kouyaté on backing vocals.
The group's name translates as 'ngoni power' and its line-up of four interlocking ngonis playing lead, rhythm and bass, rock band-style, is groundbreaking – although Bassekou points out that ancient rulers of Ségou sometimes ordered an entire orchestra of 30 or 40 ngoni players to perform for the court.
Segu Blue, his 2007 debut album with Ngoni ba, won two BBC Radio 3 Awards for World Music. The follow-up I Speak Fula was nominated for a Grammy and the third, Jama Ko, won Bassekou the Songlines Best Artist award in 2014.
It was followed by 2015's Ba Power, which amped up the sound to thrilling new levels of rock'n'roll energy. His new album Miri is a quieter, more thoughtful affair about love, friendship and family that fuses tradition with his now customary bold sense of adventure.
"We have an incredible tradition in Mali, but the world is changing, and we must change with it," he says. "I can't keep copying the music my great grandparents played. I have to play our music the way I feel it, in a way that people can relate to today."
This article originally appeared in the March 2019 issue of Songlines. Never miss an issue – subscribe today!