Thursday, April 11, 2019
Eliades Ochoa: A Beginner's Guide
Mary Farquharson marvels at the career of the much-loved former Buena Vista Social Club musician who is still highly influential today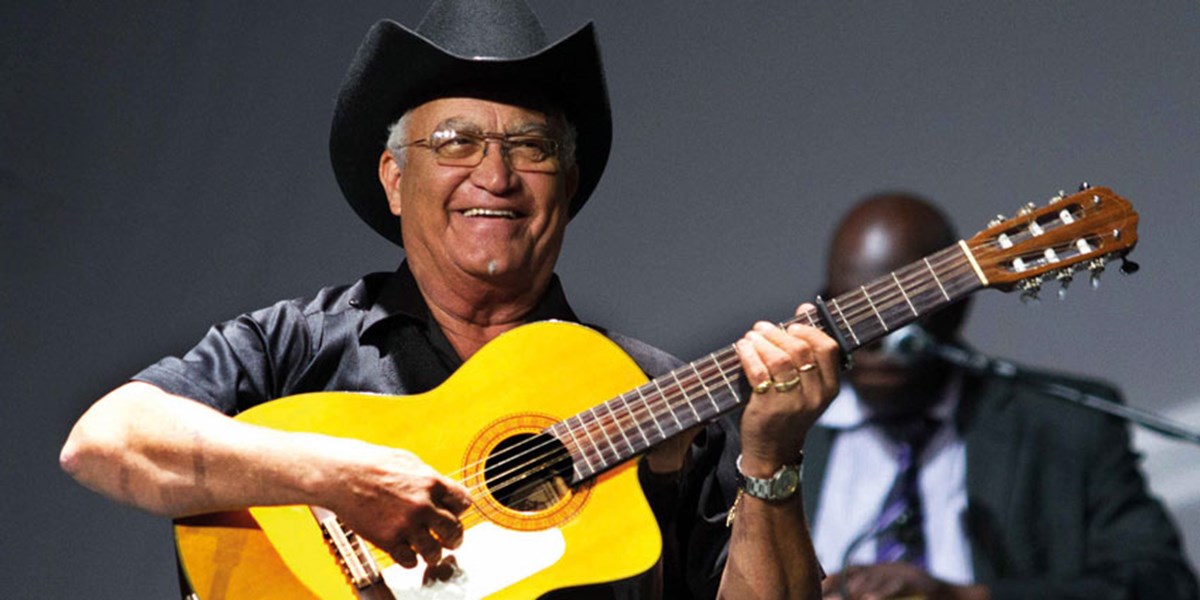 (photo: Max Pucciariello)
There's a fantastic new video of one of Eliades Ochoa's best loved songs, 'Amarrao con P', where the Cuban master of animation Juan Padrón places the singer in a cartoon world of lusting witches and magic potions. Ochoa looks very much at home. He's been producing musical magic since he was a child who listened to Compay Segundo on a neighbour's radio. "I dreamed that, when I was a man, I would play like him, and be heard on the radio," he remembers.
The man who would become a star of Buena Vista Social Club was born in 1946 on a small holding about 100km from Santiago de Cuba; all his family were musicians as well as farmers. As a young man, he was invited to lead the prestigious bolero band, Cuarteto Patria, and he began to search for Compay Segundo to see if they could somehow work together. He found Segundo who was making cigars in a factory in Havana, and he gave Ochoa a cassette in an envelope. One of the tunes Segundo had composed was a Cuban son that went by the simple name of 'Chan Chan'. It was Ochoa who first recorded it in 1987 and two years later, Segundo and Ochoa went to Washington DC to play at the Smithsonian Institute together. They returned to the US 13 years later as the stars of Buena Vista Social Club, for the Carnegie Hall show in New York.
Segundo wasn't the first musical legend to cross Ochoa's path. Aged 11, he was playing guitar in the street in Santiago de Cuba when he saw a crowd gathered around a man who was sitting in a red leather chair having his boots shined. Ochoa couldn't see who was the centre of attention but he took advantage of the crowd, put his hat on the ground and began to play. When he finished the song, the man in the seat called him over and Ochoa looked into the face of one of the gods of Cuban music: Beny Moré. "If you go on playing like that, you will make it; that's how the greats begin." Moré then invited the shoeshiner to pay Ochoa and the young guitarist continued on his path.
In the 1970s and 80s, before international record producers such as World Circuit's Nick Gold had discovered Santiago de Cuba as a musical Mecca, Ochoa played in the wood-panelled front room of an old house in Calle Heredia. Behind him were portraits and photographs of the original trovadores, who'd adapted and decorated the Casa de la Trova in their spare time. After the Revolution, it was restored and people filled the simple wooden benches to hear artists such as Inaudis Paisán play trumpet with the Estudiantina Invasora or the legendary Rigoberto Echevarría 'Maduro' – possibly the most underrated master of Cuban son. Even in this hallowed company, the local musicians would look up when Ochoa walked through the door. He has always been quietly magnetic, in an understated way.
At this time Ochoa developed his own signature guitar with eight strings, which he tuned to be played both as lead guitar and tres. He makes light of this achievement, as he does of his voice and of his capacity to improvise verses to adorn the montuno section of the son, a talent that all great soneros used to have. "I'm not a repentista or a poet," he insists, but if the mood is right, Ochoa can string out a single son montuno for an hour or more, spicing it with sexual innuendo and, at the same time, playing some incredible improvised solos on guitar. His style is a very personal version of the original trova, as it was played by the founders of this style, like Sindo Garay or Miguel Matamoros in the 1920s.
In 1979, as the leader of Cuarteto Patria, Ochoa won the Adolfo Guzmán prize, recorded his first LP and began his touring career with a concert in the USSR, followed by countless shows all over the Caribbean, Spain and South America. In 1989 he made his first trip to Mexico where Eduardo Llerenas, founder of Discos Corasón, presented him in various venues. When he played in the legendary Bar León, it was packed with local musicians who within a short period of time incorporated 'El Cuarto de Tula,' perhaps Ochoa's most emblematic song, into their regular repertoire – something that would normally only happen with big stars like Celia Cruz.
In 1994, British promoter Andy Wood presented Ochoa for the first time in the UK – at the Queen Elizabeth Hall in London where both Nick Gold from World Circuit and a French concert producer, Yorick Benoist, were present. With only five musicians on stage, it was pure, undiluted Ochoa and sufficient for Gold to confirm a long-standing interest in him and for Benoist to begin work on a European tour during the summer of 1996, just before the Buena Vista record was made.
➤ This article originally appeared in Songlines #136. Find out more about subscribing to Songlines
At the Angoulême Festival – one of the first dates of the European tour – Ochoa was persuaded to invite a famous sax player to join him on stage. Since they'd never played or rehearsed together, Ochoa protested. "Don't worry," Benoist told him, "Manu Dibango has been rehearsing for this show for years." Ochoa later found out that Dibango knew one of his first albums, A Una Coqueta, and after the show, Ochoa said he'd played, "like a Cuban." They celebrated this encounter with a wonderful recording, CubÁfrica.
Ochoa has since played with many great international artists, from Ry Cooder to Charlie Musselwhite, as well as the African masters Toumani Diabaté, Bassekou Kouyaté and Kasse Mady Diabaté for the 2010 album, AfroCubism, on which Ochoa revealed his talent as a composer, with his song, 'A la Luna yo me Voy' (I'm Going to the Moon), being one the highlights of this CD.
At 71, Ochoa is on great form. He's just made a video of 'Preciosa', a duet with Descemer Bueno, the classical guitarist, hip-hop star and composer, who wrote the song with Ochoa's voice in mind. He continues to be the focus of Cuba's most prestigious musical events and is a generous promoter of younger musicians from all over Latin America. Whatever the size of the venue, he pulls the audience towards him as he creates magic on his guitar.
Best Albums