Thursday, October 14, 2021
Fanfare Ciocărlia | A Beginner's Guide
Fanfare Ciocărlia are the planet's foremost Balkan brass band, soundtracking Guinness and Ikea ads, covered and copied, remixed and sampled, winning international awards and, night after night, taking their furious brass blast to the stage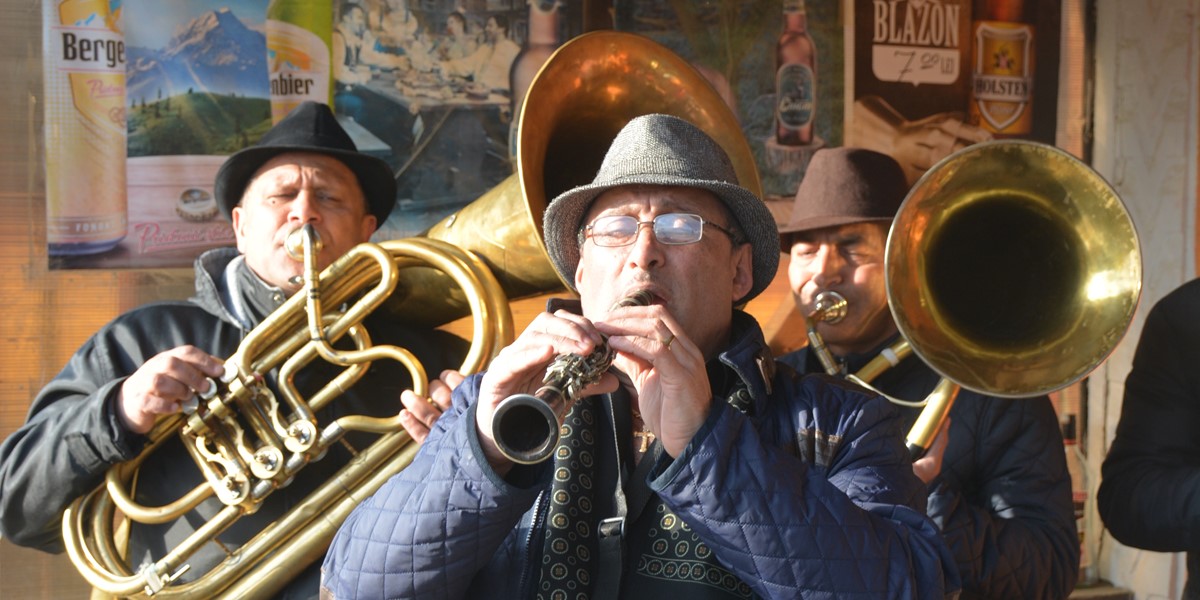 Fanfare Ciocărlia are the planet's foremost Balkan brass band. Hailing from Zece Prăjini, a tiny village created for freed Gypsy slaves, in north-eastern Romania, the remarkable Gypsy ensemble have gone from rural obscurity to rocking the world's finest concert halls, featuring in films, inspiring club nights, soundtracking Guinness and Ikea ads, covered and copied, remixed and sampled, winning international awards and, night after night, taking their furious brass blast to the stage. Yet the musicians who make up Fanfare Ciocărlia remain humble men who proudly describe themselves as "the hardest working band in the blow biz."
Most Romanian Gypsy music features strings (violin/cimbalom) or accordion. Brass bands are rarely found in Romania, except in this area of the Romanian province of Moldavia. But why should an obscure village with intermittent electricity and no telephone line be home to an ensemble who rocked harder than the rest? Fanfare state that they learnt from their fathers who learnt from their fathers. Maybe there's also an influence from Russian military bands. But the tradition goes back a couple of centuries.
Until Henry Ernst, a young East German sound engineer, arrived in Zece Prăjini in 1996, the village's musicians had only played at local weddings and funerals and were completely unknown beyond their hamlet. Ernst named the musicians Fanfare Ciocărlia – 'fanfare' is the common Romanian term for a brass band while 'ciocărlia' means lark and is the name of the most famous encore piece in Romania. He then returned to Germany and booked the band a ramshackle tour that he imagined to be a one-off. Yet audience reaction to Fanfare was so strong the band quickly became a fixture on the world music tour circuit. Berlin's Piranha Records signed Fanfare and their 1998 debut album Radio Pașcani blew minds and sold 80,000 plus copies.
Their 1999 sophomore effort, Baro Biao: World Wide Wedding, proved the band were no fluke and 2001's Iag Bari found Fanfare extending their sound: a wild rip of Louis Armstrong's 'West End Blues', two vocals from underground Bucharest Gypsy icon Dan Armeanca and a haunting take on 'Lume, Lume' (joined by Bulgarian vocal group Angelite). This magnificent album showcased both the muscle and the subtlety in Fanfare's sound and Ralf Marschalleck's fine documentary Iag Bari: Brass on Fire followed the band as they left Zece Prăjini to tour Europe and Japan.
By now Fanfare Ciocărlia had developed into the planet's hardest working, highest grossing Balkan Gypsy band. The sheer energy and uplift of Fanfare's brass blast meant their concerts attracted ravers, rockers and everyone else who wanted a fabulously transcendent concert experience. Club DJs began playing Fanfare and remixing them with a techno beat while the likes of Kočani Orkestar (Macedonia) and Boban Marković Orkestar (Serbia) followed in Fanfare's wake with their own distinctive brass sounds.
Fanfare stayed on the road, not issuing a new album until 2005's Gili Garabdi, on their new label Asphalt Tango. This album found the band at their most confident and, aware of their popularity with a wide Western audience, delivering brilliant Balkan brass interpretations of the James Bond theme and Duke Ellington's 'Caravan.'
Not long after Jasmine Dellal's documentary feature, When the Road Bends: Tales of a Gypsy Caravan, was released. This showcased a major US tour Fanfare had undertaken with a host of Roma musicians from Macedonia, Spain and India. The spirit captured by this tour had lingered with the band and they decided to recreate the Caravan in Europe. Before rehearsals could begin, disaster struck when Ioan Ivancea, the band's elder and leader, died of cancer. Devastated Fanfare Ciocărlia threw themselves into rehearsals for what would become Queens & Kings. The 2007 album found Fanfare joined by Macedonian Gypsy Queen Esma Redžepova, Perpignan's Kaloome, Serbia's Šaban Bajramović, Hungary's Mitsou, Bulgaria's Jony Iliev and others. Fanfare then took Queens & Kings on the road with Redžepova, Iliev, Kaloome and other guests joining them. What a spectacular party this turned out to be. And what a great celebration of Romani Gypsy music making across the continent. The producers of Borat commissioned Fanfare to record 'Born to be Wild' for the soundtrack to Sacha Baron Cohen's supremely funny-obnoxious film.
After years of extensive touring Fanfare needed a break and the band settled back into Zece Prăjini for a year, most members now living in houses of the kind the locals had never seen before. What got the band hungry to play again was the opportunity to go toe-to-toe with the Boban and Marco Marković Orkestar. The two brass bands had wearily circled one another for years – Fanfare being famed for their great grooves, the Markovićs' for their sublime virtuosity – and now they took the battle to the stage, both bands whipping audiences into a joyous frenzy (and released as Balkan Brass Battle, reviewed in #78).
On stage night after night Fanfare Ciocărlia continue to kick out the jams – they really are the hardest working band in the blow biz!  

---
Best Albums
---
Radio Paşcani, Baro Biao & Iag Bari
(Piranha, 1998, 1999 & 2001)
The first two albums – Radio Pașcani and Baro Biao – are brass explosions: the speed, groove, energy, vibe. They remain startling (and hugely enjoyable) today. But it's Iag Bari which is their masterpiece, both irrepressibly fast and frenetic and with the sour horns digging some deep Balkan blues. It also became the basis of a documentary by Ralf Marschalleck (see below).
---
Gili Garabdi
(Asphalt Tango, 2005)
One of the great party albums of all time, Fanfare open with the Bond theme, turbo-charged jazz standard 'Caravan' and more. Reviewed in #30.
---
Queens & Kings
(Asphalt Tango, 2007)
This celebration of European Gypsy music finds Fanfare accompanying a host of Roma stars including Esma Redžepova, the late Šaban Bajramović and Ljiljana Buttler. Huge energy and excitement abound – a triumph! A Top of the World review in #43.
---
The Story of the Band
(Asphalt Tango, 2004)
One of world music's finest DVD packages. The two discs include the excellent Brass on Fire film directed by Ralf Marschalleck, which gives a vivid picture of the band in their home village with some gloriously surreal scenes, plus a Berlin concert and a host of extras. Reviewed in #28.
---
This article originally appeared in the January/February 2013 issue of Songlines. Never miss an issue – subscribe today