Monday, February 4, 2019
Frigg: A Beginner's Guide
Tim Woodall examines the career of the remarkable Finnish string group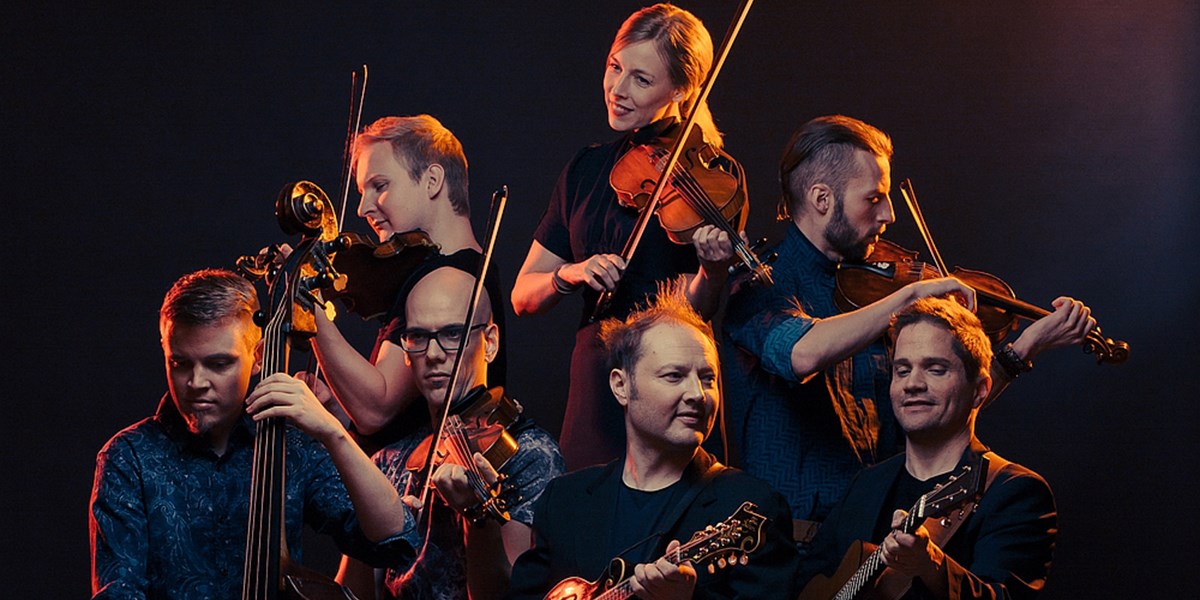 (Photo: Tero Ahonen)
Back in March 2018, Finland was declared the 'happiest country in the world.' This was not the result of a dodgy Facebook survey; the 2018 World Happiness Report was compiled by the United Nations, no less, and charted citizens' own reports of wellbeing alongside data on corruption, inequality and freedom. For anyone living in more temperate climes, Finland might not seem the most likely destination for happiness unconfined – good governance and a strong civic society notwithstanding. But then the clues are there. One of the best of them is to listen to the music of folk group Frigg.
Many folk supergroups have in their armoury those big, foot-stomping tunes that are full of joy. Frigg has a whole oeuvre of them. To pick just a couple of examples, there's 'Jokijenkka' (Riverdance), a gloriously springy Scots dance with some impressively intricate unison fiddle playing and brassy overlays from Keidas (Oasis) back in 2005; and 'Viinalaulu' (Liquor Song), a jaunty, guitar-washed song with close-harmony vocals, which can be found on the compilation album Timeline (2014). Even the ballads and quieter pieces from this Finnish septet radiate the glow of a warm dance hall on a winter's night.
Seventeen years after their first album together, the young guns of Frigg – named after a goddess of Norse mythology – are perhaps not quite so youthful, but their music carries the same vigorous brio of older times. Formed as a Finnish-Norwegian band, the personnel has shifted with a line-up today that is solely Finnish (sadly losing some Hardanger fiddles along the way), but much else remains the same. Festival-goers will see them in two ranks on stage, with four fiddles (Tommi Asplund, Tero Hyväluoma, and Alina and Esko Järvelä) stepping to the beat and guitar, double bass and mandolin (Anssi Salminen, Juho Kivivuori and Petri Prauda respectively) behind.
Now living in and around Helsinki, some members of the band originally hailed from 450km to the north in west Finland, in the municipality of Kaustinen, home to Finland's pelimanni (Nordic dance music) tradition and the famous Kaustinen Folk Festival. Brother and sister Esko and Alina Järvelä grew up in Kaustinen and are from a long line of fiddle players; a first family of Finnish fiddle playing. JPP, the long-running Finnish fiddle group a generation older than Frigg, is intimately connected with the Järvelä name.
Like talented musical inheritors of folk traditions the world over, Esko, Alina and cousin Antti (Frigg bassist in a former line-up) wanted to put their own stamp on the tradition. For Frigg that meant a contemporary take on old material. They wrote music, lots of it, a fact that is underlined by the nomination the whole band received for an award bestowed by Finnish copyright organisation (Teosto), for Polka V. But the key twist was to subtly broaden the instrumentation and send their band's sound off in new directions, not quite into a full fusion, but certainly looking outwards. Specifically, that meant Americana. With the similarities in ensemble make-up – fiddles and plucked stringed instruments – and that rhythmic drive, it was a natural jumping off point and can be heard unmistakably on the two-minute romp 'Cross-Country', on Frigg's self-titled 2002 debut.
➤ This article originally appeared in Songlines #138. Find out more about subscribing to Songlines
Before too long, the term Nordgrass – not the most elegant genre mash-up term of all time, but certainly not the worst – attached itself to Frigg and stuck. In many ways it's an apt description. Americana influences drift in and out of tracks in Frigg's early records in a clever way. The instrumental combination of fiddle, Hardanger fiddle (in the original line-up), double bass, mandolin and sometimes dobro – let alone bagpipes and cittern, which crop up too – is completely unique.
The Frigg sound of today feels more like a contemporary take on Finnish folk than a fusion with any other one tradition, as heard on the band's latest release, Frost on Fiddles (2017), which features some studio effects and experimental moments. Frigg, it seems, are not standing still, as demonstrated by their most recent project, a collaboration with Shetlander favourites Fiddlers' Bid. Two supergroups from distinctive, highly local, specialised fiddle traditions tearing it up on stage: it's a mouth-watering prospect. The groups performed together for the first time in June 2017. If there is room in a studio for the 14 players, then the next chapter for Frigg could be as exciting as what has come before. Watch this space.
Best Albums