Friday, February 1, 2019
Punch Brothers: A Beginner's Guide
Punch Brothers have been pushing the boundaries of bluegrass for over a decade and show no signs of stopping. Alexandra Petropoulos tells their story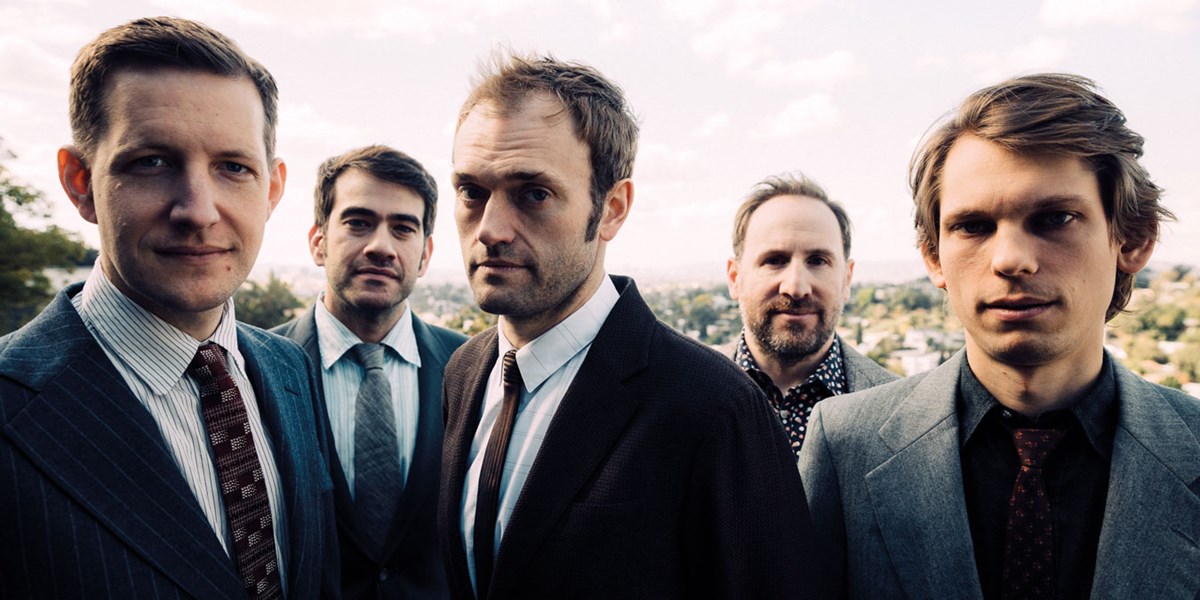 (photo: Josh Goleman)
The story of this alt-bluegrass quintet is one of exploration, finding the space between tradition and innovation, sounds and storytelling. Punch Brothers have been redefining American roots and what it means to tap into a tradition with young hearts since they started playing together in 2006. But their story really began long before that.
A young Chris Thile – only about seven years old – found himself at a bluegrass festival in Azusa, California. "I saw [fiddle player] Gabe Witcher. He used to play with his dad's bluegrass band." Thile was captivated: "I had been playing for two years and here I see this other kid who looks about my age and I'm freakin' out. I found him after the show and treated him like he was a rock star. It was like 'hey! I play music too!' [He said] 'that's cool, let's hang out.' So, we played together later that night and we've been making music ever since."
Over the years Thile and Witcher grew up together musically until they finally decided to start making music more seriously together around 2004. "We didn't know what form the music would take," Thile explains. "Gabe played more fiddle than anything else and I played more mandolin, but our interests were vast. So, it wasn't a forgone conclusion that it would be a bluegrass band until I met this guy," he points across the room to banjo player Noam Pikelny. "I was the one that set the genre limitation," Pikelny jokes, "'I guess we're going to have to be a bluegrass band'."
Thile and Pikelny first played together at Telluride Bluegrass Festival. "We were picking tunes until like seven in the morning," Pikelny remembers. "Thile was staying in town in a swanky hotel and I was up in the mountains. We finished jamming and I realised I had no way of getting home because the gondola wasn't open. So, the first time that Thile and I came together musically, I ended up sleeping on a park bench. That's symbolic," he laughs.
After recruiting guitarist Chris 'Critter' Eldridge and bassist Greg Garrison, they knew they had a bluegrass line-up but wanted to redefine exactly what that meant. "I feel strongly now that genre is only referring to texture," Thile explains. "What makes a piece of music tick is not the orchestration. Beethoven's Fifth Symphony is still Beethoven's Fifth if played on solo mandolin or an orchestra. What makes that piece that piece – 'da da da daaahh' – is the same no matter what. We just decided that we know these five instruments the best, so let's make whatever music we're going to make on these instruments."
But they hadn't quite yet fully formed as a band as each musician had their own projects including solo work and performing in other groups – Thile with Nickel Creek, Witcher with Jerry Douglas' band, Pikelny with Leftover Salmon and the John Cowan Band and Eldridge with The Seldom Scene. The first time they recorded together was for 2006's How to Grow a Woman from the Ground, though it was released under Thile's name.
It was after writing the ambitious 'The Blind Leaving the Blind' that they realised they needed a cohesive group. The piece is a four-movement, 40-minute suite – part chamber composition, part bluegrass song-cycle – written by Thile as a means of dealing with his divorce. The suite debuted in March 2007 at Carnegie Hall and went on to become the centrepiece for their first album as Punch Brothers, Punch, in 2008. (The name Punch Brothers was inspired by a short story by Mark Twain about a particularly persistent earworm, 'Punch, Brothers, Punch'.) Worried how such an experimental piece would be received, they wrote the album's other five tracks, which are a bit more straight-forward bluegrass, as a way of offering something a bit more palatable.
After releasing Punch, Thile heard bassist Paul Kowert play. "I was like 'oh, that's kind of what this oughta be'." Kowert joined after Punch Brothers 'broke up' with Garrison in November 2008 and they see this as the moment their odyssey really began. "We realised that the nature of the project was far more collaborative," Thile explains. "And with every record since, the music we've made is more the product of all five of us putting our heads together."
Having described their meeting of musical minds as "like finding your soulmates," they knew they had nothing holding them back. "We realised that we have the musicians to do something really special," Witcher says. These last ten years have "been a process of distillation really – distilling things down to their essence and making sure that everything is working towards a common goal of telling a story."
It's their knack for storytelling that makes their music really special. During a residency in 2009 at New York City's The Living Room club they wrote the music for their next album, Antifogmatic, named after a 19th-century drink that claimed to cure the effects of fog. In what would become their compositional style, the tunes were short character studies about those who could benefit from such a beverage.
Their 2012 album, Who's Feeling Young Now?, offered up their most pop/indie-leaning tunes, made explicit by their bluegrass cover of Radiohead's 'Kid A'. Witcher explains, "we were hiding the vegetables underneath the desert, where on the surface it would seem like that's a nice catchy tune, but if you wanted to dive deeper and analyse it you'd find some cool and complex things going on." That pop flavour helped land them on the Hunger Games soundtrack with 'Dark Days'.
In 2015 they released The Phosphorescent Blues, which set out to offer a musical contemplation of connections and technology. They pondered questions about how we connect in the digital age we find ourselves with another set of character-driven episodes. "Each song was chosen because they're all about someone trying to connect to someone else in some kind of way, or the way someone is dealing with the idea of connecting," Witcher explains, "so you have a collage of stories."
➤ This article originally appeared in Songlines #141. Find out more about subscribing to Songlines
For those fans worried that the Punch Brothers' journey was coming to a close after Thile announced he would be taking over hosting duties on the popular radio show A Prairie Home Companion (rebranded as Live from Here), it will come as a relief to know that their latest album is all the same storytelling we've come to love, but with an even deeper sense of musicality. All Ashore, released in July 2018, is their first self-produced effort. Again, they let their characters talk through nine pieces. Characters struggle with questions of relationships, love and whether they're looking out for themselves or the collective on a personal or political level ('Jumbo' is a playful but thinly veiled indictment of Trump). Witcher is quick to add that "making the record is only half the process and the other half is performing it and getting that conversation going."
Later that night I watch them perform on an outdoor stage on a balmy summer evening in North Carolina, supported by the buzz of cicadas. Their live performances are legendary: impossibly tight but not uptight. The audience are treated with swirling picking, lush vocal harmonies and playful banter. They gel perfectly together and always seem to have a hell of good time – especially true when during 'Jumbo' an audience member shouts 'Fuck Trump!'.
No band has expanded the reach of American roots and bluegrass quite like Punch Brothers have. Inviting new audiences to the music with their myriad influences, they've spent over a decade ignoring the boundaries of genre and creating lush sound-worlds. Long may they continue to tell their stories.
Best Albums