Wednesday, November 17, 2021
Renaud Garcia-Fons: A Beginner's Guide
By Rob Adams
Rob Adams examines the extensive career of the acclaimed French double bassist, who has been influential in taking the instrument to its sonic limits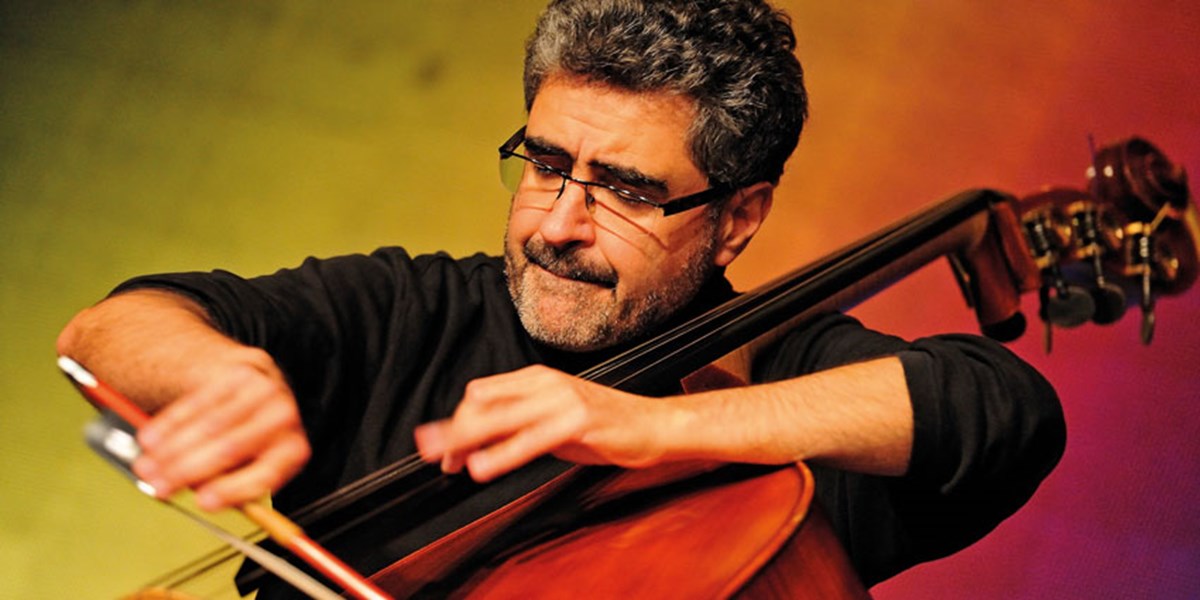 (photo: Rolf Freiberger)
Renaud Garcia-Fons saw a window of opportunity and took it. He was visiting a friend whose brother played double bass. While the bass was left unattended for five minutes, Garcia-Fons gave into temptation. He'd often wondered what it would be like to play the instrument and as a student of both piano and guitar he was already musically literate, so he tried it and as he says, it was like falling in love.
"I was about 16 at the time and didn't have a job, so I couldn't go out and buy a double bass," he says. "I'd been playing guitar and piano for a few years and was writing music by then but in those five minutes, I knew this was going to be the instrument I would spend my life playing. Two or three days later I managed to find a bass to rent and that was it."
He might have felt immediate kinship with the double bass but he couldn't have imagined the level of proficiency he would attain on it. The Fons, as fans know him, has been called the 'Paganini of the double bass' for his ability to get around the fingerboard with extraordinary mobility, and always with a musical purpose. While he acknowledges this as a great compliment, he would prefer to be rated alongside musicians who have advanced the possibilities of their instrument through study and research as well as practice.
Astor Piazzolla would be one such player. Paco de Lucía would be another and a very apt one as Garcia-Fons was born in 1962 near Paris, to parents with a Catalonian background; Spanish music is very close to his heart. Indeed, flamenco bass is another description of his style of playing and to underline this, the Bienal de Flamenco de Sevilla awarded him its Giraldillo de Oro prize in 2010, the first time a double bassist has received this honour in the home of flamenco.
Having found an instrument to rent, the teenage Garcia-Fons set about finding a teacher, knowing from playing the guitar that he wouldn't be able to teach himself the techniques involved in playing double bass. He went on to study at the Conservatoire de Paris, where he gained experience in orchestral playing and was able to refine his knowledge of music theory and performance. His most important move, though, was in seeking out the Syrian virtuoso François Rabbath, who played with the Orchestre de l'Opera de Paris and helped Garcia-Fons to develop the advanced bowing skills that are responsible for him often being mistaken – sonically – for a cellist and even a violist when he plays in the higher register that his customised five-string bass gives him.
As well as playing classical music and working towards a professorship in double bass by the age of 21, as a student Garcia-Fons became involved in the Paris jazz scene. Here he played with trumpeter Roger Guérin's big band and worked in clubs with musicians including the expatriate American drummer Kenny Clarke and the English jazz singer Tina May, who at the time was studying French in Paris. Garcia-Fons later joined the six-strong Orchestre des Contrebasses and played with the Orchestre National de Jazz and French-Vietnamese guitarist Nguyên Lê on his way to developing his own musical vision.
A key element of this has been Garcia-Fons' relationship with Munich-based Enja Records, who have given him the freedom to follow his muse, starting with the 1995 album Alboreá, which announced the arrival on the international stage of a unique talent. For this recording Garcia-Fons hired double bassist Yves Torchinsky to play the more conventional bass role in a quartet comprising two double basses, accordionist Jean-Louis Matinier and drummer Jacques Mahieux while Garcia-Fons moved to the frontline. The results still sound stunning. "I didn't set out to do anything freakish or madly unusual with that group," says Garcia-Fons. "I liked the idea of the bass taking the role as the soloing instrument. I had a sound that I'd heard in my head and I wanted to make it happen. It's not that I only wanted to play in the high register because I love playing deep bass too and across the whole range of the instrument, in fact."
He has backed this statement up on numerous occasions, including solo albums Légendes and Solo: The Marcevol Concert, two wonderfully conversational duo recordings – Fuera with accordionist Matinier and Silk Moon with kemenche player Derya Türkan – and larger scale writing such as on his Navigatore masterpiece, where instruments such as ney, bagpipes, marimba, gimbri, violins, clarinet and brass combine in an unconventional ensemble.
"I enjoy orchestration and I like the textures different instruments give you," says Garcia-Fons, whose work as a composer has included a piece for string quartet, double bass, bansuri and riq, a commission for his trio and seven members of the Scottish Chamber Orchestra, and the soundtrack to the classic silent animation The Adventures of Prince Achmed for the Kurt Weill Fest.
He is equally enthusiastic about his small group performances, often with guitarist Kiko Ruiz and accordionist David Venitucci, and sometimes with singer Esperanza Fernández, where improvisation and spontaneity produce the kind of magic that audiences at the boutique music event East Neuk Festival in Fife have been treated to more than once in the intimate surroundings of Crail Church.
In these gigs, as elsewhere, Garcia-Fons plays with a fluency that's as thrilling as it is impressive and can produce sounds from his double bass that range from the guttural percussion of the berimbau to the sweetest of violin tones. Surely, you might think, such skill must need substantial maintenance. Not so, apparently. "I used to practise for hours," he says. "But I got to the stage where I had too many other things to do and I was able to relax about not being able to practise all the time. I play every day, but suppleness is more important than strength."
---
This article originally appeared in the May 2018 issue of Songlines magazine. Never miss an issue – subscribe today