Tuesday, November 19, 2019
Stephan Micus: A Beginner's Guide
The polymath German instrumentalist has an impressive back catalogue. Simon Broughton examines his wealth of recordings to date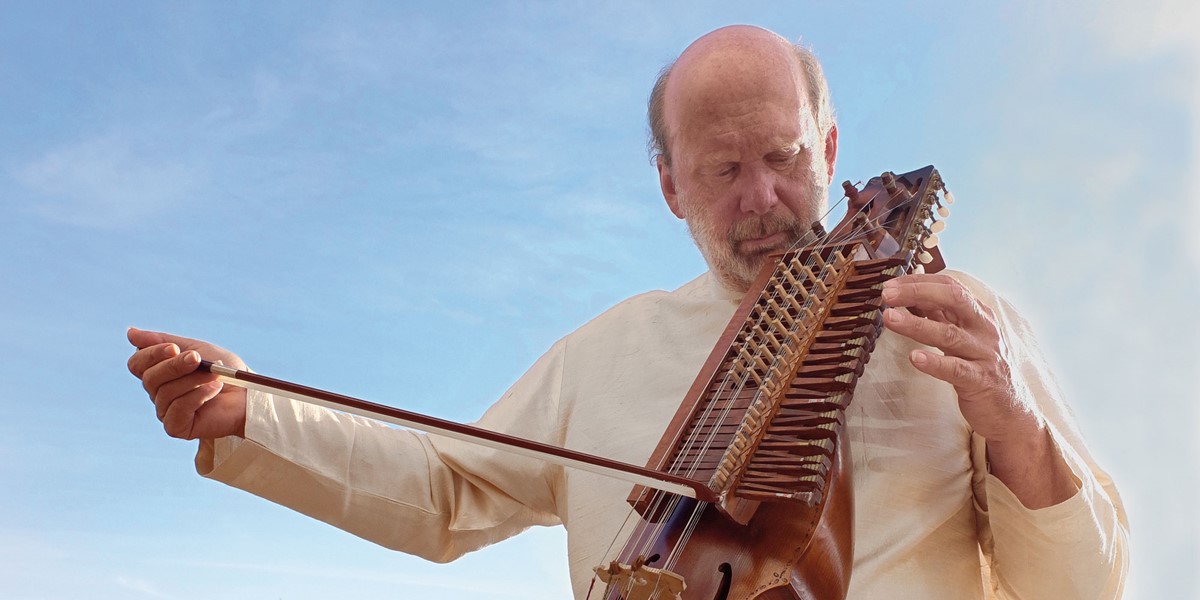 Stephan Micus (photo: Rene Dalpra)
There can't be anyone else we've featured in a Beginner's Guide with over 23 albums behind them and such a global vision. But Stephan Micus, who's recorded on ECM since 1977, is an extraordinary personality. For his albums, he plays and multitracks instruments he's collected from all around the world to create new compositions that are somehow universal.
"For each album I have two or three main instruments and create a story for them," Micus explains when I talk to him in his garden in Mallorca. "It's like a journey. The composer is a guide who takes you on this walk. If he's a good guide, he will create a beautiful journey and bring you back at the end. The whole thing has to make sense like a journey or a theatre piece."
Stephan Micus was born in Bavaria, Germany and became interested in music at an early age. His first instrument was the humble recorder in school, but he heard flamenco aged eight or nine and got a guitar when he was 12. He was in a school rock band, and when Jethro Tull introduced the flute into rock music, Micus took up the flute. In 1971, he heard Ravi Shankar and "Indian music blew my mind," he says. A year later he headed to India and learned sitar in Varanasi. "I practiced sitar every day for three years. It was an obsession. I never invested so much energy in any other instrument." Soon after he was in Japan, a place he's returned to on many occasions, and spent half a year learning shakuhachi (flute) and sho (mouth organ).
Although the sitar was such an obsession, he's only used it on one album, Implosions, his first record for ECM in 1977. "The problem with the sitar is it's so culturally specific. I found the same thing with uilleann pipes. There are some instruments where you hear one note and it takes you to a specific world. My intention is to create a new world with these instruments." The shakuhachi is less culturally specific and he uses it very often in his instrumental colour palette.
Micus' first LP, Archaic Concerts, was made for Virgin in 1976. The A-side was 'Concert for Gender, Shakuhachi and Zither' and the B-side was 'Concert for Angklung, Acoustic Guitar, Rubab and Zither'. Micus says they were probably hoping for something they could promote after Mike Oldfield's Tubular Bells, but this didn't quite fit the bill. However it did give him something he could take to Manfred Eicher of ECM.
Eicher produced Micus' first two ECM albums, Implosions (1977) and Till the End of Time (1978). The former sets the template for what he's done since with sitars, Bavarian zithers, shakuhachi, sho, guitar, Afghan rubab and vocals, while the latter is dominated by plucked, strummed and bowed strings. Since then Micus has basically composed, performed and produced his own albums, just getting a final sign-off from Eicher as ECM's label boss.
While Micus has always created his albums alone, composing, playing, singing and layering the compositions in a studio, there was a radical departure for The Music of Stones recorded in Ulm Cathedral in 1989. 'No overdubs on this album' it says resolutely in the booklet and the performance features Micus and three other players. The instruments are stone chimes made by Elmar Daucher after ancient Chinese models, plus shakuhachi and Irish tin whistle. "Ulm is the biggest protestant cathedral in the world and there's a reverberation time of eight seconds. The nice thing is whatever the priest says you can't understand it."
The Music of Stones is Micus at his most ambient and meditative, the stones sometimes sounding like gamelan chimes and the flute searching for an answer over the resonant background. You can hear the cathedral bells going off at one point in the background.
Micus is clearly interested in Eastern philosophy and religion. "I see them not so much as religions, but just how to live life intelligently," he says. He's fascinated by the Zen Buddhist poems known as koan. "They are intellectual tools to go beyond the intellect – which is a paradox," Micus chuckles. "Either you have access to it and you get it, or you don't. There is no way to explain it." Koan is also the title of one of his albums, originally used by Cologne Opera for a ballet.
Around 1990, Micus went to the monastic peninsular of Mount Athos to visit a monk who was a fan of his music. It meant he could stay longer than the usual three days. You stay one night in each monastery and walk to the next one during the day. So the album it inspired, Athos (1994), alternates choral tracks with Micus' voice multi-tracked 22 times representing the Orthodox services in the evenings and wind tracks (with shakuhachi, ney and suling, a bamboo flute from Bali) evoking nature during the day. It also gives the album a symmetrical structure which is typical of his more recent albums.
Micus moved to Mallorca in 1995 where he has an incredible collection of instruments and his own studio. Advances in recording technology have made Micus' job technically easier, but his global combinations of instruments have got ever more ambitious with African lamellophones (often called thumb pianos), Moroccan gimbri and Swedish nyckelharpa. He's recently acquired hefty pieces of a timbila (xylophone) in Mozambique. He's a one-man universe of sound. And given that Micus carefully multi-tracks his albums in a studio, it's surprising how charismatic he is in concert – alone on stage, but surrounded by a world of instruments.
This article originally appeared in the August/September 2019 issue of Songlines. Never miss an issue – subscribe today!