Wednesday, March 25, 2020
Jasdeep Singh Degun: "The premise of East and West is no longer relevant"
By Robin Timmis
Songlines spoke to the award-winning sitar player Jasdeep Singh Degun, who recently premiered his first concerto with the Orchestra of Opera North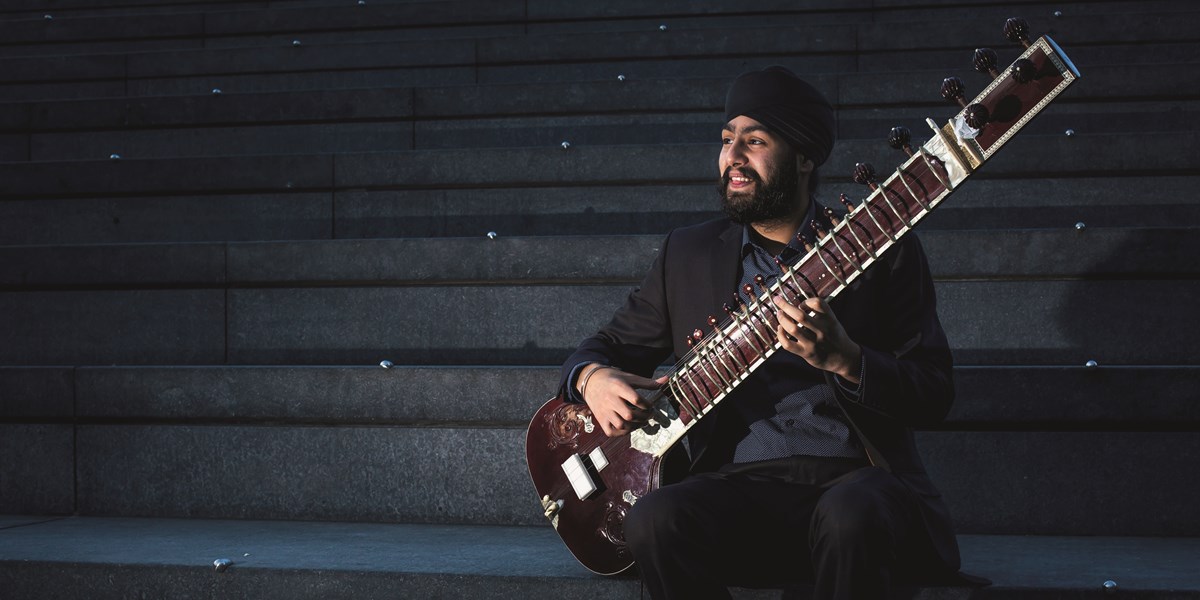 Jasdeep Singh Degun (photo by Kabilan Raviraj)
Jasdeep Singh Degun is considered a rising star among UK Indian classical music aficionados and over recent years his musical career has gone from strength to strength, performing internationally and winning a Sky Academy Arts scholarship in support of his debut album Anomaly (which is due for release this autumn).
From an early age, Degun has always been a highly motivated and ambitious musician and his latest project, Arya, highlights these qualities. It expands on his background of Indian classical music and composition, taking his music into a new realm: a classical sitar concerto commissioned and performed by the Orchestra of Opera North.
Degun lives in his hometown of Leeds where he's been surrounded by Indian and Western music all his life, which, he explains, is why he believes "the premise of East and West is no longer relevant" to him. He acknowledges that much of his knowledge and skill in Indian classical music is owed to his highly regarded teacher, Dharambir Singh MBE. Yet Degun's vivid imagination and musical versatility has led him to compose and perform in a wide varie of contemporary genres including music for film soundtracks, dance shows and string quartets, to name but a few. The commission for Arya has given him the freedom to define himself as a composer. He says: "I'm trying to use the essence of the sympathetic strings of a sitar within the context of a Western orchestra, while retaining the nature of Indian classical music." The issue of musical integrity is clearly key. Degun highlights the importance of not diluting the two disparate traditions but rather "expressing myself through music that comes naturally to me."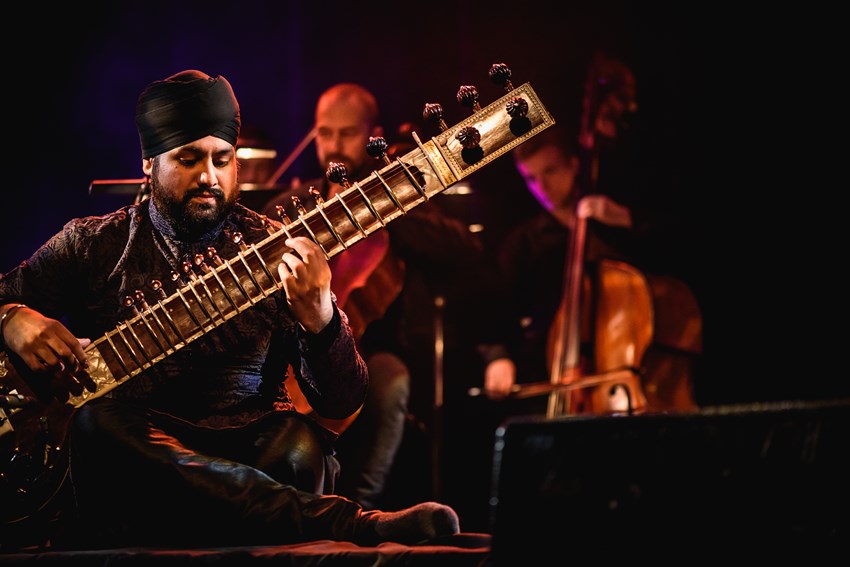 'Arya' is a play on words – the Italian word aria, meaning a melody sung by a single voice, represented by the sitar in this concerto, and the Sanskrit word arya meaning 'noble,' 'honourable,' 'precious,' or 'valuable.' The sitar plays the role of an honourable vessel, guiding the audience through the three movements of the concerto. Degun explains how he tries to be sensitive to both traditions, keeping aspects of Indian improvisation in his sitar playing, which is then reflected through the orchestra's use of counterpoint and call-and-response, led by Malaysian-born conductor Harish Shankar. Degun is no stranger to performing alongside orchestras, having previously performed concerts with the likes of the Hamburg Symphony Orchestra. However, Arya provides him with his first chance to perform his own compositions with a full orchestra.
Humble as ever, he states "there is little infrastructure for Indian classical music in the UK, so this is a huge opportunity for me." As much as it is a fantastic opportunity for Degun, the privilege will surely be for the audience who get the chance to experience this unique and sensitive new work.

This article originally appeared in the March 2020 issue of Songlines. Never miss an issue – subscribe today!
Watch