Thursday, June 6, 2019
Songlines Encounters Festival 2019 – review
Simon Broughton gives the low-down of all nine concerts from the recent Songlines Encounters Festival at Kings Place in London, May 30-June 2
AKA Trio © Simon Broughton
Thursday May 30
It was the excellent AKA Trio who opened Songlines Encounters Festival this year with a sold-out show. The rapt audience for Antonio Forcione (guitar), Seckou Keita (kora), Adriano Adewale (percussion) were hearing musicians from three continents, Europe, Africa and South America, who interacted instinctively, sensitively and appeared so at ease. They made jokes about playing football and cooking food together as much as making music. The key message was while in many places people are being driven apart, "not just here," added Adewale, presumably referring to Brexit, music does the opposite and brings people together. There was a huge round of applause for that.
Kings Place has had an ongoing series of concerts called Venus Unwrapped exploring female creativity in music. In Hall Two were some rising stars. Fran & Flora released their debut album Unfurl earlier this year, mainly featuring music they've learned from traditional musicians in Eastern Europe and from archives. Francesca Ter-Berg plays cello and Flora Curzon violin although both also sang a couple of songs – in Romanian and Yiddish. It was very intimate creating a special aura. They were followed by Mari Kalkun from Estonia, in a striking red dress. She's a musician who brings a fresh approach to the music she touches and although she plays the kannel (Estonian zither), she doesn't necessarily do it in a traditional way. Her voice is like a clarion call and most of her songs are in Võru rather than Estonian from her native region of Võrumaa in the south-east of the country. But what everybody was talking about afterwards was her birdsong – it was like having a feathery creature there in the hall. Mari Kalkun, with her resonant songs of the forest, is somebody very attuned to nature.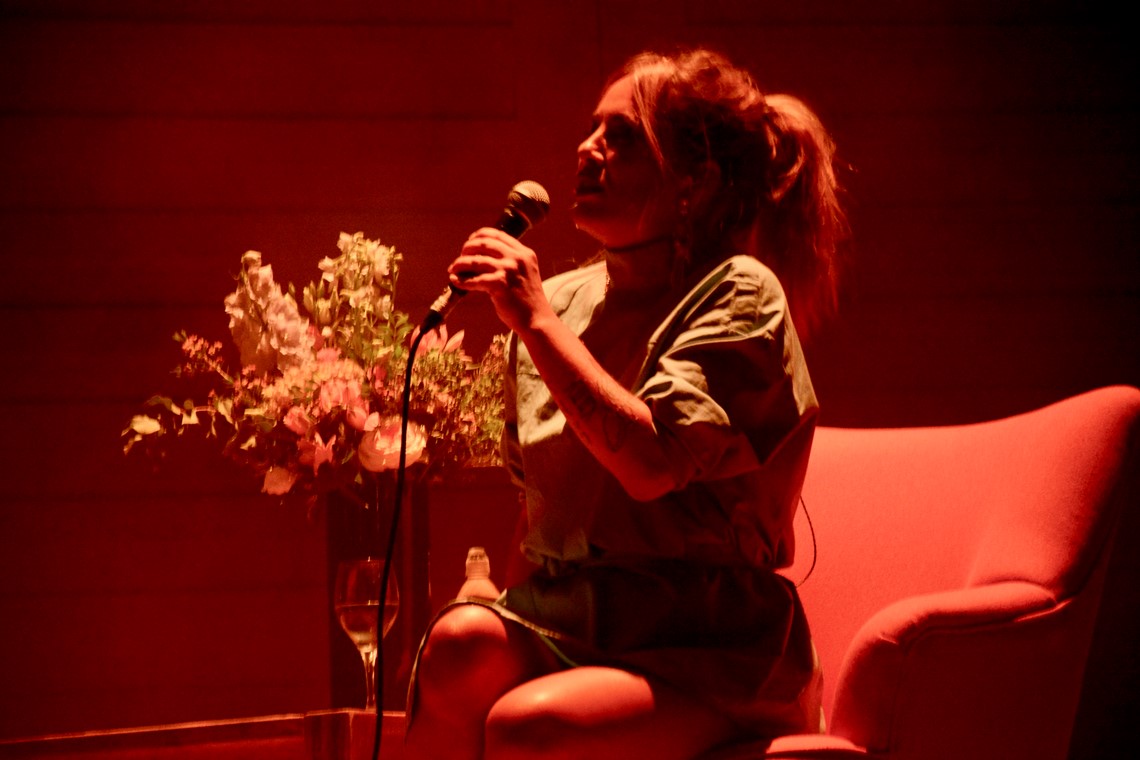 Gisela João © Simon Broughton
Friday May 31
The Venus Unwrapped theme continued with Portuguese fado singer Gisela João and the (all female) London Klezmer Quartet – both shows sold out. Gisela João avoids the usual fado dress convention (long black robe and scarf) and has a short blue dress and bare legs. She sings fados about little green aliens coming down and drinking too much Portuguese wine before swerving home in their UFO. And there was a stunning encore of 'La Llorona', made famous by Mexican singer Chavela Vargas, which Gisela sang curled up in her pink armchair.
The London Klezmer Quartet bring insight, instrumental brilliance and great joie de vivre featuring Susi Evans (clarinet), Carol Isaacs (accordion), Indra Buraczewska (double bass and vocals) and Ilana Cravitz (violin). Virtually every song has a story and they tell them well. They gave a tribute to The Klezmatics – the most groundbreaking group of the klezmer revival – and LKQ have a similar vibrancy and skill.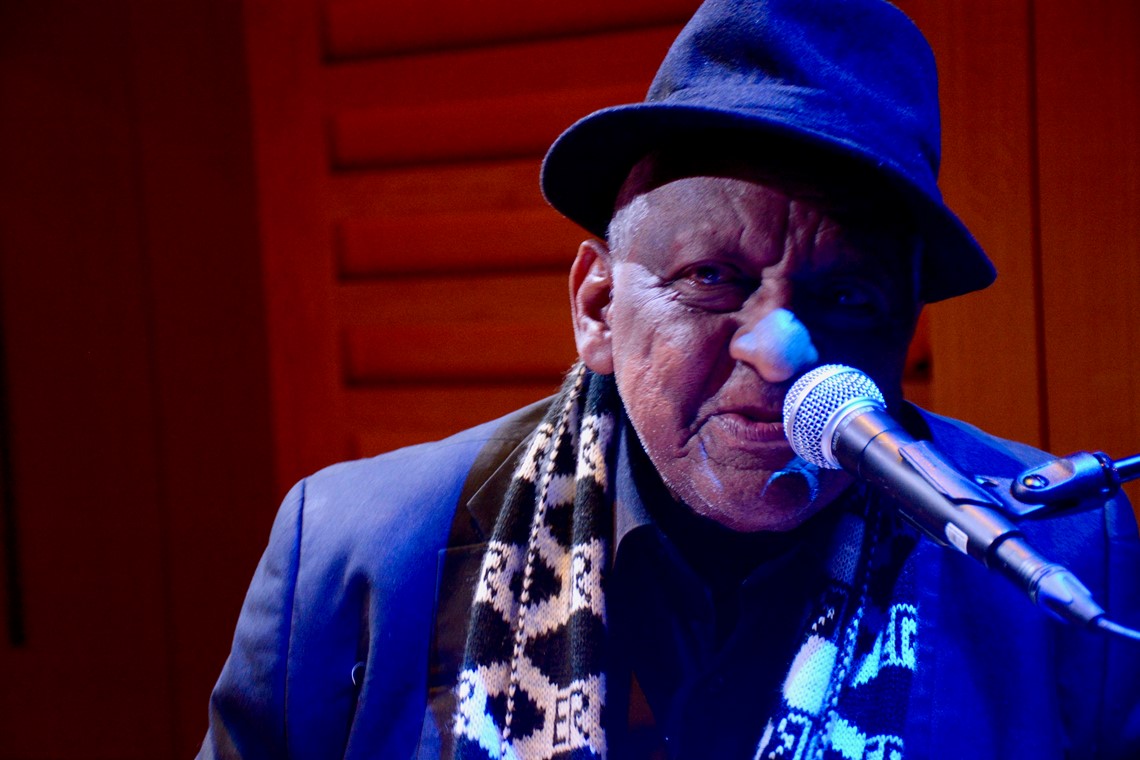 Girma Bèyènè © Simon Broughton
Saturday June 1
The UK debut for veteran singer Girma Bèyènè from Ethiopia and the superb Akalé Wubé from France. Having worked at a petrol station in the US for 25 years, Girma is now back in Addis and ready to perform. He would amble from the piano to sing centre stage, or just watch the band doing their funky stuff from the side. Now in his 70s, Girma got virtually everybody in Hall One up and dancing – "it's just like a bossa nova," he said. You can't argue with someone like that. And it was great to have the lovely documentary Éthiopiques: Revolt of the Soul, directed by Maciek Bochniak, as a prelude to fill in the context of Girma's story and Francis Falceto's amazing Éthiopiques series of recordings.
Continuing the energy level, Bex Burch with Vula Viel brought her impressive workouts on the Ghanaian gyil xylophone with Jim Hart (drums) and Ruth Goller (electric bass). She's made her own magic chamber for creating live visuals which really add to the trance-like quality of the show.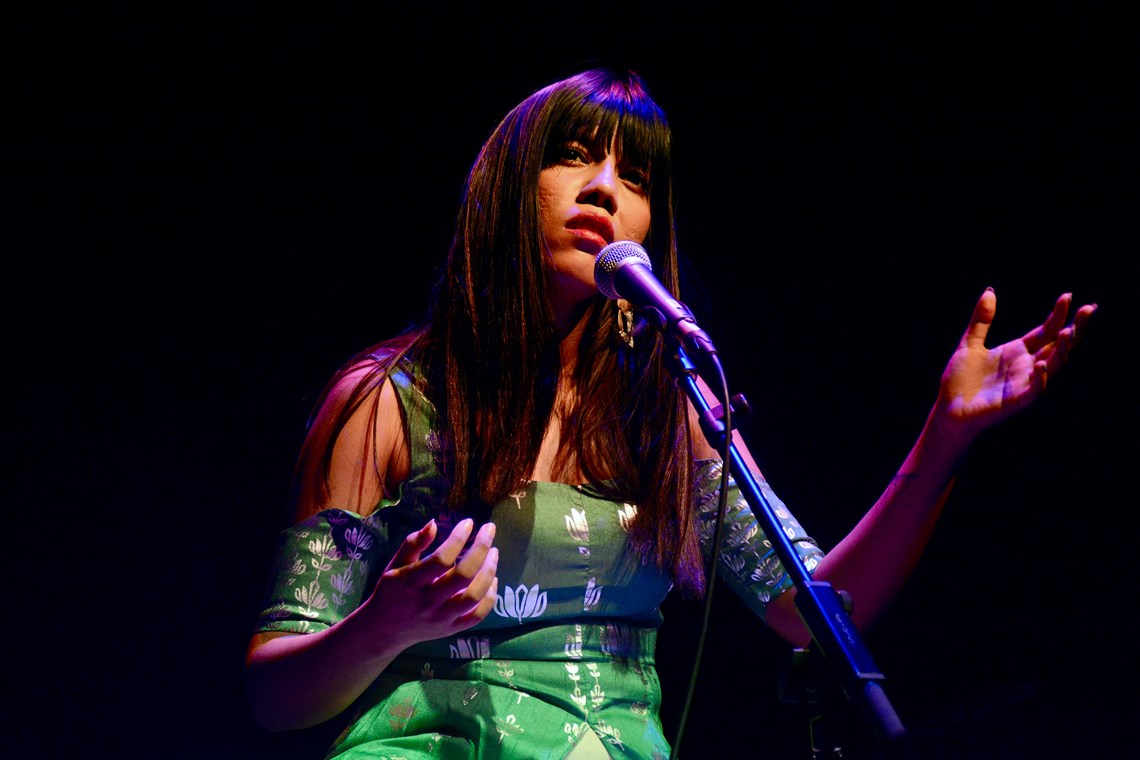 Anandi Bhattacharya © Simon Broughton
Sunday June 2
Guitarists John Williams and Derek Gripper were a highlight of Encounters 2016 and it was lovely to invite Derek Gripper, from South Africa, back to work with Indian slide guitarist Debashish Bhattacharya. In their solo sets, Gripper played music from South Africa, West Africa and Bach as a kind of West African griot and Debashish played both his elaborate chaturangui and small ukulele-like anandi guitar. They performed two lengthy improvisations together – often playfully mirroring each other's phrases – with plenty of surprises on the way.
Debashish's daughter Anandi was the star of the final set. Officially named Sukanya, she indeed takes her stage name from Debashish's ukulele guitar! Anandi released her debut album Joys Abound last year and it was in our Top Ten of 2018. She has a gorgeous, effortless-sounding voice, both in classical repertoire and the shorter pieces from her album. She's a star in the making and it would have been nice to have heard more of those. Debashish demonstrated his brand new pushpa veena, made out of a gorgeous red-coloured wood and the only slide instrument with a skin. The interaction of that with Anandi's voice was enchanting.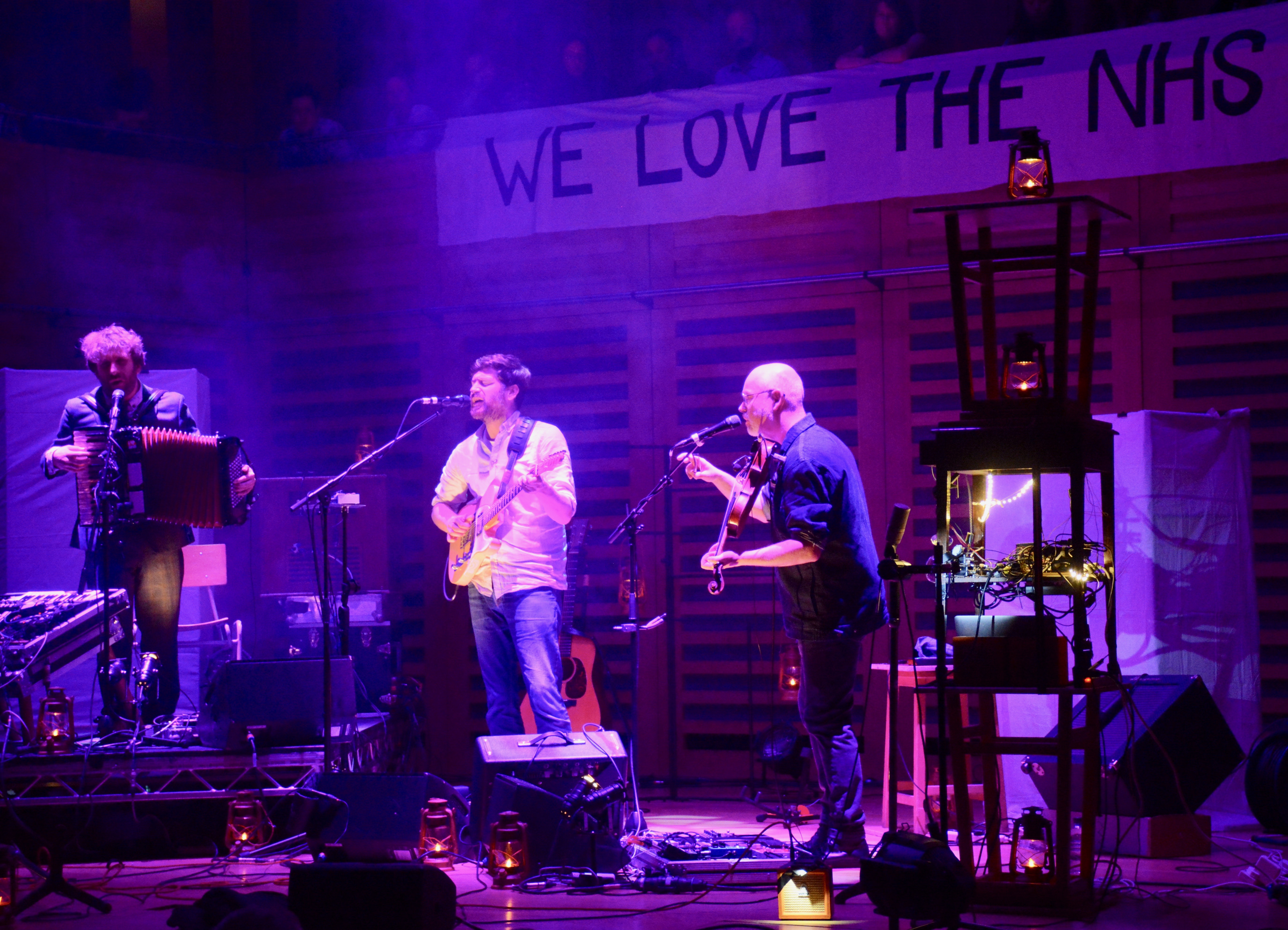 Lau © Simon Broughton
Monday June 3
Songlines favourites Lau closed the festival with another packed-out show, mainly from their last album Midnight and Closedown. The stage looked like a mad professor's workshop with towers, screens and gizmos with lanterns flickering. It was a dark setting as Aidan O'Rourke (violin), Kris Drever (guitar and vocals) and Martin Green (accordion and Morag the synthesizer) played with a driven intensity beginning and ending the set clustered around a period-piece microphone centre stage. Thanking everybody for coming on the evening of President Trump's state visit, Martin Green said "it's nice to remember that not everyone in the world is a complete arsehole."