Monday, November 29, 2021
Songs for Babyn Yar
Wartime atrocity remembered through story and song at London's JW3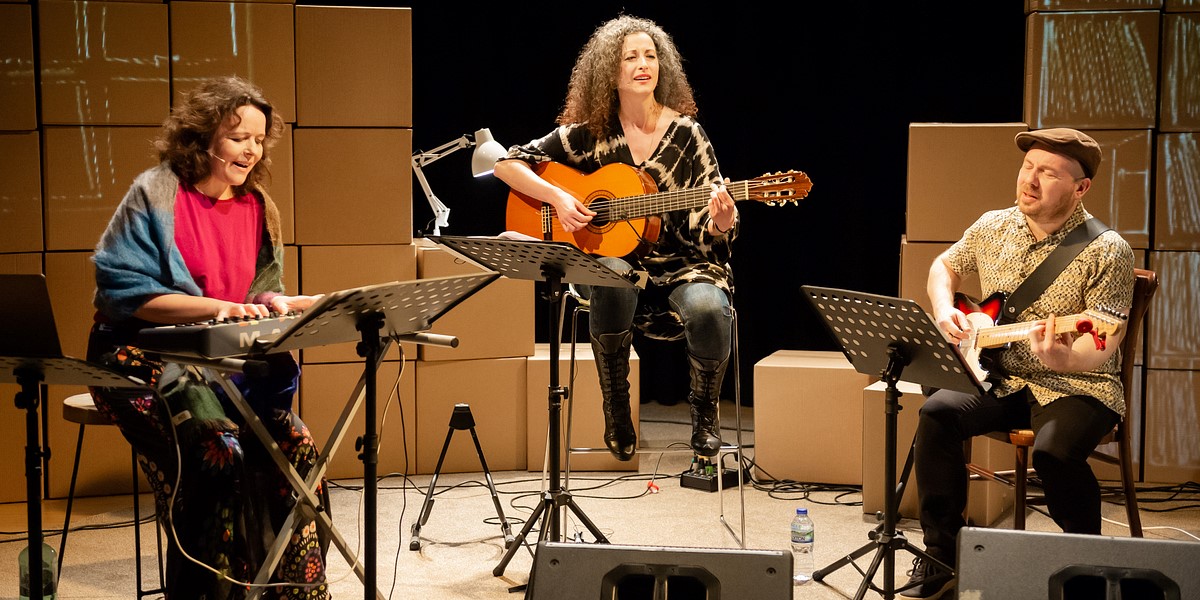 Mariana Sadovska, Svetlana Kundish and Yuriy Gurzhy (©Ikin Yum)
Babi Yar (or Babyn Yar as it's called in Ukrainian) is a ravine close to Kiev (Kyiv) where over 100,000 people (mostly Jewish) were systematically massacred by Nazi soldiers on 29 and 30 September 1941 and in the following two years. This premiere by Dash Arts marked the 80th anniversary of the killings.
The three singers, Mariana Sadovska (keyboard), Svetlana Kundish (guitar) and Yuriy Gurzhy (electric guitar) are Ukrainian and two of them are Jewish. They are already informally jamming as we take our seats in a setting designed to evoke Gurzhy's studio in Berlin. The piece begins with a nigun, a wordless Jewish melody creating a moment of calm before the horror. The evening's music is sometimes traditional, sometimes drawing on songs of the time and also newly composed, with lyrics switching between Yiddish, Ukrainian, Russian, Romani, Hebrew and English.
Interwoven into the performance are video recordings of 93-year-old Rachil Blankman, who escaped being sent to Babyn Yar but witnessed the remains. The songs are a responses to the events rather than descriptions of them. "Why did the soul descend from the highest height to the deepest pit?" exclaims a song by The Dybbuk writer Ansky.
This is not like the songs of the remarkable Yiddish Glory album which vividly describe heroic deeds and atrocities (including Babi Yar) in World War II. "That would be impossibly grim," says Kundish. While Sadovska also acknowledges that Ukrainians were involved in the killings as well. "We have to face our history in its entirety, otherwise our memory will be manipulated again," she says.
Despite the horror, the tone is never angry, mainly elegiac and questioning, asking how do we sing about such events, or make art out of it? Important questions in this context, powerfully realised. A Ukrainian and German tour is planned next year.