Tuesday, October 5, 2021
Trepp & Friends short-step to success at annual Tallinn showcase
Reportage from the Fenno-Ugria Night at this year's edition of Tallinn Music Week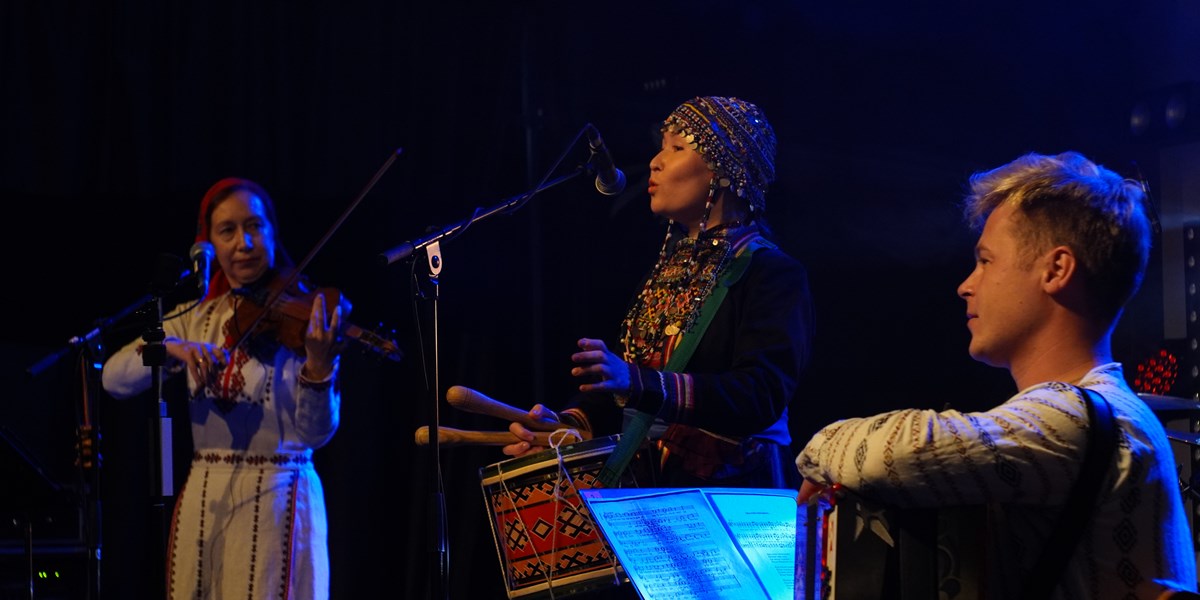 Trepp & Friends (photo by Astrid Helvik)
Tallinn Music Week is an annual festival, conference and showcase event, open to both media delegates and the general public, sprawling across multiple venues. The live performance concept involves themed nights, where a festival, promoter or record label will present artists, mostly playing for just 30 minutes. Compacted communication is paramount! Emphasis tends to be on acts from around the Baltic region, but this year's reach extended further than that of the restricted 2020 edition. For lovers of highly specialised folk tradition, the Fenno-Ugria Night investigated songs emanating from the linguistic regions of Estonia, Finland and Hungary, although the latter wasn't actively present.
The programme at the Club of Different Rooms began in hardcore form, gradually moving towards fusion approaches. This is a fourth-floor venue in the Telliskivi Creative City, Tallinn's most arty quarter. Visitors are required to remove their footwear, entering a large room that's full of old-fashioned armchairs. Food and beverages are allowed, so the owners can't be too precious about their polished wooden floors.
Trepp & Friends brought together elements of music from the Estonian, Mari and Udmurt cultures. An opening trio including fiddle, low-slung strap drum and garmon (Russian button accordion) had joint vocals over a slow-step dance motion, with thinly-struck skins and light spatula-percussion. A delicate, hesitant delivery made listeners draw forward, as reedy vocals rose above the subtle shuffle. It was rustic, with Inga Pogonina's fiddle sawing enthusiastically, issuing a hard multi-phonic drone, the trio possessing a pert formality. This was followed by a pair of players combining frame drum (with stick) and joint voices, each member of the duo offering up their own solo songs, with a closing jaw harp number concluding their short presentation.
Ulla Pirttijärvi & Ulda shifted to a Fairport Convention-like rendering of the northern Finnish Sámi sound, though more gently and acoustically realised. The leader's joik vocals involved much slurring and blurring, supported by drums, bass, guitar and fiddle, with a bluesy foundation to the latter. The rest of the night unfolded with jazz vibes, indie pop and prog folk, but these two opening acts were the most likely to enchant Songlines readers…