Monday, November 11, 2019
Utopian Lullabies at Oslo World
Oslo World festival kicked off with an emotional opening concert showcasing impressive performances from a host of female singers.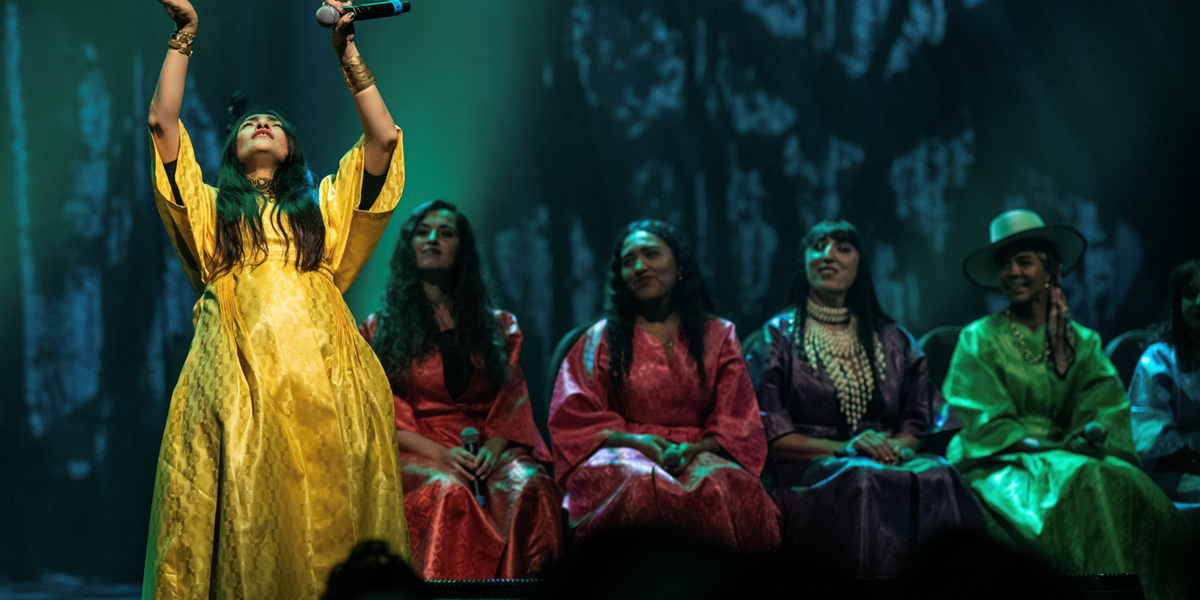 ©Lars Opstad/Oslo World
Utopian Lullabies
Oslo World
Folketeateret, Oslo, Norway
October 29
The theme of this year's Oslo World was Utopia, and I have to admit that I was sceptical. The world seems to be going up in flames, both politically and literally, how can we possibly think about 'utopia' amidst the chaos? But as ever, Oslo World not only pulled off the theme with panache, they put together a programme that was as inspiring as it was entertaining, and the highlight was the opening concert, Utopian Lullabies.  
Curated by Spanish actress Rossy de Palma, the show featured a host of female singers including Silvia Perez Cruz, Natacha Atlas, Hindi Zahra, Liniker and de Palma herself along with a troupe of dancers, Chango Spasiuk on accordion and Sverre Indris Joner on piano and arrangements. Introducing the show, festival director Alexandra Archetti Stølen announced a few changes to the line-up – both Inna Modja and Mon Laferte were supposed to be a part of the show, but had to stay at home, the latter to show solidarity for her country as the situation in Chile becomes more and more unstable. As Archetti Stølen pointed out, it was this very sense of social duty that made her part of the show to begin with, and Mon Laferte still delivered a performance of the emotional punch-to-the-gut 'La Llorona' (The Weeping Woman) remotely onscreen.
The performers sat in a line, all dressed in a bright dress of a different colour, making a rainbow of love, and they each stood in turn to sing a solo. The group had only just met the day before, so while there was occasional support from the seated performers, each song was very much a solo effort. It would have been great to see more collaboration between the singers. But this is not to say that the show didn't feel cohesive. Even though it was one singer at a time, the others always felt extremely present.
The music was lovely, each singer performing in their own style (Silvia Perez Cruz particularly impressed), but the evening was less about the individual performances and more about the overall feeling. As each singer performed, the others swayed, cheered and showed how much they appreciated each other, both musically and on a more basic human level. There were lots of smiles and affectionate gestures. The concert hall felt full of inclusive love that left the audience and performers alike in tears.
It was the perfect launch for a programme that contemplated 'Utopia'; it was exactly the show of love, unity and compassion that would make such an ideal achievable.