Friday, June 1, 2018
Obituary: Kassé Mady Diabaté 1949-2018
By Lucy Durán
Mali has lost one of its greatest singers of all time, Kassé Mady Diabaté, who passed away in Bamako on May 24, aged 69. Lucy Durán writes about the life of a much-loved musician and friend.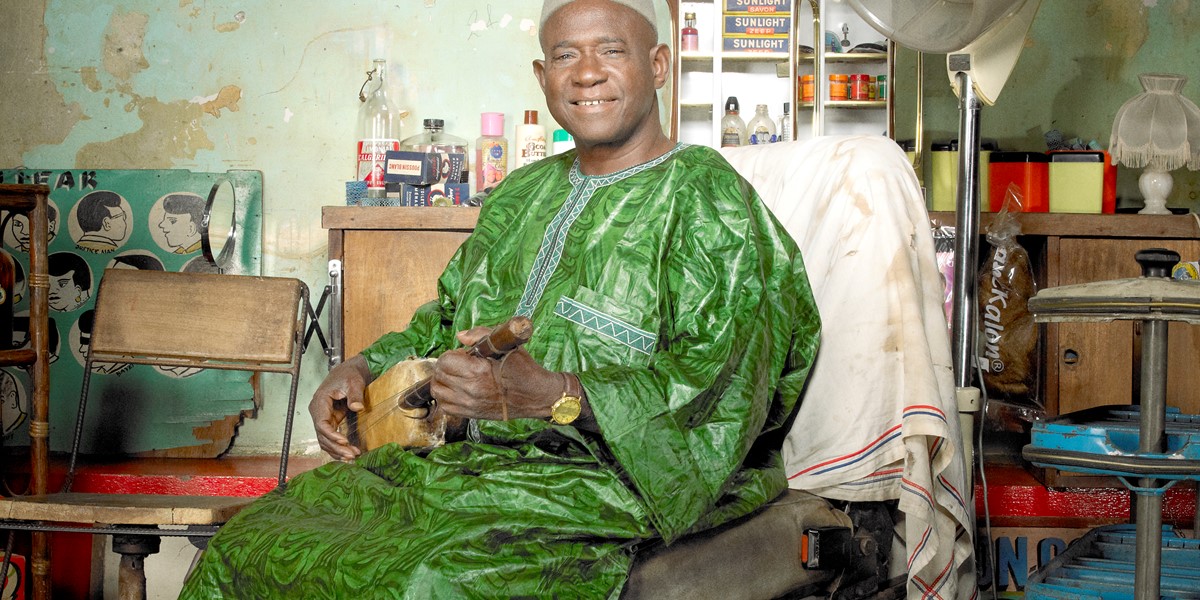 ©Manuel Lagos
Mali has lost one of its greatest singers of all time, Kassé Mady Diabaté, who passed away in Bamako on May 24, aged 69, after complications from a stroke and malaria. Universally loved and admired by his compatriots for his exquisite, soulful voice rooted in the Mande jeli tradition, tributes have been pouring in from around the world. Taj Mahal, with whom Kassé sang on the award-winning album Kulanjan, writes "I loved Kassé Mady dearly; he is irreplaceable! He will remain in my soul forever!" Kora maestro Toumani Diabaté, who worked with Kassé on a number of award-winning projects including Songhai 2 and AfroCubism, describes him as "the number one griot singer in all of West Africa". Mali's president honoured Kassé with a state funeral and a posthumous medal.
Over a career of nearly five decades, Kassé Mady featured in many collaborations, and released five solo albums (one of which, Kassi Kassé, received a Grammy nomination in 2004). Apart from his 1989 album Fode, recorded in Paris with a full rock-band line-up (only one other Malian is featured on it – the ngoni player Mama Sissoko), all Kassé's solo albums were based on his traditional Mande sound. Kassi Kassé, recorded in 2003 on a mobile studio in his home village, and co-produced by myself, was intended to showcase the breadth of his music, including two Cuban style songs. Kirike was his last solo album. Intimate, deeply traditional, and entirely acoustic, with sparse accompaniment by master musicians Ballaké Sissoko on kora, Makan Tounkara on ngoni and his cousin Lanciné Kouyaté on balafon, he revisits in contemplative mode some of his best-known pieces, such as 'Simbo' and 'Tumaro'.
Kassé Mady never achieved the kind of international success that some of his contemporaries enjoyed. He was not a natural speaker – he was shy and halting in interviews – but he was transformed when singing. Those who understood his lyrics marvelled at their poetic richness and authenticity. His voice had a dreamlike quality; it took the listener on a journey through time and emotion. His singing was both profoundly characteristic of the regional tradition he had grown up with, and at the same time universal in its beauty, range and power. It was serendipity that he was named after his grandfather, Kassé Mady Diabaté – who had the reputation of moving people to tears with his voice ('kassé' means 'weep'). Kassé, the grandson, certainly inherited that special talent. Many a time did I witness musicians drying their eyes after recording a song with him in the studio.  
Kassé Mady's biography is also the story of how Mande traditions became the wellspring of much contemporary Malian music, a story in which he played a significant role. Kassé was born in 1949 during the late colonial era, in Kela, a village of some 2,500 people in south-west Mali. The Diabaté family of Kela are regarded as the custodians of the oldest Mande oral traditions, dating back over 700 years to the founding of the Mali empire in 1235. Kassé grew up learning the art of epic song, but he also was influenced by the music of itinerant hunters' bards who would drop in to the village, singing tales of wild animals and forest spirits – in addition to the rhythmic songs performed in the fields for young farmers as they toiled the land. Kassé was a fine dancer and also a master of the ngoni and the guitar; one can hear his guitar on the album Kulanjan (listen to 'K'an ben'). (Sadly, he broke his arm badly in a motorbike accident in 2004 and was never able to play guitar again.)
Kassé began singing professionally in the first decade of Mali's independence with a dance band called Super Mande, in Kangaba, not far from Kela. His breakthrough came in the early 70s when he was recruited to join a band of musicians who had just returned from eight years of musical study in Cuba. Originally calling themselves Las Maravillas de Mali, upon return to Mali they were renamed Badema National (National Family) in the spirit of cultural authenticity. Kassé's role was to bring local repertoire and sound to the group. With Badema National he recorded his first tracks, and had two big hits in the 70s, still played regularly on the radio: 'Nama', in which he recounted the tragic sinking of a ferry across the Niger in which many dozens drowned, and 'Fode', a song in praise of a late 19th century ruler and hero from Kangaba.
In the late 80s, at the height of the world music boom, Senegalese producer Ibrahima Sylla, who had produced Salif Keita's first international album Soro, imagined Kassé Mady as the "next Salif". He brought Kassé to Paris and recorded a high-tech album featuring his vocals backed by many of the same musicians from Soro. The album, entitled Fode, was well-received, but there was a feeling that this sound was not his natural milieu, and he did not thrive in this atmosphere.
I first met Kassé at the time of Fode, in 1989. Film director Mark Kidel and I embarked on a documentary about Malian music in the BBC TV series, "Under African Skies". Kassé Mady was our protagonist, and he introduced us to his rich musical world. I was immediately entranced by the sheer beauty of his voice, and by his gentle, kind-hearted manner; he was an exceptional character, always gracious and honest to a fault. This was the beginning of a deep friendship with him, his family, and the music of Kela. Over the years, I have asked him to sing on many of the albums that I produced including Songhai 2, Kulanjan, Kassi Kassé, and Bassekou Kouyaté's Segu Blue and I Speak Fula. It was his singing on World Circuit's album AfroCubism that re-introduced him to audiences around the world, performing classic Mande songs like 'Jarabi' with a Cuban twist, a style that was very dear to his heart.
Kassé's very last project was with leading Spanish conductor and musician Jordi Savall on The Routes of Slavery, to which he contributed a number of songs from the Mande tradition that dealt with the subject of enslavement (eg 'Djonya'). He was due to go on tour again with Savall in early March, but he wasn't well and cancelled. Just a few days later he suffered a stroke.
Kassé's death is the ultimate example of the adage, 'whenever an old man dies, it's as if a library has burnt down.' Fortunately, his daughter, Hawa Kassé Mady of Trio Da Kali, has inherited his magical voice, poise, and deep knowledge of repertoire. Even so, the thought of a Mali without Kassé Mady is hard to bear.