Thursday, March 5, 2020
Songlines #156 (April 2020) is now on sale!
Anoushka Shankar, Bebel Gilberto, rare Bulgarian recordings, a Guide to Tuvan and Mongolian throat singing, our annual International World Music Festival Guide and plenty more in the latest issue of Songlines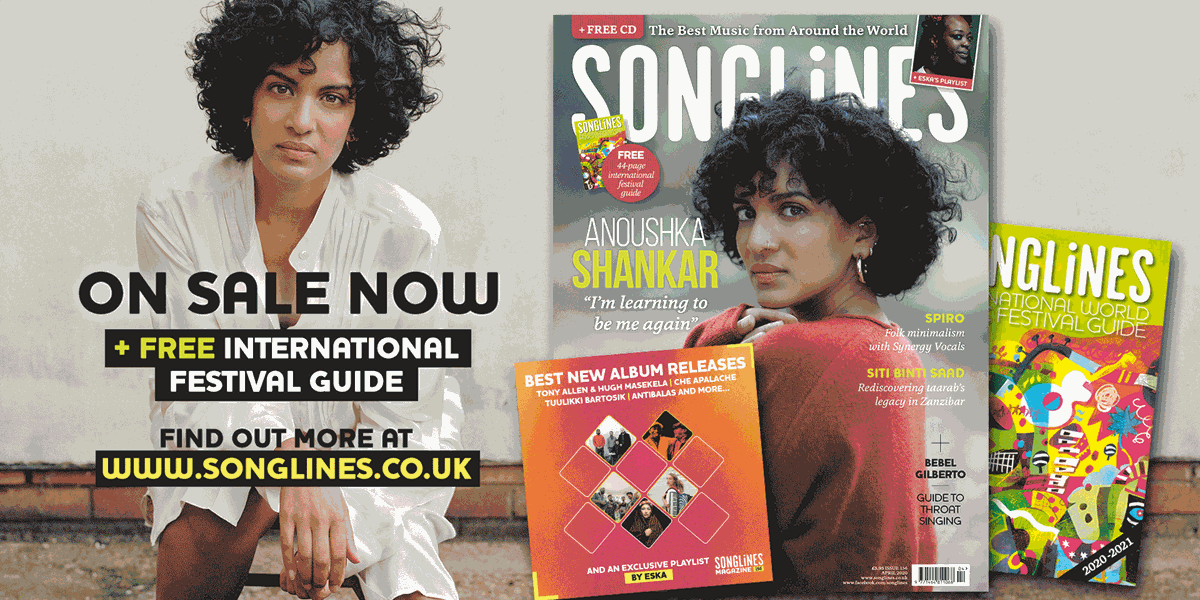 The April issue (#156) of Songlines is now on sale. Our cover star this issue is Anoushka Shankar who talks about her new collaborators and her father Ravi's centenary celebrations. Other features include a Guide to Mongolian and Tuvan throat singing; an interview with song collector Martin Koenig about his rare Bulgarian folk recordings; a Spotlight on Spiro and their collaboration with Synergy Vocals; a Beginner's Guide to the Brazilian singer Bebel Gilberto, plus all the latest news, event listings, CD and world cinema reviews, in addition to Songlines annual International World Music Festival Guide. As well as streaming excerpts from the Top of the World album, digital edition subscribers can download all 15 tracks, which this issue includes Tony Allen & Hugh Masekela, Antibalas and Tuulikki Bartosik, plus an exclusive playlist by British singer-songwriter ESKA, featuring music by DakhaBrakha, Lijadu Sisters, Noura Mint Seymali and others. 
You can buy this issue via Amazon here or subscribe and then receive future issues right to your door as soon as they're published. We also offer digital subscriptions that gives you access to every one of our 156 issues from the very beginning in 1999 and now to 2020… and beyond.