Friday, April 10, 2020
Songlines #157 (May 2020) is out now!
Moonlight Benjamin, the Songlines Music Awards 2020 nominees, Tony Allen & Hugh Masekela, London Bulgarian Choir, Juan Martín and plenty more in the latest issue of Songlines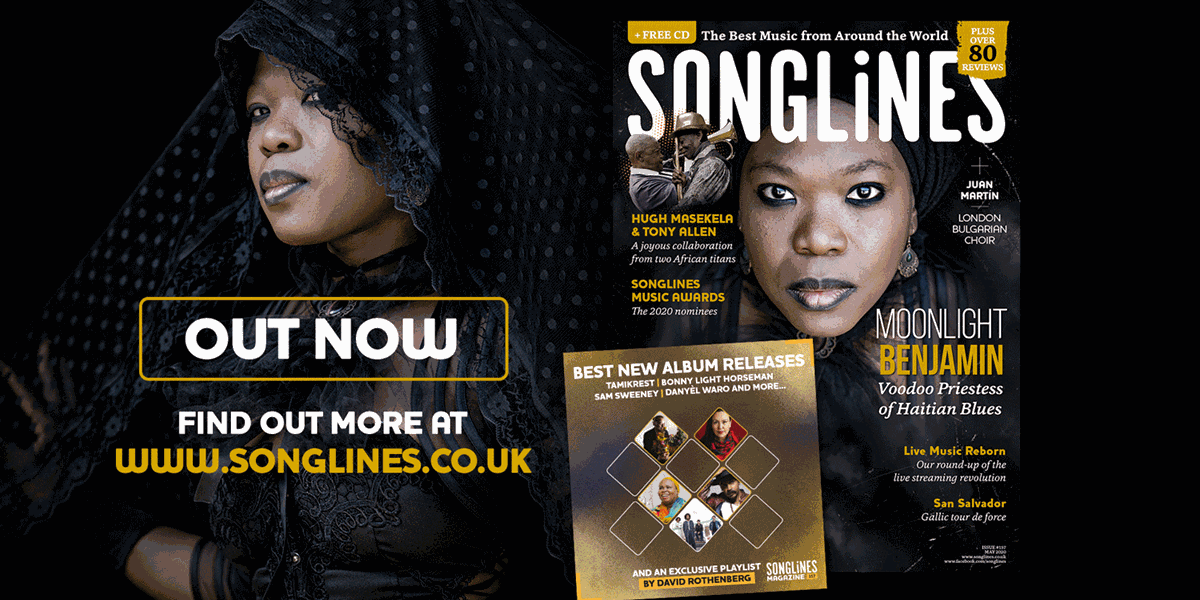 The May issue (#157) of Songlines is out now. Our cover star this issue is the singer Moonlight Benjamin, who talks about how Haitian voodoo and its roots music have influenced her career. Other features include an interview with Afrobeat drummer Tony Allen who talks about his long-awaited album with the late South African trumpet legend Hugh Masekela. We announce all the nominees in the 2020 Songlines Music Awards; a Spotlight on the London Bulgarian Choir; a Beginner's Guide to the flamenco guitarist Juan Martín, plus all the latest news, event listings, CD and world cinema reviews. The 15-track Top of the World CD with the issue (which is also available as a download to digital subscribers) includes Tamikrest, Sunny Jain, Sam Sweeney and Danyèl Waro, plus an exclusive playlist by the composer, filmmaker and author David Rothenberg, featuring music by Ana Tijoux, Sinikka Langeland, Billy Bragg & the Young Coppers and others.
You can buy this issue via Amazon here or subscribe and then receive future issues right to your door as soon as they're published. We also offer digital subscriptions that gives you access to every one of our 157 issues from the very beginning in 1999 and now to 2020… and beyond.