Thursday, September 3, 2020
Songlines #161 (October 2020) is out now!
Afel Bocoum talks about his hopes and concerns for Mali; Brazilian rapper Criolo speaks out about Bolsonaro and effects of COVID-19; a Beginner's Guide to Mahsa Vahdat and plenty more in the latest issue of Songlines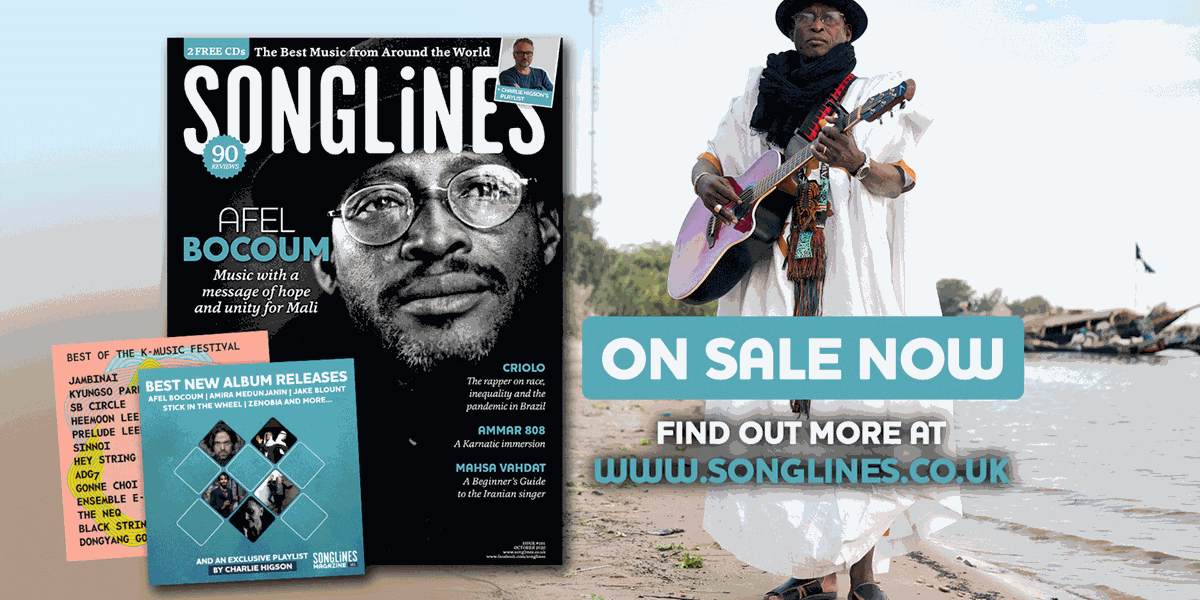 The October issue (#161) of Songlines is now available. This issue's cover star is the Malian singer-songwriter Afel Bocoum who speaks about his concerns for his country and his new album, Lindé, on World Circuit. Other features include an interview with the rapper Criolo about life in Brazil during COVID-19 and Bolsonaro; AMMAR 808 talks about his latest southern Indian inspired project; multi-instrumentalist Ssewa Ssewa who is intent on bringing Ugandan music to the world; the Torres family who are keeping Colombia's Pacific Coast marimba music alive; a Beginner's Guide to Iranian singer Mahsa Vahdat, plus all the latest news, online streamed concert listings, CD, book and world cinema reviews.
The Top of the World album this issue includes Roby Lakatos & Dr L Subramaniam, Stick in the Wheel, Jake Blount and Amira Medunjanin, plus an exclusive playlist by The Fast Show co-creator Charlie Higson, featuring music by Orchestra Baobab, Taraf de Haidouks, Djivan Gasparyan & Michael Brook and others. Each issue also comes with a bonus CD of Korean music from K-Music Festival.
You can buy this issue via Amazon or (even better!) subscribe to get this issue, and then future issues right to your door as soon as they're published. We also offer digital subscriptions that gives you access to every one of our 161 issues from 1999 to 2020... and beyond.