Wednesday, May 5, 2021
Spell Songs conjure natural charms for live-streamed fundraiser
By Jo Frost
Authors Robert Macfarlane and Jackie Morris joined the Spell Songs ensemble for a magical, memorable charity performance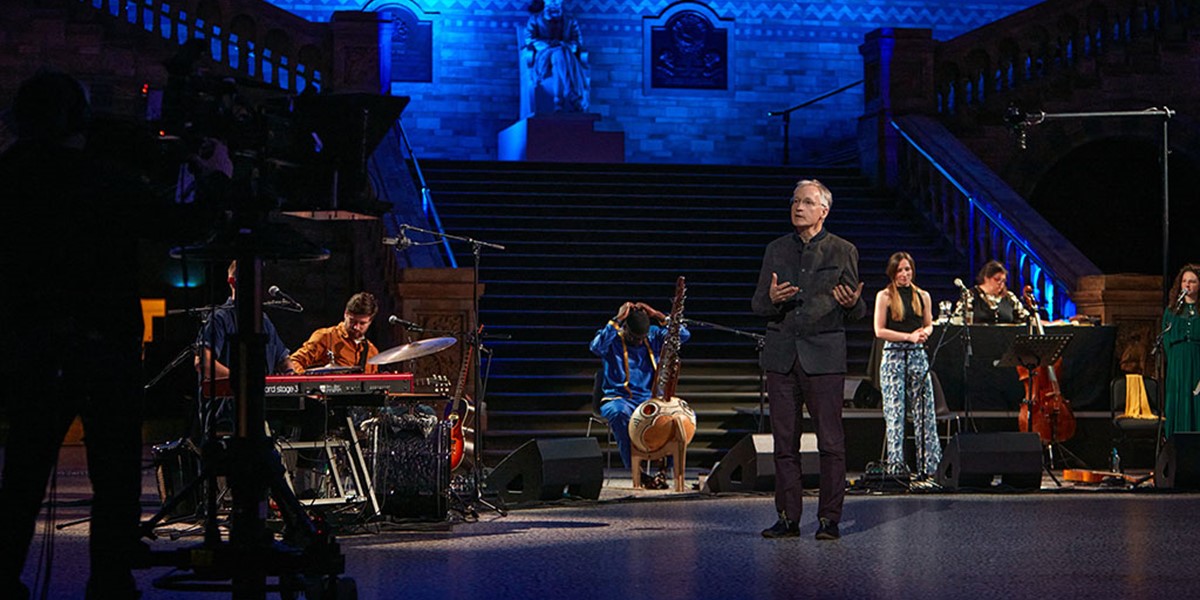 Stellar news for nature-loving followers of fabulous folk-laden sounds. The unique-live streamed concert given by the Spell Songs ensemble from inside the iconic Hintze Hall in London's Natural History Museum, has, at the time of writing, raised over £88,000 for the NHM's groundbreaking, community-focused Urban Nature Project. For those of you who were unable to catch Spell Songs in concert on April 27, this link to the concert remains live until May 31, leaving plenty of time to catch up on the evening's event, which saw the group of singers – Kris Drever, Julie Fowlis, Seckou Keita, Jim Molyneux, Rachel Newton, Karine Polwart and Beth Porter – performing together for the first time in over 12 months.
Museum director Dr Douglas Gurr introduced the group who were all seated underneath a 25-metre-long blue whale skeleton called, appropriately, Hope. They performed the songs from The Spell Songs album – 'Conker', 'Goldfinch', 'Snow Hare', 'Lark' – all inspired by the spells in the award-winning book, The Lost Words, co-written by Robert Macfarlane and Jackie Morris.  
Highlights of the evening were Morris, who magically conjured up a live painting of an otter and red fox while uttering the words to those spells and 'The Lost Words Blessing', which culminated a moving and memorable evening of music, poetry, art and conservation.        
The ensemble have been hard at work on their next full-length, Spell Songs Volume II, due for release this autumn, while a series of tour dates have been rescheduled between January 27-February 1 2022, with stop-offs at, among other venues, Glasgow Royal Concert Hall, Birmingham Symphony Hall and Cadogan Hall, London. For full details visit: www.thelostwords.org/live