Monday, February 12, 2018
WOMAD Charlton Park 2017: Sunday
By Jo Frost
African stars old and new delight the Charlton Park crowds on the final day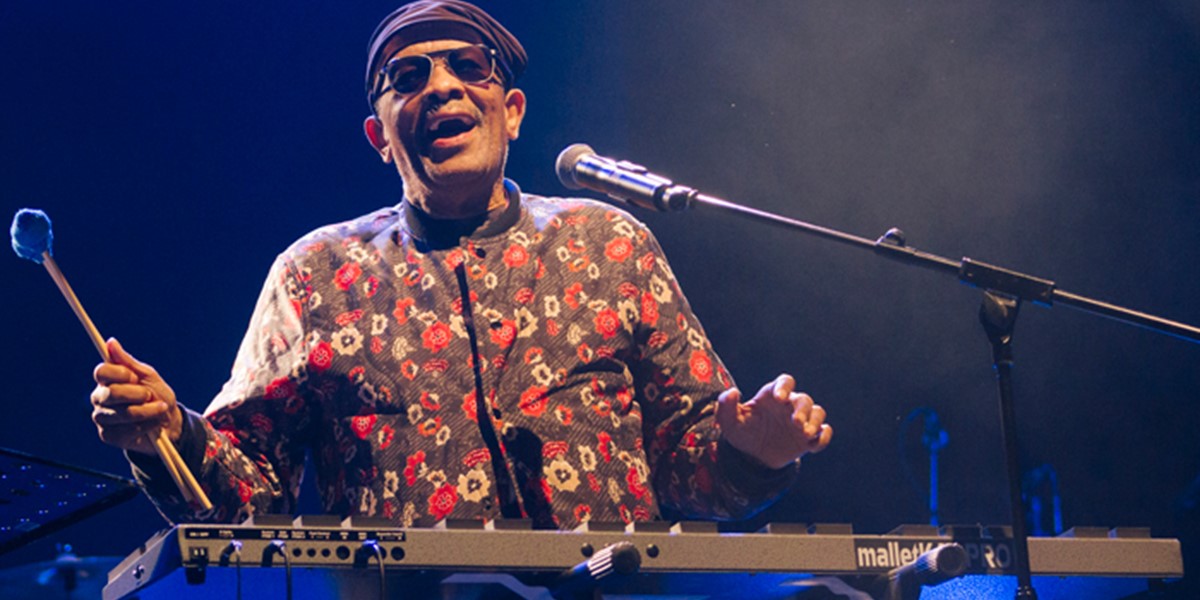 Roy Ayers – ©Tom Askew-Miller
Those who braved the lakes of treacle-like mud, wind, rain and eventually sun were treated to a glorious day of music on Sunday at WOMAD, featuring many newcomers plus a handful of legendary acts such as Ladysmith Black Mambazo, Roy Ayers and Bonga.
The day began at the Charlie Gillett stage with the BBC Radio 3 and 6Music simulcast broadcast. Presenters Lopa Kothari and Cerys Matthews were the as ever glamorous and entertaining hosts, whose guests included the Mexican chicano group Las Cafeteras from Los Angeles; Msafiri Zawose from Tanzania and the Ska Vengers from India.
The first act on the Open Air stage was Mamadou Diabaté from Burkina Faso and his troupe of balafon (wooden xylophone) players. Perhaps it was their thunderous percussive sound that briefly kept the showers at bay and meant they attracted a big crowd. They were certainly one of several acts from Africa who really shone out.
Mamadou Diabaté in Percussion Mania


On the same stage later that afternoon came Bonga, the resplendent singer from Angola. Now in his 70s, Bonga has recently released his 30th album, yet he's still a striking figure onstage, with a deeply powerful and soulful voice. The light, semba dance rhythms of his music belie the fact that many of these songs are ones of resistance – in the early 70s his music was banned by the Salazar dictatorship in Angola.
Following on from one veteran's performance, it was the turn of a new star in the making, Msafiri Zawose who had earlier charmed the crowd during the simulcast. His own solo set was an excellent showcase of this young musician who is keeping the Zawose family musical legacy of gogo music alive. He's the fifth child of the late Hukwe Zawose and plays the zeze, a two-stringed bowed instrument that resembles the ritti, and the ilimba, a type of thumb piano. His new album, Uhamiaji, comes out at the beginning of September on the Soundway label – look out for more about him in a forthcoming edition of Songlines.
Ladysmith Black Mambazo

British folk star Eliza Carthy and her Wayward band put on one of the standout performances of the weekend. Comparisons with Bellowhead are inevitable but Carthy's 12-piece band proved they are worthy successors of English folk's finest big band crown. Always a hugely entertaining performer, Carthy is clearly relishing playing with this new outfit who have a punk-like attitude to the folk tradition. Their set included songs from their debut album Big Machine and rapper Dizraeli who joined them onstage for the song 'You Know Me,' Carthy's response to the refugee crisis. Thankfully the torrential downpour at the start of their set was short-lived – "dance between the raindrops!" urged Carthy – and by the time they had finished, the delighted crowd and jubilant band were basking in sunshine. Even a rainbow made a brief appearance as the sun set on a veritably muddy yet enjoyable 35th edition.