Nusrat Fateh Ali Khan
Profile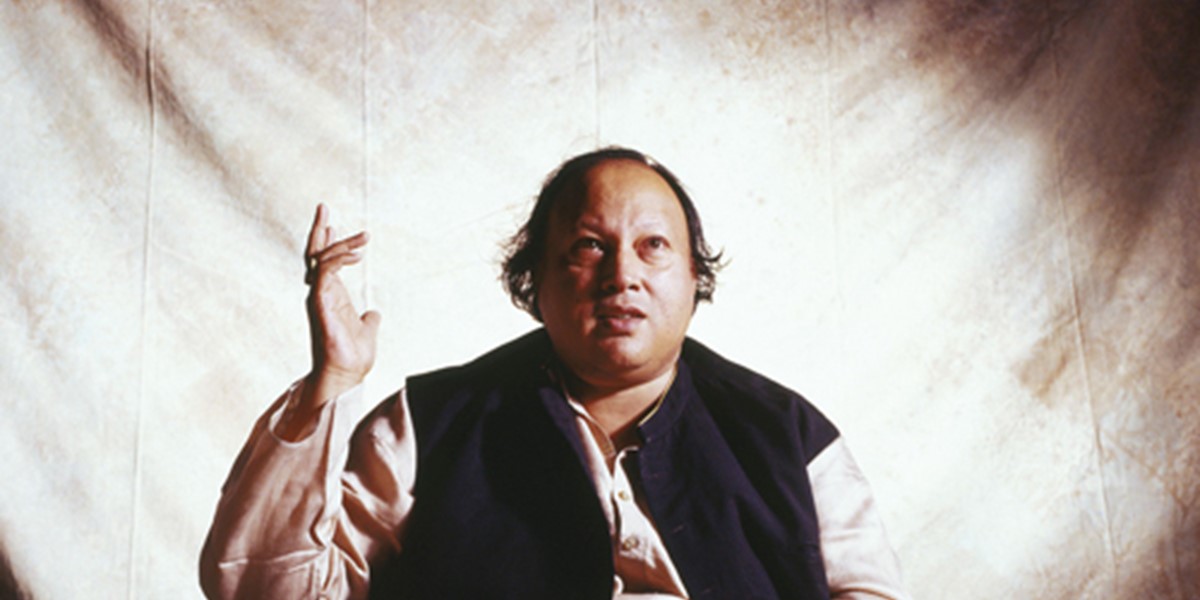 (Photo: Ishida Masataka)
Nusrat Fateh Ali Khan was qawwali's shining star; the Sufi singer introduced the world to the ecstatic, mystical musical form from Pakistan
---
Peter Gabriel once described Nusrat Fateh Ali Khan as 'Pakistan's answer to Pavarotti' and hoped to create an opportunity for the two giant voices of their time to sing together. Nusrat's death in 1997 at the age of 48 sadly meant that the collaboration never happened, but he left a vast catalogue of inspirational recordings, including half-a-dozen dazzlingly produced albums for Gabriel's Real World label.
Born in the Punjab in 1948, a year after the creation of Pakistan, he was almost solely responsible for the global popularisation of qawwali – the mixture of Islamic mystical poetry and Hindustani music performed at Sufi shrines all over India and Pakistan.
Qawwali has been sung for 700 years on the sub-continent but until Nusrat's arrival was little known to those outside the tradition. It had always been assumed that its songs in Persian, Urdu, Hindi and Punjabi would hold little appeal for those who didn't understand the languages. Nusrat shattered that perception, the soulfulness of his voice transcending all boundaries.
Adventurously open to fusing qawwali with contemporary forms, he worked with popular musicians such as Bally Sagoo, Massive Attack and the producer Michael Brook. His music was also used for film soundtracks including The Last Temptation of Christ, Dead Man Walking and, somewhat controversially, Natural Born Killers. His version of 'Mustt Mustt' was even used for a Coca-Cola advert. Asked whether it was appropriate for spiritual music to sell fizzy drinks, he simply replied that the message of qawwali was one of love for God and his only interest was in it reaching the widest possible audience.