Wednesday, February 26, 2020
Ludovico Einaudi interview: "I always look for purity when I play music and this is what is there in the Malian approach"
The Italian-born composer and pianist talks to Jane Cornwell about his myriad musical collaborators and the music from around the world that fascinates him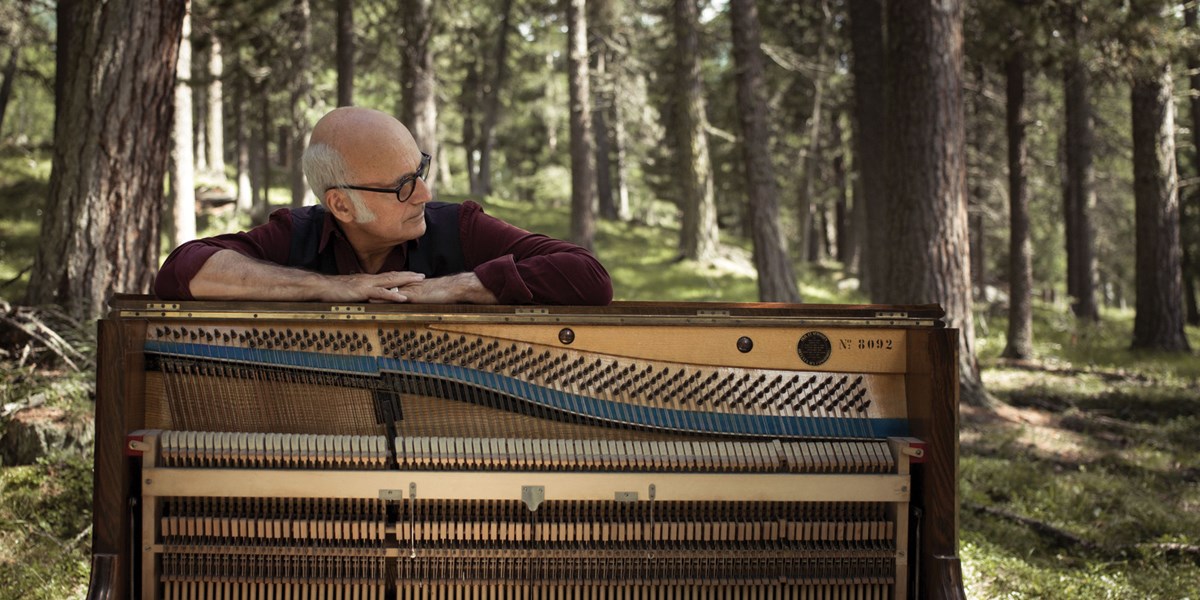 Ludovico Einaudi (photo: Ray Tarantino)
The classical pianist and composer Ludovico Einaudi is best known for spacious musical narratives that harness feelings of joy, loss and sadness while taking listeners on a journey. Over a 30-year career and 14 albums – including 2019's Seven Days Walking – he has created music influenced by time, nature, literature and art, and soundtracked many a documentary, advertisement and yoga retreat. He is the most streamed classical artist in the world.
If classical purists take umbrage with his music, the Turin-born artist isn't bothered. Having studied composition at the Milan Conservatory and composed for ballet, cinema and theatre as well as for orchestras and recently, an opera, Einaudi has gone his own idiosyncratic way. But it was assumed that he would, coming from a family that includes a pianist mother, the daughter of a conductor and composer; a publisher father, a left-wing intellectual who worked with heavyweight authors Italo Calvino and Primo Levi; and a grandfather who was president of Italy.
As a postgraduate student Einaudi worked as assistant to avant-garde composers Luciano Berio and Karlheinz Stockhausen. Berio's explorations of African vocal music intrigued Einaudi, whose own interest in non-European musical traditions became increasingly evident: 1999's Eden Roc is a collaboration with a string quartet and Armenian duduk (oboe) player Djivan Gasparyan, 2001's I Giorni was inspired by a trip to Mali and the 2003 masterwork Diario Mali is a musical dialogue between Einaudi and Malian kora maestro Ballaké Sissoko. Taranta Project (2015) was enabled by Einaudi's two-year stint as director of La Notte della Taranta festival in Salento, southern Italy, which celebrates the Italian folk genres pizzica and taranta and whose musical range he expanded to include music from North and West Africa, Romania and Turkey. "The taranta is a different kind of tarantella, darker and more primitive," he says. "It was in danger of being lost until a revival happened in Italy about 25 years ago, connecting the old musicians who were about to disappear with a young generation that took and learned from their grandparents."
"Canzoniere [Grecanico Salentino] are one of the main bands keeping the tradition alive." The track 'Rirollalla', with its swirling instrumentals and pounding tamburello (frame drum) is one of his favourites. "They started in the 70s and have continued through the generations. I love the fact that this music has the power to heal and transport, and that you can lose yourself inside it."
Einaudi's interest in trance music is clear from his compositions, so it's no surprise that his current listening comprises of several trance-like cuts. 'Waide Nayde' by JuJu – the duo of Gambian ritti (one-string fiddle) player Juldeh Camara and English-born guitarist Justin Adams – is especially energetic and brimming with virtuosity. Einaudi included JuJu in his Taranta festival and for his ensuing album, as he did Romanian troupe Taraf de Haidouks. "[Taraf] are fantastic musicians. I did a tune ['Pizzica Taraf'] with them at the festival in 2010, a piece I composed that was inspired by these traditions of southern Italy, but I've loved them since [2007's] Romanian Dances, where they took music coming from traditional roots and gave it back its soul and blood."
Mali is an ongoing source of inspiration. In 2000 he pitched up at the open-air Le Hogon club in Bamako to find "many musicians, all of them amazing, playing together with a force, each determined to put meaning into what they did." This was Toumani Diabaté's Symmetric Orchestra. Einaudi is particularly fond of their 'Mali Sadio', which is based on a legend about a friendship between a hippo and a young girl. "I love it because it is one of the traditional pillars of Malian music. It's a tune I also did with Ballaké on Diario Mali. But I especially love this version by the orchestra with its variations, development and beautiful melancholy."
When Toumani called Einaudi up from the Hogon audience to play with the Symmetric Orchestra he found himself next to ngoni (lute) master Bassekou Kouyaté. "I didn't know what to expect as I didn't know much about West African music at the time. Bassekou was looking at me with this fantastic smile then started playing these incredible sounds on his ngoni; I was mesmerised and felt completely involved." A pause. "I'd never felt so at ease with new musicians before and Bassekou was really fantastic this night. You can feel the roots of the blues in his music, as you can with the music of Tinariwen."
The Touareg guitar band from Kidal, northern Mali, is another of his must-hears. "I remember them playing at the Festival in the Desert in 2003 along with Ali Farka Touré, and I played there [on keyboards] with Ballaké Sissoko. I love the way Tinariwen use their Western guitars in a way that sounds completely un-Western," says Einaudi, who cites 2011's Tassili as his go-to Tinariwen listen. "I'm just fascinated by the way this Malian musical language connects with [Western] traditions, the way the kora is like a harp and the balafon like a piano. I love the way a piece of music starts with a phrase or melody that is circled by variations that keep changing and going on so long you forget where you are. I always look for purity when I play music and this is what is there in the Malian approach, which has a childlike sense of wonder and joy in the moment."
Then there's the Malian chanteuse Rokia Traoré, star of his first-ever opera Winter Journey, a multifaceted tale of migration that premiered at the Teatro Massimo in Palermo, Italy (directed by Roberto Andò, with a libretto by Colm Tóibín) last October, to rave reviews. "You can hear in Rokia's voice that she is aware of the world," says Einaudi of 'Mouneïssa' (People), the title-track of Rokia's first international release, which arrived in 1998 after the singer-songwriter had spent time being guided and mentored by Ali Farka Touré. The largely traditional album pairs the large balaba (balafon) of her family's region with the ngoni and showcased the strong, melismatic vocals of this diplomat's daughter.
"I don't like to use this word 'sophisticated' but you sense she is a multilayered musician. She has a touch that, in one way, belongs to West African music and in another way to the world. And her voice is so dramatic and mesmerising."
He flashes a smile. "All these artists fascinate me," he says.
The March 2020 issue of Songlines comes complete with a free CD containing tracks from Einaudi's playlist, plus tracks from the best new releases. Find out more: Songlines magazine
Ludovico Einaudi plays at Manchester O2 Apollo on March 14, see www.serious.org.uk/Einaudi for ticket details