Wednesday, October 21, 2020
Rajery: A Beginner's Guide
By Daniel Brown
Madagascar's leading player of the bamboo tube zither, otherwise known as the valiha, has come a long way from coping with an early disability to touring international concert halls. Daniel Brown retells Rajery's journey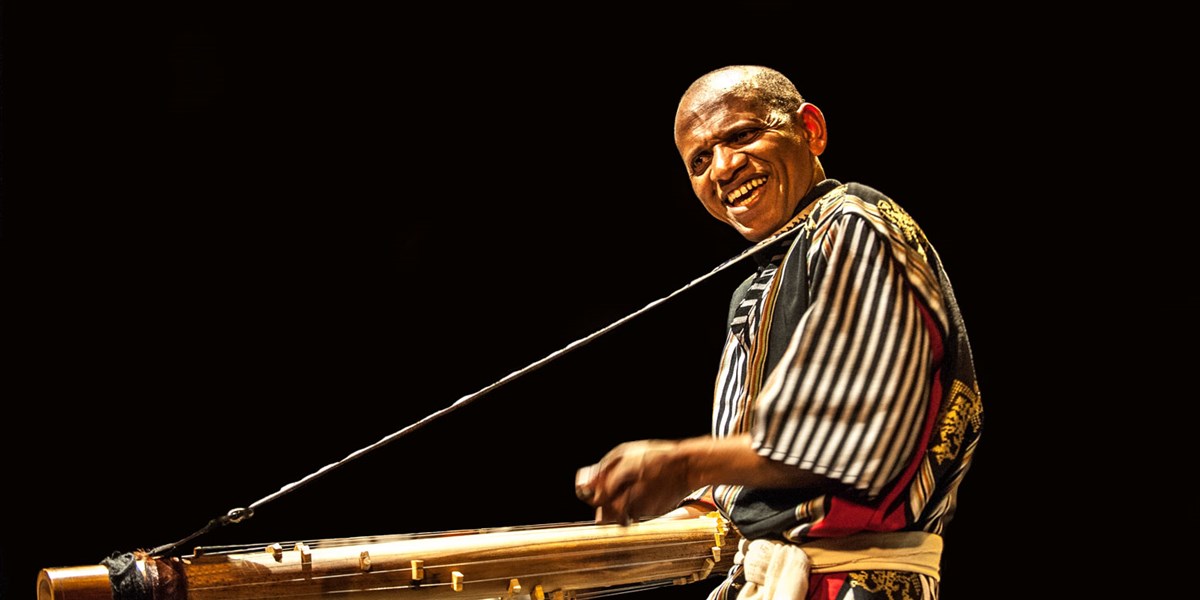 Rajery (photo: Christian Pizafy)
The one musician probably best equipped to weather the hardships of the post-COVID-19 world could well be Rajery. "Fighting against the odds has been part of my life ever since an old lady in a marketplace gave me poisoned meat at 11 months old. It cost me the fingers of my right hand and considerable trauma."
We meet on a blustery day in Antananarivo, not far from Ambohimanga where Rajery grew up, 24km north-east of the Malagasy capital. He laconically details the sacrifices that forged what has become a sparkling career. Fifty-five years after the poisoning and subsequent amputation, Germain Randrianarisoa has blossomed into Rajery, the prince of the valiha, Madagascar's sacred and emblematic instrument. His apprenticeship started at 15, when he unhooked his father's tube zither from the wall, and tried to pinch one of its chords. "I would hide to play, otherwise people would make fun of me. They couldn't believe I could master this bamboo harp's 20 strings made from rear bicycle brake cables. But my grandfather was a master luthier and I was fascinated by his craftsmanship. I practiced for so long my fingers and stump would bleed, I had blisters everywhere. But I persisted."
Perhaps, this drive is what earned him the name Rajery, meaning 'the curious one' or 'someone who leaves no stone unturned.' Self-taught, he began experimenting with an instrumental tradition that arrived on the island's shores from Indonesia with seafarers from 350BC onwards. The valiha has since become to Madagascar what the kora is to West Africans, a sacred instrument linked to spirituality and tradition. Yet, like Bassekou Kouyaté with the ngoni, the determined teenager sought to break out of the traditional repertoires – in this case the ones enshrined by the Merina of the high plateaus. He forged crossovers nourished by salegy rhythms from the coast, the beko polyphonies and tsapiky of the south, Sakalava rhythms from the west, and many of the other music cultures from the island continent.
In 1983 Rajery made his musical debut with his Tsilavina band. It allowed the 19-year-old to explore the island's different valiha cultures and, in 1986, he synthesized them into a style he theorised and began teaching. Five years on, Rajery created Akombaliha, the country's first major valiha orchestra. It brought together 23 soloists whose instrument mirrored the diversity of Malagasy shapes, components and sonorities down the ages. "The valiha has many forms," Rajery explains. "There can be different number of strings, between 12 and 24. The calabash bridges can be fixed or mobile, the bamboo can be semi-tubular, the slits can vary, and so on."
Determined to modernise and renovate the instrument's repertoire, Rajery launched an annual festival, Fanamby, in 1994, which also sensitised the public to the healing power of music for people with disabilities. The link between music and therapy has been central to his philosophy since then. "The valiha saved me, so I see no reason why it can't save others. I wrote a manual on valiha therapy, and used it to heal people."
Rajery has always mixed the spirituality he inherited from his upbringing with his music. He has also impregnated his work with a deep attachment to the environment he grew up in. It was what he took to the international scene with his debut album Dorotanety (Bushfire). 'His technique is sparkling and clean,' enthused Peggy Latkovich of Rootsworld. She also pointed to the depth of his lyrics, exemplified by the destructive power of bushfires as 'an allegory of the destruction of Malagasy culture.' Two years later Fanamby (The Challenge) consecrated the diminutive artist as an emerging giant of the Red Island. Also on Christian Mousset's Indigo label, the acoustic album rippled with crossover explorations, ranging from Jaojoby's salegy rhythms to the rija grooves of the Betsileo community. Its success was crowned by the RFI World Music album award in 2002 and catapulted Rajery onto international concert circuits. "I can't quite believe how fast this has all happened," he told me at the time, flashing a characteristic smile. Not one to sit on his laurels, Rajery released Volontany in 2004 with his jazz quartet opening up his traditional music to global currents.
The title-track is in reference to the red earth of his island, an endearment to his homeland, which pushed him to create the Angaredona festival. In its third edition, the event opened the doors to a unique tri-national collaboration that lasts to this day: 3MA. This acoustic trio consists of Rajery's valiha, the Malian kora of Ballaké Sissoko and the Moroccan oud of Driss El Maloumi. Several residencies later, 3MA and their 51 strings recorded an album in 2008, which catapulted them onto the world's best world music festival stages. 'There are a lot of strings attached, but they never compromise each other,' wrote Charlie Gillett in The Guardian. 'Musicians listening to each other with ears wide open, taking turns to play the leading melody before dropping back to provide the rhythmic pulse while the others trade phrases.'
The 3MA collaboration continues to flourish, with another tour originally planned from March 2020 onwards until coronavirus halted the music world. 'Salama, bonsoir, Daniel,' starts Rajery's correspondence to me in May. 'I am partially confined in Tana with my family. This pandemic has allowed me to confirm my commitments to my family, this earth, the challenges of life. We are condemned to live together and to render ourselves useful to others. I have composed several songs, they allow me to transmit more messages of solidarity, love, peace and reconciliation.' From his farm, he continues to till his land for rice and medicinal plants, or tend to the apiculture and pisciculture he integrates in his therapeutic practices. And, naturally, he composes with his two sons, Jery (a talented guitarist in his own right) and Christian Zo (percussion). 'We experience the devastation of climate change first-hand here. My new album will be about the lack of water, the suffering of farmers around me with no groundwater to draw from and a call to make Madagascar green again.'
He has no doubts the world music scene will bounce back from the health and economic hammering the world is going through. The 56-year-old remains optimistic, driven by an unquenchable thirst for experimentation. 'I'm also working with Omar Sosa and a Kenyan singer on a new transatlantic concept, there's my ongoing collaboration with the rapper Slam Jah and the 3MA will always be there. So what's there to be worried about?'
---
BEST ALBUMS

Dorotanety
(Indigo/Label Bleu, 1999)
A joyous first international album on Christian Mousset's label, this 'Bushfire' was a springboard for Rajery's ambitious crossover explorations of salegy, Betsimikaraka, Sakalava and Betsiloa music cultures.
---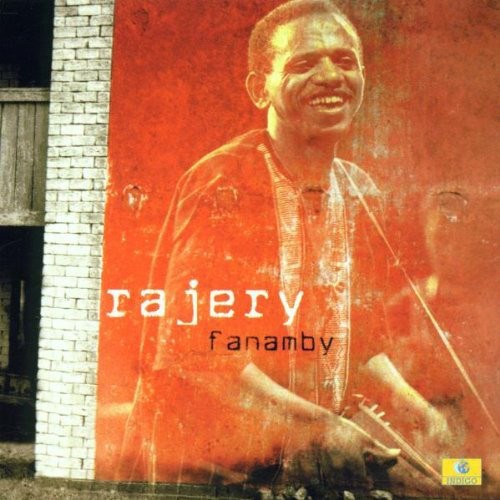 Fanamby
(Indigo/Label Bleu, 2001)
A major breakthrough for the Malagasy musician, this album adds the joyous rija grooves to his repertoire from all six regions of Madagascar. Rajery sings of cattle thieves, rural life and storytellers.
---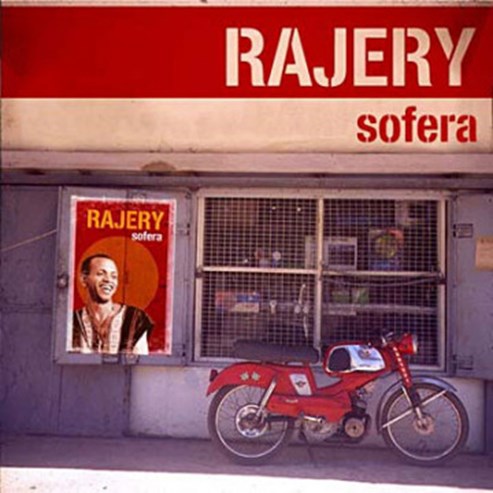 Sofera
(Marabi, 2007)
Rajery's personal favourite, featuring a brand-new group with crystalline sounds, recorded in five days. Rajery's emphasis here are the vocals from the south, expressing his social, environmental and political concerns. A Top of the World in #46.
---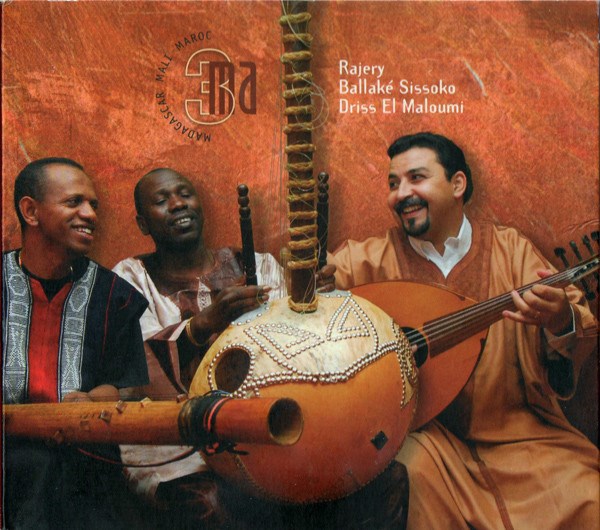 Rajery, Ballaké Sissoko & Driss El Maloumi
3MA (Madagascar, Mali, Maroc)
(Contre-Jour, 2008)
A subtle conversation between three traditional instruments that break down all geographical boundaries. Inventive, poetic and humorous, Rajery, Ballaké Sissoko and Driss El Maloumi display admirable self-control and nuance in their acoustic string dialogues. A Top of the World in #54.
---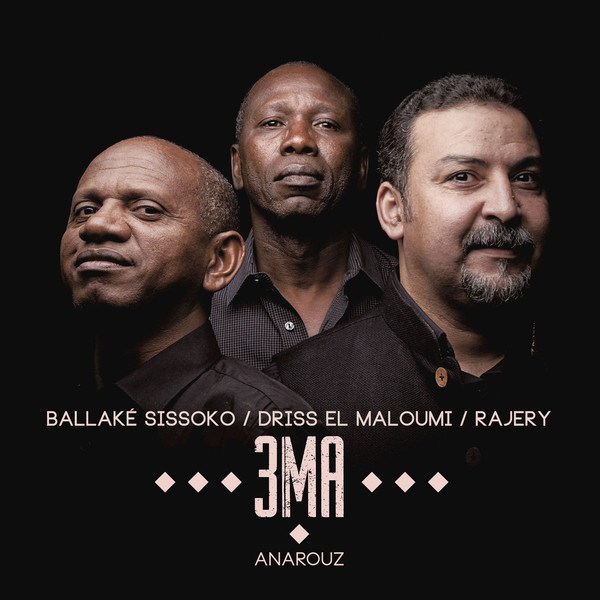 3MA
Anarouz
(Mad Minute Music, 2017)
A decade after their first recording, the three string maestros find new textures in the dialogue between Malagasy, Berber and Mande melodies. A Top of the World in #136.
---
This article originally appeared in the August/September 2020 issue of Songlines. Never miss an issue – subscribe today