Friday, April 6, 2018
Toumani Diabaté: A Beginner's Guide
The kora has become almost synonymous with the music of Mali. Nigel Williamson examines the career of its chief exponent Toumani Diabaté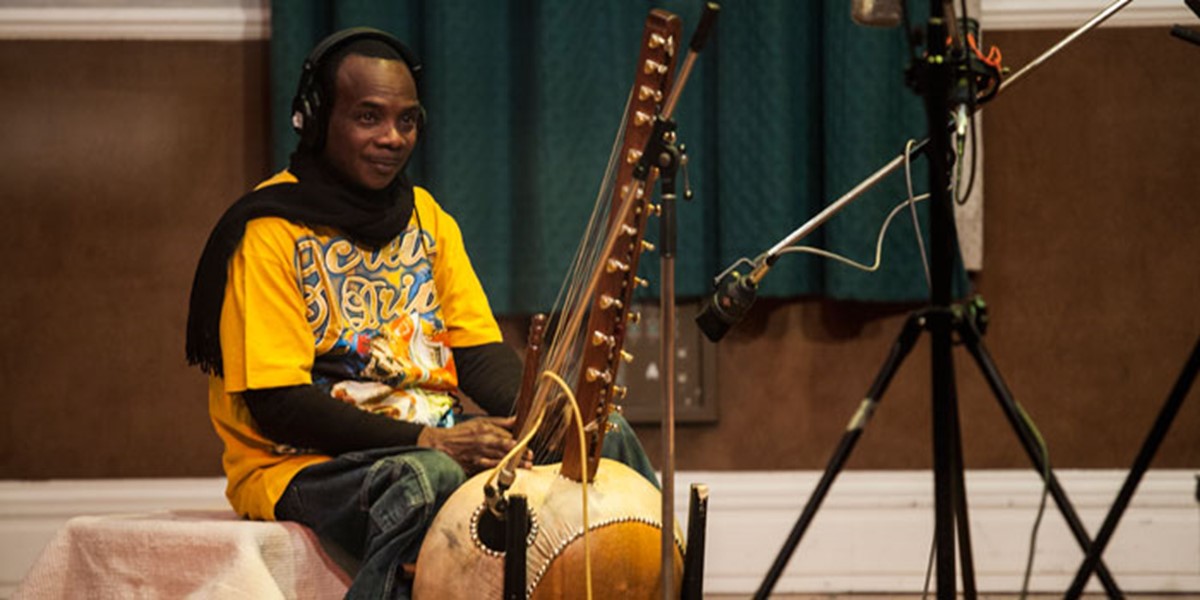 Toumani Diabaté (photo by Simon Rawles)
Only a tiny handful of rarely gifted musicians achieve the status of becoming synonymous with the instrument they play. You cannot say the word 'violin' without thinking of Yehudi Menuhin. Say 'cello' and the name of Jacqueline du Pré instantly comes to mind. And any mention of classical guitar invariably conjures the name of Segovia. Even in death, these musicians continue to define the acme of perfection on their chosen instruments.
In world music, Astor Piazzolla and the Argentinian bandoneón and Ravi Shankar and the Indian sitar come to mind as examples of the same phenomenon. It's about more than mere virtuosity. It's as if these musicians have turned their instruments not only into an expression of their own personality but also, by some miraculous metaphysical transformation, into an extension of their corporeal being in which the music is mysteriously channelled through them. And among these extraordinary names we must count Toumani Diabaté, the wizard of the 21-string West African harp/lute, known as the kora.
All of these great musicians combine technical mastery with an intuitive emotional feel for the music. But perhaps above all, their music transcends the vagaries of fad and fashion. There's an ineffable sense that they are not merely making music for their own time, but for eternity.
It's a quality that Toumani Diabaté understands perfectly. "Many CDs are for one or two years,'' he reasons. ''I don't want to do that in my life. I want to record something that can last for a long, long time."
And he has every justification for that claim. Born in Bamako in 1965, his music belongs to a tradition that stretches back 700 years. Allegedly the 71st generation of kora players in his family, he was born into a caste of griots, the professional hereditary musicians with a lineage that can be traced back to the days when the Mande empire ruled West Africa. His father Sidike Diabaté was the leading player of his era and, although Toumani proudly claims to be self-taught, there's no doubting that he learnt a huge amount by growing up in such a tradition and watching and hearing his father play on a daily basis.
''His technique was putting the three functions together: bass line, melody and improvisation,'' Toumani has said of his father. "When you listen, it's like three men playing at the same time and I learned the kora that way.''
Traditionally the kora was used to accompany singers but Toumani has also dramatically expanded its scope and – while remaining true to its traditions – has effectively created a new musical language for the instrument.
His ability to operate in different musical contexts echoes Shankar's expansive approach to the sitar, which encompassed both the strictly classical and groundbreaking fusions with the likes of Menuhin and George Harrison. Similarly, Toumani can play in an intellectually austere – although still overwhelmingly beautiful – traditional Mande style. But as a bold and innovative musical visionary and fusionist, he has also shared stages and studios with the London Symphony Orchestra, Björk, Damon Albarn, the American bluesman Taj Mahal, Herbie Hancock, Spanish flamenco band, Ketama, Cuban veterans from Buena Vista Social Club and recorded with his own thoroughly modern West African big band, the Symmetric Orchestra.
His debut album, Kaira, was recorded in a single afternoon in London in 1987 when he was just 22 years old and was notable as the first instrumental album featuring only solo kora. His willingness to experiment was evident when a year later he teamed up with Ketama to record the groundbreaking kora-flamenco fusions of Songhai, a collaboration so successful that it was repeated on Songhai 2 (1994).
Back in Bamako, he gathered around him some fine traditional musicians and his second 'solo' album, 1995's Djelika, was altogether different from his debut, putting the kora in the middle of a traditional Mande ensemble of balafon and the ngoni, with added Western double bass from Danny Thompson and Ketama's Javier Colina.
In 1999 came New Ancient Strings, an album of kora duets with Ballaké Sissoko, the son of another great kora player, Djelimady Sissoko, who played and recorded with Toumani's father. That same year saw the release of Toumani's Grammy awardwinning collaboration with the American bluesman Taj Mahal on Kulanjan, a record which explored the common ground between the African-American blues and the musical traditions of Mali, and which Barack Obama named as a favourite during the 2008 election presidential election campaign.
Another Malian musician who explored the links between the blues and African music was the late great guitarist Ali Farka Touré. Toumani and Ali recorded two Grammy-winning albums together towards the end of Ali's life and Toumani also went on to record with Ali's son, Vieux Farka Touré.
Away from his own albums, you may wish to explore Toumani's potent guest appearances on Damon Albarn's Mali Music (Honest Jon's, 2002), Björk's Volta (One Little Indian, 2007) and his more central role on AfroCubism (World Circuit, 2010).
A spellbinding beauty characterises all of Toumani's music, which makes it fine entertainment and a soothing background accessory. But it's far more than that, too, for this is also music of extraordinary complexity and rigour that demands close attention and concentration. ''When I make a record, it is like a book,'' Toumani insists. ''It's an education about music, tradition, culture… and the world needs that.'' 
BEST ALBUMS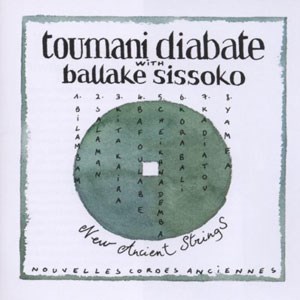 New Ancient Strings 
(Hannibal, 1999) with Ballaké Sissoko
In 1970, Sidiki Diabaté and his friend Djelimady Sissoko made a landmark album of kora duets titled Ancient Strings. Nearly three decades later, producer Lucy Durán brought together their sons Toumani and Ballaké to record 'Round Two.'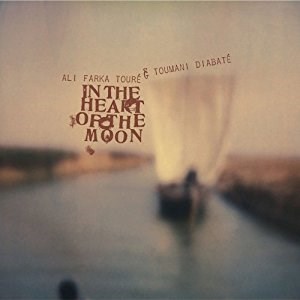 In the Heart of the Moon 
(World Circuit, 2005) with Ali Farka Touré
The meeting of Africa's finest guitarist and the world's greatest kora player lived up to expectations on a joyous album which married two different traditions of Malian music in an effortless, unrehearsed meeting of string magic.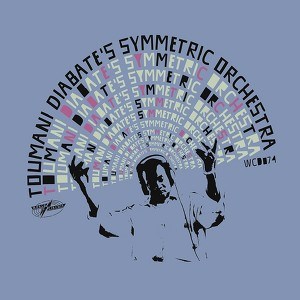 Boulevard de l'Indépendance 
(World Circuit, 2005)
Toumani's big band the Symmetric Orchestra played a weekly jam session at Bamako's Hogon club for years, prior to going into the studio to record. Riotous horns, fierce percussion and the great voice of Kassé Mady Diabaté complement Diabaté's characteristically inspired kora playing.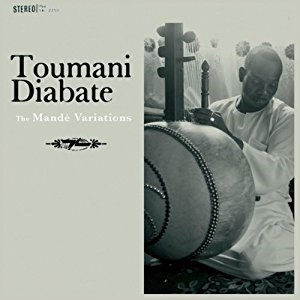 The Mande Variations 
(World Circuit, 2008)
Toumani's first solo and unaccompanied kora album in 20 years. Hauntingly beautiful and meditative, the graceful improvisations have a classical elegance that makes it not too fanciful to think of the album as Africa's equivalent of Bach's Goldberg Variations.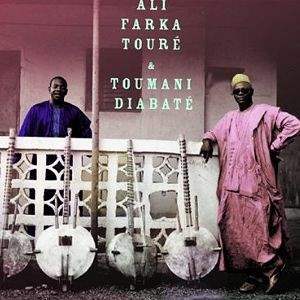 Ali & Toumani 
(World Circuit, 2010) with Ali Farka Touré
Recorded over three days in London in 2005, the pair arguably topped the achievement of In the Heart of the Moon. There's still plenty of improvisation, but as Toumani says, ''the sound and the idea is clearer."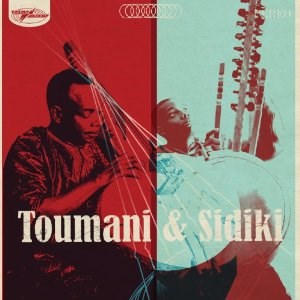 Toumani & Sidiki 
(World Circuit, 2014)
The Diabaté kora legacy continues with this father and son collaboration. Enriched in history and diversity, this is a vivid tapestry that awakens the senses. 
Playlist: Quintessential kora
This article originally appeared in the June 2011 issue of Songlines (#76)