Friday, June 22, 2018
Ethno Port review – 'A weekend of inspired sounds'
Ethno Port festival returned to Poznań for a weekend of global sounds.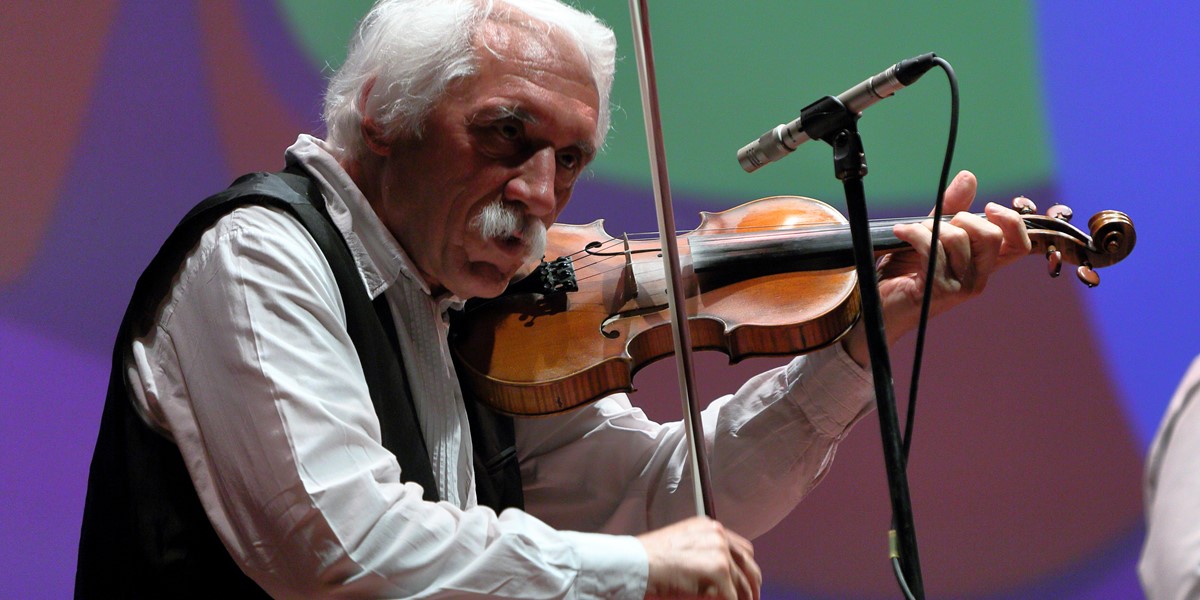 Mihály Sipos of Muzsikás ©CK ZAMEK/Maciej Kaczynski
Ethno Port
Poznań, Poland, June 7-10
As a former intended residence of Adolf Hitler, the Zamek Cultural Centre in Poznań is now devoted to a complete embracing of the globe's diverse traditions. Built by the Germans in 1910, the Imperial Castle (actually a palace) was refurbished in the Third Reich style during World War II, but it became a cultural centre in 1962. Ethno Port is a festival of global sounds, which has graduated from three to four days duration in recent years. It debuted in 2008, and has been hosted by Zamek since 2013. It utilises a variety of indoor and outdoor stages, from intimate multimedia rooms to expansive free shows, the latter given each evening in front of the castle, on a car park that's temporarily transformed into a lawn.
Ethno Port's programming has a hardcore traditional aspect, featuring some full-on Polish folk and less of the bland fusions that have been creeping into some other festival line-ups. Here, we have unwatered musics from Korea, Hungary, Turkey and Corsica, and the fusions that do appear are usually of the more potent, confrontational kind. At WOMAD in 2017, Ifriqiyya Electrique delivered a messy, sonically disjointed set, but here they played a late Saturday show that found them tightly formed and attacking via a crisp, punchy mix. Their punky guitars and electronics meshed more closely with the Tunisian vocal trio, and they appeared to have a new backing film, itself slick and sharp. Their melding of ritual Banga ceremony voices and distorted guitars was lovingly sculpted. The set concluded with the Tunisians descending onto the dance floor,  drumming and chanting, prompting wild dancing from the crowd.
On the opening night of the festival, a dance party in the castle courtyard presented a chance for more regimented moves for couples, with three Polish folk groups playing for an audience that spent the whole night either circling the seatless centre, or breaking off into pairs. The dancing crowd were directed by a caller who came with the revered Muzsikás, veteran masters of Hungarian folk. They were the fourth band of the party, sticking to their string instruments, and literally playing second fiddles to the dancers. It was very enjoyable, but it was their indoor concert-style set on the Friday that really astonished, as Muzsikás talked more intimately, unveiled their selection of unusual instruments (long and short pipes, small drums and a tiny stringed instrument from Serbia), and allowed the audience to concentrate more fully on the subtleties of the old-time tune selections. They played some funeral music for solo fiddle, preceded by a dance section, powered by the ancient gardon (a cello-like instrument struck with the bow). The two dancers performed with much boot-slapping and skirt-twirling abandonment.
The best free-stage show was given by the French-Ethiopian Selamnesh Zemene & Badume's Band (they will be at WOMAD next month). They opened tentatively, but bloomed by their second number, upping the Addis rock frenzy as they blended vaulting vocals and seething guitar solos, underpinned by dreamy organ keyboards and an electric gimbri. The French group Violons Barbares also fared well, unusually combining Bulgarian and Mongolian string instruments. Potentially introverted music was reconfigured into exaggerated gestures, projecting intimacy to the furthest reaches. The closing night's open air set by 47SOUL narrowly missed a severe downpour. This Palestinian and Jordanian crew arrived from London with some evocative rai-style keyboard synths and hand percussion, but also a tendency for their English language vocals to inhabit a bland mainstream R&B zone with some clichéd rhymes. Technically, these shows were not completely free, but had a 1zł charge (about 20p), with customers given an apple in return – a Polish tax avoidance technique! 
In the Grand Hall, there was a natural collaboration between the Corsican polyphonic vocal sextet A Filetta and Lebanese singer Fadia El-Hage, as languages and traditions slithered inside each other's pathways, entangling as if emerging from the same family. The Corsicans huddled together, feeling each other's tonal vibrations, soft harmonies layering, as El-Hage sometimes took the lead parts. She also sang a few songs completely alone, moving from Arabic to Aramaic, before a pair of Corsicans returned and the full vocal spread resumed.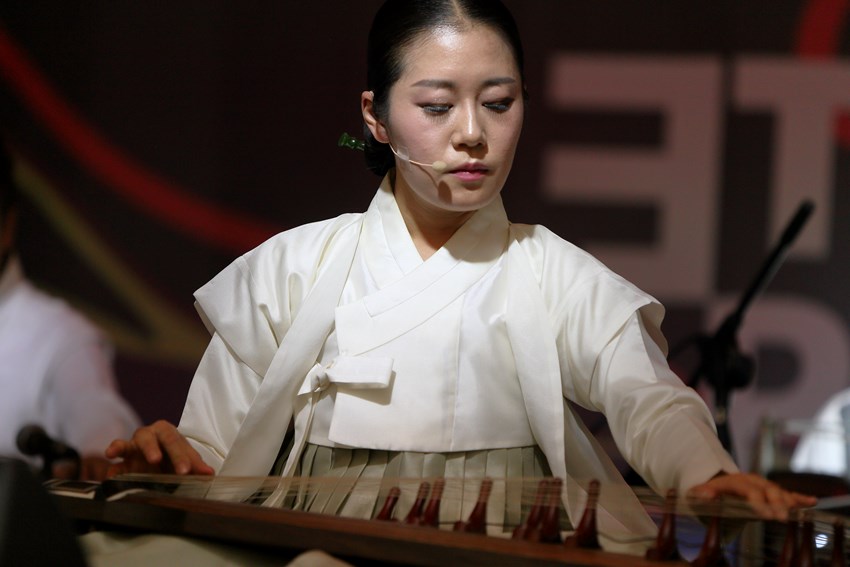 Further courtyard highlights included the Turkish Gypsy music specialists, clarinettist Cüneyt Sepetçi & Orchestra Dolapdere, who included fiddle, saz and goblet drum in their line-up. They gradually built from an ensemble base towards extroverted solo displays, as their set reached repeated climaxes, the levels of frenzy rising a notch with each spotlight section. The South Korean six-piece group Baraji were more formally dramatic, with a heavy emphasis on percussion, peppered with reed-flute, geomungo and group vocals.
When the final day's thunderstorm did arrive, we were back in the mostly-covered courtyard to hear the Occitan trio Sirventes, whose glorification of miserable subject matter spread a very suitable aura throughout this drowned-rat conclusion, as the audience joined hands in soggy one-ness, fully satisfied by their hitherto dry, and very sunny, weekend of inspired sounds.