Tuesday, April 4, 2023
Hack-Poets Guild, Social, Hull, Mar 19
Marry Waterson, Lisa Knapp and Nathaniel Mann revive an old broadside songbook in Hull, home of The Watersons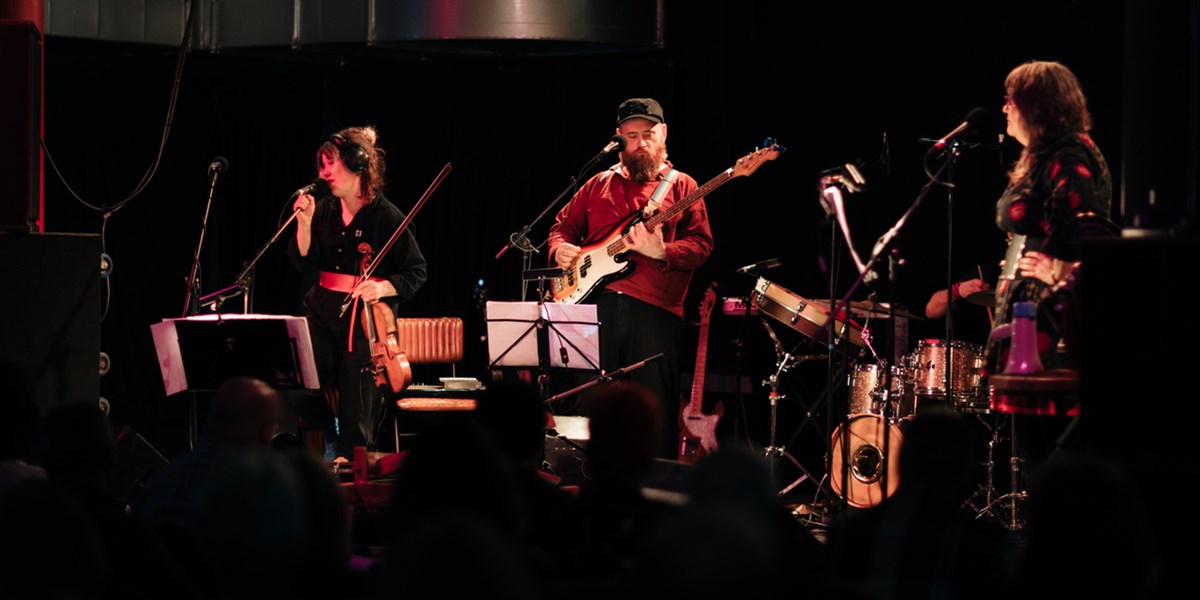 © Tom Arran
Although not as extreme as Lau or Lankum, Hack-Poets Guild are devoted to the re-shaping of folk tradition, coating their still very hardcore selections with subtle electronic textures. The three singers (who are often instrumentalists) arrive from different directions, but have rapidly found a connection that makes this newly-formed band already assured in a homogenous style. Marry Waterson was born in Hull, and began her career singing in many Waterson-Carthy permutations; Nathaniel Mann explores multiple artistic roles, which include being a member of the Dead Rat Orchestra; and, of course, Lisa Knapp is firmly established as a solo folk artist.
The three have just released Blackletter Garland, and this two-set gig explored its contents, crafting a kind of ambient, environmentalist folk in the process. The touring band is completed by Barney Morse Brown (cello) and Laurence Hunt (drums). Many of the songs feature grim tales of hardship and melancholy, but the overall result is an atmosphere of collective positivity, edged with a halo of dark humour. The repertoire is rich in narrative weaving and musical imagination alike. Most of the songs are broadside ballads, originally found on song-sheets that were sold daily, beginning in the 16th century. It's difficult to unstitch the join between these ancient rhymes and the modern setting created by the band, the entire concept being so well interleaved.
Hull's Social is a relatively new venue, not often involved with booking folk acts. Fully occupied seating was crammed onto its dancefloor area, so this could well be a potential new aspect of Social's programming. It was only the third Hack-Poets gig, but they already sounded surprisingly well-bonded. Knapp mostly played fiddle, while Mann switched from banjo to bass or guitar, the lead vocal role being passed around, with group singing always a possibility. Several songs featured small industrial tools as added percussion, either vintage or handmade originals. Waterson also used dictaphone sonics, as well as an actual megaphone, besides her majority-acoustic delivery of lines. 'The Devil's Cruelty' sounded like a suicide ballad, as Mann sung "I've been tempted by the devil", then Knapp took over for the galloping 'Daring Highwayman', with its punkish momentum. Some of the clunking and clanking percussion extras impart an image of the Tom Waits underworld, as Mann mingled with the audience, spinning his small whistling-tone spheres-on-strings above his head. Meanwhile, Knapp was playing her autoharp with mallets. For 'Hemp & Flax', Mann uses his reconstructed wooden grinder as a percussion instrument, offering bags of surplus hemp to the audience (!). As Knapp sang "labour's cheap", 'The Troubles Of This World' had a certain Velvet Underground nature to its rickety progression. All of the Hack-Poets songs have strong melodies mixed with a sensitive sonic palette, requiring only a handful of listens to nestle firmly, entrenched in the head. For their encore, they distributed actual broadside sheets for an audience singalong of 'Pleasant And Delightful', in a mass a capella closure.
---
To find out more about Hack-Poets Guild see the feature in our current issue, April 2023 (#186)