Tuesday, May 1, 2018
Orchestra Baobab review – Barbican, April 27
By Sam Taylor
The legendary Senegalese band performed to a sold-out Barbican Centre on April 27 as part of the festival La Linea.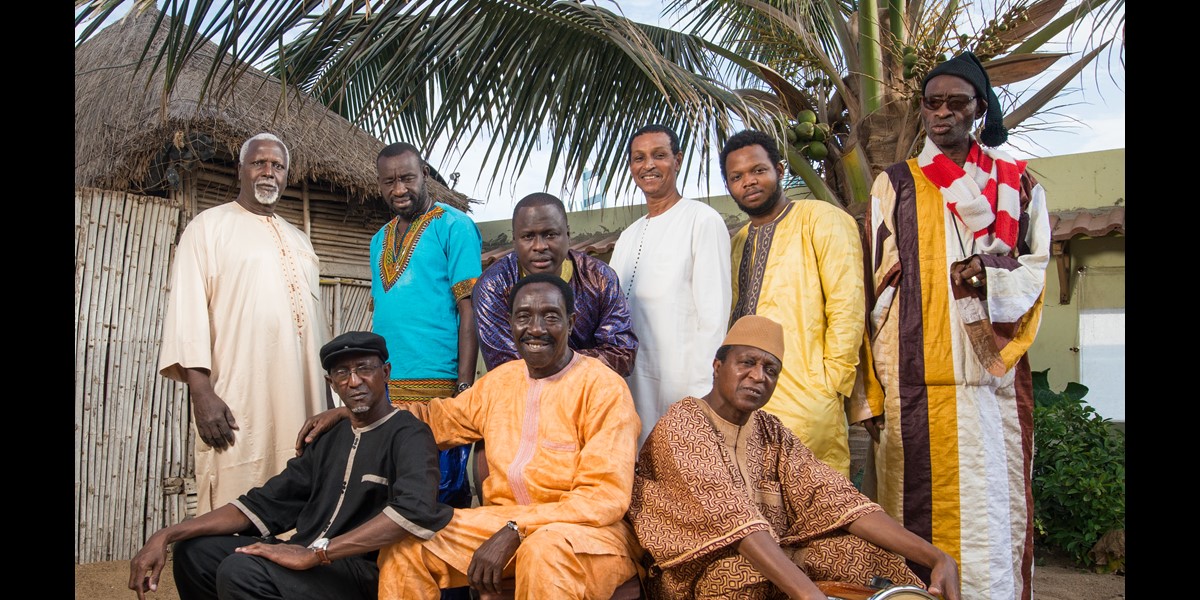 Orchestra Baobab
Barbican Centre, London, April 27
Orchestra Baobab took to the Barbican stage like elder statesmen. While newest member Abdoulaye Cissoko plucked rippling arpeggios on the kora, the ten-strong band sauntered on in twos and threes, a younger member guiding bassist Charles Ndiaye ('The Big Boss') to a stool where he remained seated for the majority of the concert.
Orchestra Baobab began in 1970 as the house band for Dakar's exclusive Club Baobab where they performed their distinctive blend of Cuban rhythms and various West African musical traditions five nights a week. Four decades later they are touring their masterful 2017 album, Tribute to Ndiouga Dieng, commemorating their former singer who died in late 2016.
The set opened with the album's gentlest track, 'Mariama'. With Abdoulaye's sparkling kora the sole accompaniment, founding member Balla Sidibe's melancholy-tinged Mande vocals provided a soothing lyrical start. Next was a slightly hurried rendition of 'Sutukun' from 2002's Specialist in All Styles, the band's first recording following a 15-year odd hiatus.
Baobab soon showed themselves specialists in making people move. On 'Pape Ndiaye' congas and timbales provided an ebullient percussive pulse before Dieng's son Alpha burst in with a soaring high-pitched vocal typical of the Wolof griot tradition of praise singing. 'Utru Horas' had a looser, sultry Cuban sway. The lead track from Pirate's Choice – the album that brought Orchestra Baobab to wider Western attention when released in 1989 – 'Utru Horas' was supremely executed with guitarist Rene Sowatche gently pushed forward to perform a bright, intricate solo. Tenor saxophonist Issa Cissokho was far less reluctant to take the limelight. Marauding across the front of the stage, he wagged his finger while holding a rapturous high note before hunching over as he unleashed quick-fire trills. Issa commanded attention. Characterised by smooth jazz-like phrasing and super-slick timing, Issa's playing was so exuberant he often had to have a rest after, taking a seat in the wings.
Orchestra Baobab performed old classics, yet never indulged in nostalgia. Songs from Tribute to Ndiouga Dieng proved vibrant additions to the band's discography. 'Woulinewa' combined dexterous rhythmic singing with a slinking, sensuous melody, while 'Sey' and 'Fayinkounko' deployed charming harmonised sax hooks to joyous effect. While Issa was the showman – albeit one who needed the occasional sit-down – bassist Charles Ndiaye was the anchor, holding together tracks with catchy, compulsive bass-loops. Baobab grooved effortlessly, compelling the typically sedate Barbican audience to spontaneously sashay through the aisles. By the end even The Big Boss was on his feet.