Saturday, July 27, 2019
Review: WOMAD 2019 – Day 2
No visa problems this year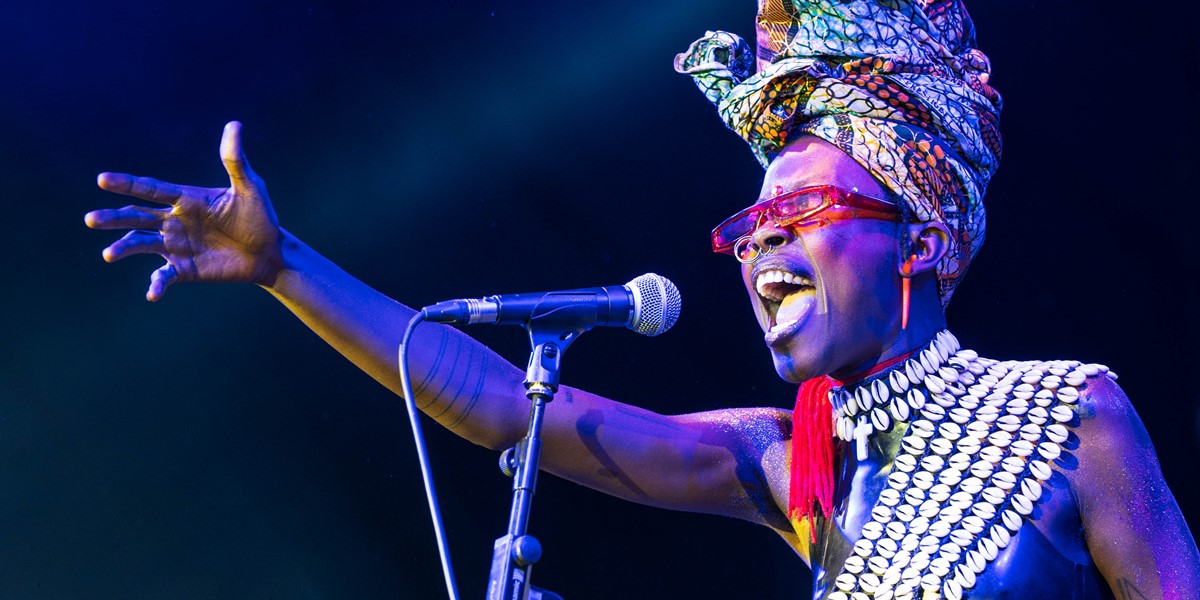 Jojo Abot ©Tom-Askew Miller
Last year's WOMAD story was about visa problems and cancellations. This year has proved free of that and WOMAD director Chris Smith thinks that last year's publicity could have helped that. But, he adds gloomily, "the way things are going it looks like it will be next year when things really kick in."
WOMAD is always a fantastic mixture of the known and the unknown. Bands who are familiar and those who are exciting new discoveries. Friday started with a band who are already good friends, Canzoniere Grecanico Salentino, from Puglia in Italy, who won a Songlines Music Award last year.
Lopa Kothari had the tricky job of replacing Alan James as MC on the main Open Air stage. Alan had introduced the bands there for years, but sadly died earlier this ear. "He was a man of great style, and he had a fantastic collection of hats. Give it up for Alan," said Lopa as she popped a stylish hat that also doubled up as a fan on her head in tribute.
Canzoniere began with powerful a capella vocals, but with the beat of their tambourine-like drum launched into a pizzica dance. Pizzica is like traditional Italian rap, but accompanied by violin, accordion and special rock'n'roll guest Justin Adams on electric guitar. But most eye-catching was dancer Silvia Perrone, turning with a rope in a vibrant red dress. "This is the most beautiful festival in the world," said their violinist Mauro, "with no borders and no fear." There was ecstatic applause. They are back at the BBC Proms on September 4.
Jojo Abot, from Ghana/New York was a new name for me. Dressed in a tall headdress, red glasses and what might be described as an African superhero outfit with a red cloak, she was all style over content. She sang and played tenor drums with a backing track, a kit drummer and two female backing singers and dancers in red fright wigs. A nice show but musically minimal.
Such a contrast to Anandi Bhattacharya, who was curiously attired in what looked like a wedding dress, but whose music was so gloriously rich. There were sound problems on stage – one of the problems when you have real musicians with tricky instruments like slide guitar, tabla and vocals – but, the daughter of guitarist Debashish Bhattacharya, she is a superb new talent and the audience absolutely got the magic.  
I really wanted to like Les Filles de Illighadad, a quartet of Touareg ladies from a village in Niger of that name wielding electric guitars. I hoped for a female Tamikrest or Tinariwen, but the music never took off. A mushy guitar sound and a leaden beat. None of those camel-gait Touareg rhythms.
The nice surprises were Ustad Saami, a singer from Pakistan singing a qawwali-like devotional music called surti. In an intimate performance his high, delicate vocals are reinforced by his hand moments outlining his vocal lines. Its intensity was entrancing. And Norwegian Sámi singer Marja Mortensson performing very personal joiks of her family members. The gutteral style of her singing was brilliantly reinforced by the curious backing of drum-kit and tuba.
The evening highlight, though, was Ziggy Marley. I've never been much of a reggae fan, but his words were clear and his messages urgent in a song like 'Fake Leaders' which seems all too apposite now. There was a wonderful feeling of solidarity in the huge crowd and you felt music might even be able to change something after all.
To keep up-to-date with everything going on at the festival, follow @SonglinesMag and @WOMADFestival on Twitter