Monday, July 29, 2019
Review: WOMAD 2019 – Day 4
By Jo Frost
Dance music veterans and debut WOMAD performances on the final day of the festival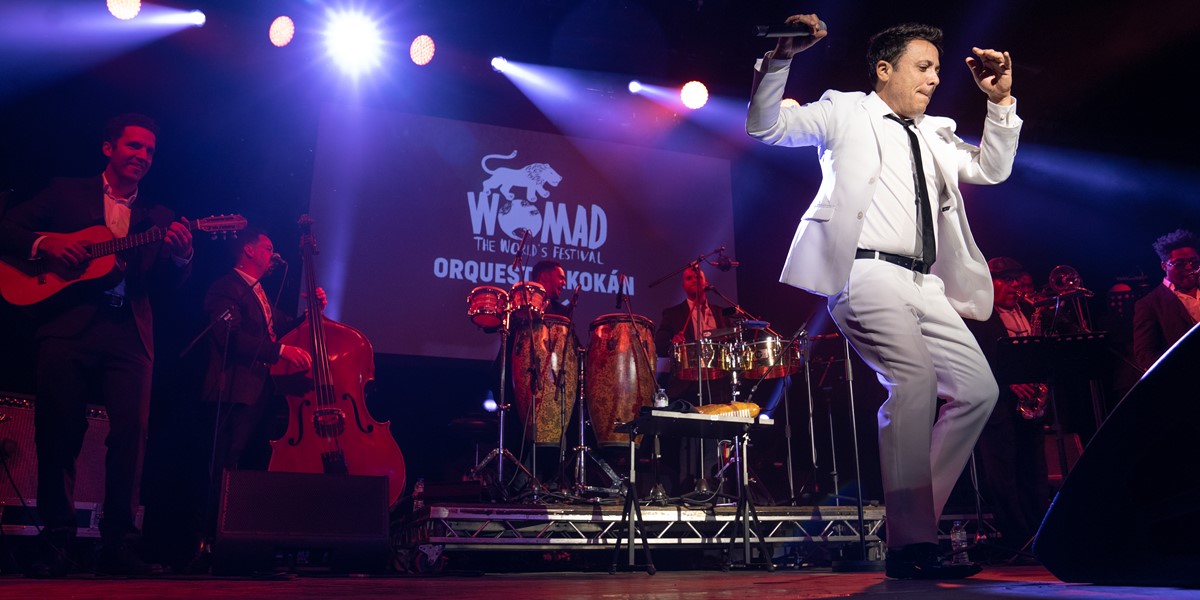 José 'Pepito' Gómez of Orquesta Akokán ©Tom Askew-Miller
It's inevitable at an event the size of WOMAD that at some point you'll suffer from FOMO – as much as you might try and dash around the site trying to get a glimpse of all the bands, there's always going to be at least a handful that you'll miss and then everyone will tell you 'ahhh, they were amazing!'.
Besides all the music, there are various talks and around 500 different workshops taking place, ranging from Soumik Datta's 'Bluffer's Guide to Indian Music' session to gamelan and boomwhacker workshops. One of the hugely popular sidelines to the music programme is the Taste the World tent where on Sunday the culinary offerings ranged from Turkish dumplings, cooked up by psychedelic band Baba Zula who later rocked out at the Ecotricity stage, to a Finnish blueberry pie made by kantele player Maija Kauhanen.
For those festival-goers who fancied a quiet Sunday morning lying in the sun reading the papers, then the Lemon Bucket Orchestra put paid to that. The Canadian 12-piece describe themselves as 'Toronto's original guerrilla folk-party punk massive.' Because of travel nightmares and flight delays, they arrived without their drums or sousaphone but thankfully WOMAD pulled out all the stops and managed to find them replacements. They delivered a high-octane brass, percussion and fiddle workout, replete with Turkish dancing – just what you'd expect from a good fun festival party band.
Similar in size, but in complete musical contrast were Orquesta Akokán, the winners of the Americas category in this year's Songlines Music Awards. The Cuban-American band filed out onto the Siam tent stage looking super sharp in black suits, bar their charismatic lead singer José 'Pepito' Gómez who was dressed all in white. Although their sound is classic Cuban mambo from the 1940s and 50s, the songs are all originals, written by Pepito who belted them out, interspersed by solos from Jacob Plasse on Cuban tres and arranger Michael Eckroth on piano. One classy act and hugely popular among the numerous salsa dancers in the audience.
Following on from Orbital's visually spectacular show on the Open Air stage was a decidedly more intimate solo set by Maija Kauhanen on the Charlie Gillett stage. A member of the popular folk band Okra Playground, Kauhanen put on an impressive performance playing the Finnish kantele (a type of zither) that is usually plucked but Kauhanen also uses a bow. She explained that her father, who is a policeman by trade, actually handcrafted her own very special red kantele. She had an elaborate set-up surrounded by various cymbals, drums and percussion. The final song she told us was a lullaby – perfect for the closing number of the night although rather more invigorating than sleep-inducing with Kauhanen's strident vocals, crashing cymbals and jangling strings of percussion. As the small but highly enthusiastic crowd made their appreciation felt, Kauhanen thanked them for their 'warm energy' – a very lovely way to round off the 38th edition of WOMAD.
Look out for a Gallery of pictures in the next edition, out August 23