Friday, November 15, 2019
Introducing... Santrofi
The new band from Ghana are injecting a fresh energy into the country's traditional highlife style. Jo Frost speaks to them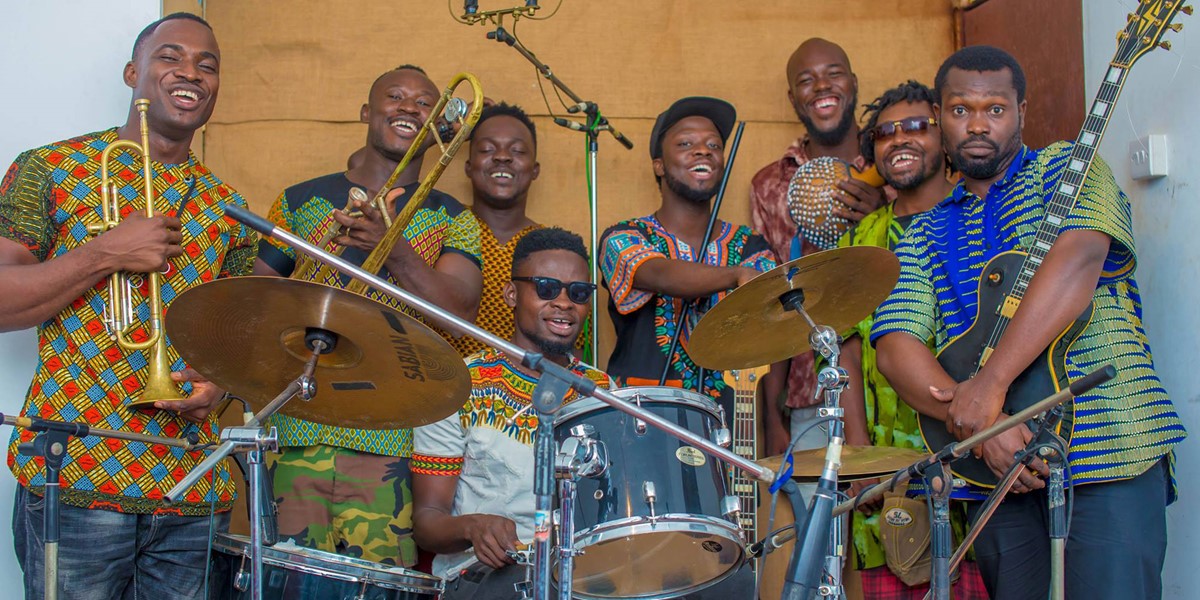 It's surely the stuff of dreams. Five members of the new Ghanaian band Santrofi had never been to Europe before they landed at Germany's Fusion festival in June for their first ever tour. They followed this by playing at many of Europe's leading music festivals including Roskilde, Amsterdam Roots, FMM Sines and WOMAD.
In Ghanaian mythology, the santrofi is a brightly coloured bird that has additional wings on its horns. It's believed you shouldn't hunt it as if you bring one home, it'll bring you bad luck, but if you let it go free, you'll be blessed with good fortune. The santrofi is a bird that possesses great beauty and a powerful song – all attributes the band aim to exemplify in their innovative take on Ghana's vintage highlife sound.
The young collective all cut their teeth playing with many of Ghana's veteran highlife stars such as Ebo Taylor and Gyedu-Blay Ambolley. "We're re-looking at highlife as it's been out of favour," explains bandleader and bass player Emmanuel Ofori who has played with Pat Thomas & Kwashibu Area Band. "Ghana has a really rich musical heritage and we want to bring it back, so we decided to form a collective and write our own songs."
The band are based in Accra where they say the live scene is now largely dominated by DJs and youngsters who play recorded highlife samples rather than performing live, so Santrofi are intent on injecting new life into the scene with their high-energy live show.
Their forthcoming album – and lead single – is called Alewa, which is a black-and-white boiled sweet similar to a humbug. It also serves as a metaphor for the group who say it doesn't matter what our racial or religious differences are, we're better together. There are other songs with social messages such as 'Adwuma' which means 'Work': "Whatever work you do, whether you're a street cleaner or a doctor, just be serious about it," says Ofori.
But Santrofi aren't about moralising but about putting on a great show. They go down a storm on the Open Air stage at WOMAD with the two horn players stealing the show when halfway through the set, mid-song, they come to the front of the stage and start doing press-ups. "We saw these guys [Bernard Gyamfi on trombone and Norbert Wonkyi on trumpet and flugelhorn] come from the back and start doing press-ups," Ofori laughs, describing how this first happened during their third show and it proved a big hit with the crowd so it's now become a part of their set.
The band seem to have hit on a winning formula of nifty dance moves, catchy singalong tunes along with up-tempo guitars, a tight horn section, percussion and sweet melodic harmonies. With musical influences ranging from highlife and Afrobeat to straight-up, good old-fashioned funk, it's Santrofi's impressive musicality, plus their great showmanship, that bodes well for future tours and their forthcoming album release next year.
Alewa is out April 24 2020 on Outhere Records
This article originally appeared in the November 2019 issue of Songlines. Never miss an issue – subscribe today!